We are now well over the halfway point in the 2017-18 New York Islanders season. Through the first 47 games there have been some high points, but plenty of lows. Offensively, the team is a juggernaut in which their top-six forwards are playing extremely well. On the defensive side, it's the complete opposite. Injuries, inexperience and atrocious play have contributed to one of the, if not the worst defensive unit in the National Hockey League.
Despite their inability to keep the puck out of their own net, the Islanders are still in the playoff hunt only trailing the second wild-card team, the Pittsburgh Penguins, by three points with one game in hand. This gives Islanders fans some optimism for the last few months to come. However, if the team does want to continue playing hockey into late April and June, a move must be made on the defensive side in the next few weeks before the trade deadline passes. If the trade deadline passes with Garth Snow once again doing nothing to improve the roster, then the Islanders' season is truly a lost cause.
Islanders Offensive Juggernaut
Before focusing on the negative side of this Islanders season, there have been plenty of exciting moments in the first half, both on and off the ice. Islanders forward Josh Bailey seems to have proved his doubters wrong for a second straight season. After eight underwhelming seasons, the former 2008 ninth overall pick has finally developed into a top-six forward that the Islanders envisioned over a decade ago. Through the 43 games he has played this year, Bailey has 12 goals, 39 assists, and 51 points.
His 39 assists are good enough for third place in the entire league. With 30-plus games to go, Bailey is already on the brink of passing all of his career highs in goals (16), assists (43) and points (56). The 28-year-old has also been selected for his first-NHL All-Star Game. Bailey will be joining teammate John Tavares as the two Islanders representing the Metropolitan division.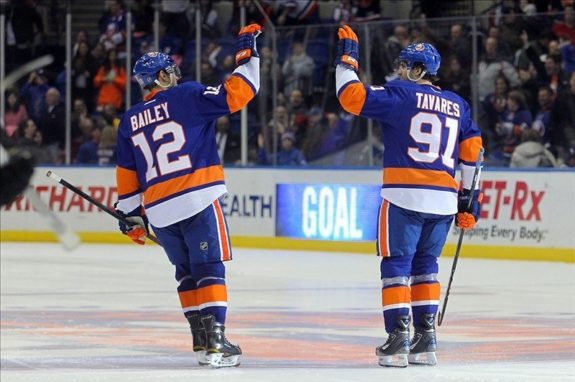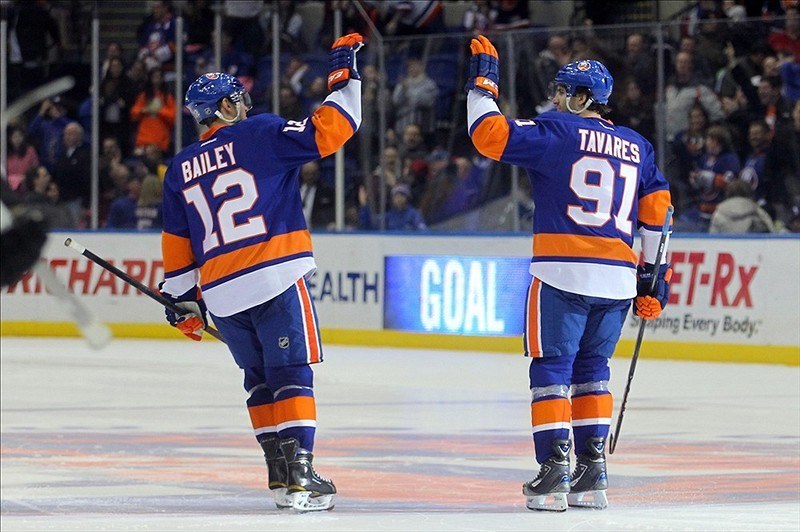 Speaking of John Tavares, he and fellow linemate Anders Lee are having exceptional seasons of their own. Tavares and Lee are both in the top five in goals throughout the league; Lee has 26, with Tavares right behind him at 25. These two forwards, along with Bailey, have absolutely made a case that this line may be the best first line in all of hockey. The Islanders currently rank second in the NHL in total offense, just behind the Tampa Bay Lightning.
In regards to Tavares' future with the Islanders, according to a tweet from Newsday Islanders writer, Arthur Staple, Tavares addressed his potential free agency. "I want to stay on Long Island…I haven't thought about being anywhere except with the Islanders." Hopefully, this statement means a contract extension is coming in the near future. However, the longer the season goes without with a deal in place, a sense of doubt will appear more and more inside the Long Island fan base.
Asked what his priority is in making a decision, Tavares said: "I want to stay on Long Island… I haven't thought about being anywhere except with the Islanders." #Isles

— Arthur Staple (@StapeAthletic) January 15, 2018
There have also been some new editions to the roster this year that have taken the Islanders' offense to a whole different level. Rookie sensation Mathew Barzal and former Edmonton Oiler Jordan Eberle have created a dynamic second line for New York. It looks to be as dangerous as its first. Eberle, who was acquired from Edmonton for Ryan Strome. was supposed to play alongside Tavares to start the season. It turns out that Barzal and Eberle have a terrific on-ice chemistry. It seems that every time I turn the game on, it's either Barzal dishing out a nice saucer pass that turns into an Eberle bar-down finish or vice versa.
With a rookie-leading 48 points, Barzal may be on his way to winning the Calder Trophy as the NHL's top rookie. It also turns out that having a 20-year-old rookie as his linemate is actually helping Eberle produce more offensively. With 15 goals and 37 points on the season, it looks as if Eberle will end up with a very respectable first season as an Islander.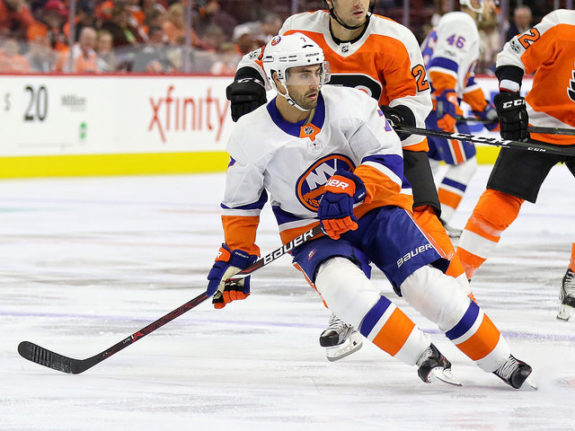 Perhaps the best news of all didn't come on the ice. The New York Islanders have found themselves a new home at Belmont Park after their proposal was accepted. It is expected that the new stadium won't be ready until at least the 2020-21 season. Nonetheless, its a sign of hope for the Long Island fans that their team is heading back to their true home. Brooklyn was a failure from the start. When the fans aren't on your side, it is extremely difficult to turn a move like Brooklyn into a success.
Terrible Defense Has Doomed the Isles
I wish I could say more good things about the team, but it's hard to ignore the faulty aspects of their game. Defensively, they are statistically the worst team in the league and it's not even close. The Islanders give up the most goals in the entire league with a 3.68 goals-per-game average. The league average is 2.95. After a decent start to the season, Thomas Greiss has completely fallen off the map. He just hasn't been able to find his game and is lucky if he gets more than two starts in a single week.
Jaroslav Halak's performance is slightly better, but not good when compared to the rest of the league. However, not all the blame can be put on the Islander netminders. The defense has had a large hole in its unit ever since Travis Hamonic was traded to Calgary. Hamonic was a good defender who had the most ice time for the Islanders for a number of years. This season, with Hamonic out of the picture, the team turned to Nick Leddy to fill that void.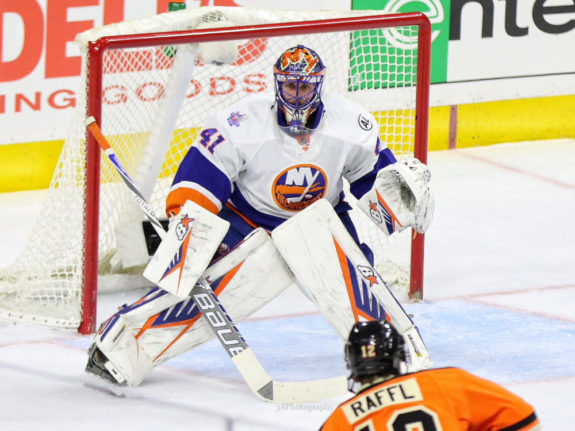 Although Leddy has done a very good job as their number-one defenseman this year, the unit as a whole is too inexperienced and lacks the depth it needs. Injuries have also taken a toll as Johnny Boychuk and Calvin De Haan have missed significant time. These injuries have made the Islander defense look even thinner. In addition to Boychuk and De Haan, on the offensive side, Bailey, Nikolay Kulemin, Andrew Ladd, and Casey Cizikas have all missed time at some point this season.
What Happened to Nelson & Ho-Sang?
Brock Nelson and Joshua Ho-Sang have been awful this season. After three consecutive seasons of 20 goals or more, Nelson has only nine. His point total is even worse as he has just 14. Nelson has taken a huge step back this season. I don't know if that's because of the rise of Barzal taking the second-line center spot or just that he's not playing on the Tavares line anymore.
Related: Ho-Sang Demotion Cause for Panic or Patience?
Something needs to be done with Nelson. His trade value has been diminished and he shows no signs of having an impact anytime soon. Doug Weight needs to send him to the AHL for a few weeks to find his game again or else this will continue. Weight sent Anthony Beauvillier down for a couple weeks and now he is on a hot streak since his return to the pros.
Joshua Ho-Sang is a different story. Yes, he turns the puck over when he tries to do too much and is a below-average defender, but the kid can change the pace of play just like that. His speed alone causes havoc on opponents and he makes plays that most players on the roster cannot. It seems to me that Weight is not a big fan of him. Ho-Sang has been sent to the AHL on multiple occasions over the course of the career.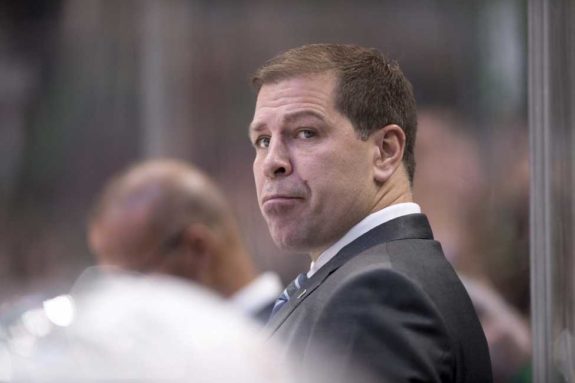 If the Islanders completely fall out of the playoff hunt, Ho-Sang should be given another chance to prove his worth. His talent alone is too good to waste. He just needs another opportunity and the support he needs to perform the way he is expected to. Talent like this shouldn't be discarded or ignored.
Islanders are Still in the Hunt
For the last 35 games, I'm interested to see how resilient this team can be. Being in a loaded Metropolitan Division doesn't help, but it also doesn't mean they are out of the hunt. There is still a lot of time for moves to be made. The playoff picture is nowhere close to being set and who knows what this team can look like three months from now at regular season's end.
It will be a nerve-wracking few months as questions will continue covering Tavares's contract situation, the team's performance and the position of Garth Snow. However, with a good amount of time left, even with all the problems they've had, this team controls its own destiny.
Will Harris is a Journalism major with a Sports Management minor at St. John's University. He is from Long Island, NY. Over the past three years he has published numerous articles covering a wide range of sports.