The Ontario Hockey League's Western Conference is more competitive than it's been in a long, long time. Even without the likes of Connor McDavid, Mitch Marner, Matthew Tkachuk, and the countless other players who have moved on to professional hockey, the amount of talent in the West is astounding. There are five teams that could legitimately compete for the J. Ross Robertson Cup in April.
But even with the talent and depth on London, Sault Ste. Marie, Windsor and Owen Sound, the Erie Otters are still the league's frontrunners. They have incredible offence, a stellar defensive core, and superb special teams. They hadn't been able to get over the hump in the years Connor McDavid played, and with many regulars likely leaving next season, this could be their last chance to compete for their second Memorial Cup. Here's why they have the best chance to win it all.
Erie is just nasty. Raddysh-TBL wins battle, gets it to Cirelli-TBL, to DeBrincat-CHI with soft touch to Strome-ARI on finish pic.twitter.com/OFSCJzbksF

— Corey Pronman (@coreypronman) February 8, 2017
Ridiculous First Line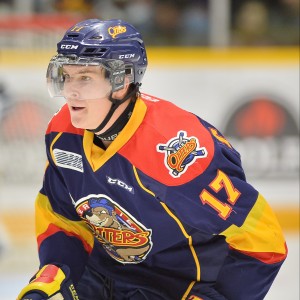 Saying Erie is loaded on the front end would be an understatement. The team is filled up and down the roster with players who can score at will in this league. The return of Dylan Strome from Arizona has been massive for the Otters, and he's shown through his first 17 games that he's the best the OHL has to offer. His 41 points put him 62nd in league scoring, with guys who have played almost triple as many games as him. I wouldn't be surprised if he finished in the top 15.
As for the forwards that have been here all year, they've been nothing short of spectacular. Alex DeBrincat and Taylor Raddysh are the league's top two scorers with 92 and 82 points, respectively. DeBrincat leads in goals with 44 while Raddysh in assists with 51. They should be playing in the National Hockey League next year.
Offensive Depth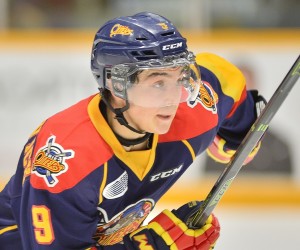 The top three in Erie are superb, but the depth is huge for them as well. After Strome, DeBrincat and Raddysh, there is considerably more skill down the lineup. Kyle Maksimovich is having an excellent year in his third campaign with Erie. I slotted him as one of my most underrated forwards earlier this year, and he's been a huge part of the success. He quietly racks up points, plays sound defensively, and rarely makes a mistake at either end of the ice. Anthony Cirelli is the same way; the Team Canada forward has been great since his trade from Oshawa. He's amassed 14 points in his first 12 games with Erie, and most importantly, he's a great faceoff centreman. He's won over 50% of his draws this year, and his defensive instincts are superb.
Add over-agers Warren Foegele and Kyle Pettit, as well as prospect Ivan Lodnia, who are all hovering around a point per game this year, and you have an outrageously talented set of forwards.
Special Teams
It's no surprise that a power play that features Strome, DeBrincat and Raddysh will consistently have success. But add defensive stud Darren Raddysh to that group, and you have the second-best power play in the OHL (just 0.1% shy of London). Raddysh has been superb this year, leading all defenseman in scoring. Fifty-seven points in 44 games for a blueliner is fantastic. He also sits second in the league in plus/minus, just one short of his teammate Taylor Raddysh. And even if that unit doesn't score, you have a second that can just as quickly capitalize on an opponent.
The penalty kill has also been stellar. Fourth in the league is nothing to write home about, but we need to remember that the Otters have been shorthanded less than any other team this season. That will bode well for them moving forward.
Perfect Play, Perfect Time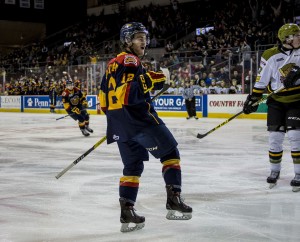 It's easy to talk about how many great players the Erie Otters have, but what's important is how well the team has been playing lately. They've won eight games in a row and 11 of their last 12. The Otters have scored a ridiculous 69 goals in that stretch, and given up just 24.
They had some struggles earlier in the year, but it seems like things are all coming together now. Going into Feb. 11's game against the Saginaw Spirit, they are just two points back of the London Knights for first place in the Ontario Hockey League, with two games in hand.
The forwards are firing on all cylinders, the defense has been rock solid, and the power play is nothing short of scary; put simply, beating this team is a tall task right now. Erie has been hovering at the same point for the last few years, where they've been at the top of the league, and had great success in the regular season. But in the playoffs, they've never been able to get over the hump. With many of their best players likely fighting for a spot in the NHL next year, this is probably their last chance to win it all for a long time.
It's impossible to favour a team with certainty out of the Western Conference. There are five teams that could represent the West in the J. Ross Robertson Cup in May. But if I had to pick right now, my money's on the Erie Otters.