Artemi Panarin is one of the latest stars from Russia that has come over to the NHL to make a big splash. While Panarin may be the most recent for many Chicago Blackhawks, he has followed a long string of players that came before him. Russia has produced an abundance of legendary NHL stars including Sergei Fedorov, Alexander Mogilny, Alexei Kovalev, Sergei Gonchar, Ilya Kovalchuk, Alexander Ovechkin, and many more.
The other side of this story is that there will continue to be premier talent that comes over from Russia, and the Blackhawks could benefit from importing another dynamic player to their roster, especially given the revolving money issues the cap-ceiling team has faced. So who might be some current KHL players that might be able to make similar impacts for the Blackhawks?
Maxim Shalunov, Forward
Maxim Shalunov, at 23, is just two years younger than Panarin. Shalunov has already achieved a career-high in points this season for Sibir Novosibirsk of the KHL, with 36 points in 46 games. The Blackhawks originally drafted him in 2011 with the 109th overall pick, and he played 20 games in the AHL and 43 in the ECHL before returning to the KHL in Russia. The trip to the ECHL gives an explanation for why he returned to the KHL, but with his career gaining traction in Russia, now may be a time for the more mature, 212-pound Shalunov to make an NHL debut.
Ilya Kovalchuk, Forward
The biggest name of all leads all Russia speculation in the hockey world. After leaving the NHL, Ilya Kovalchuk has consistently been written about, largely focusing on a potential return. His time in the KHL has produced about a point-per-game pace, and for him to leave the KHL and return to the NHL for the 2017-18 season, all 30 NHL teams would need to sign off on him becoming a free agent.
This makes for an unlikely scenario, but the following year might make sense. If Kovalchuk should want to come over for the 2018-2019 season, there wouldn't be any such requirement stopping him from coming back at age 35. This could potentially be a player the Blackhawks would be able to sell on the allure of being part of a successful team, but the salary cap problem would likely prevent this from occurring without some creative work by Stan Bowman.
Evgeni Dadonov, Forward
The 27-year-old played 15 games with the Florida Panthers before leaving for the KHL, and he is just now entering his prime. With 62 points through 50 games for SKA St. Petersburg, his 30 goals show he has finishing acumen to accompany his speed, and if he can demonstrate the defensive responsibility that Joel Quenneville likes to see, he could be a dynamic piece of a future Blackhawks team.
Vadim Shipachyov, Forward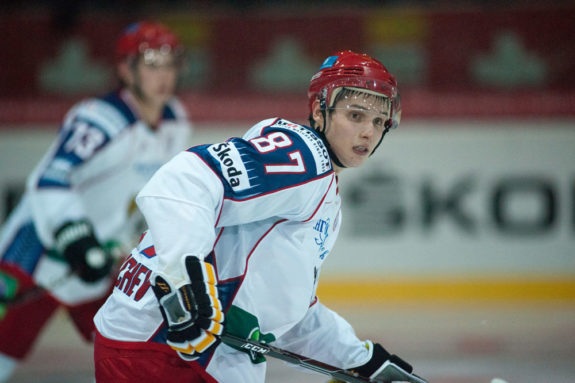 After being in headlines and parts of rumors this past summer, Shipachyov returned to the KHL to continue lighting up the league. Shipachyov potted 24 goals while tallying 49 assists and a plus-30 through 47 games. Despite Montreal showing a lot of interest previously, the Blackhawks could have a potential 60 to 70-point scorer should they acquire his services. While part of his success has been due to skating with the likes of Kovalchuk, Dadonov and Slava Voynov, skating alongside Jonathan Toews, Patrick Kane and Artemi Panarin would be a decent group to transition to.
Anton Burdasov, Forward
This 25-year-old may just be a classic example of a late bloomer. With a 6-foot-3, 225-pound frame, the winger could fit right in the NHL with his combination of size and skill. He won a gold medal with Russia in the 2011 World Juniors and now he's having a career year in the KHL. Burdasov is a skilled shooter with a nice wrist shot. But he also has a distinct view of the ice and an ability to create chances. He may be a good candidate for the Blackhawks or another NHL team to give a shot at the NHL game.
Stan Bowman showed with the acquisitions of Panarin and Michal Kempny that he and the rest of the Blackhawks organization are looking at every possibility to bring skill and value to the cap-strapped team. While some foreign players may be better fits than others, there's enough skill in the KHL that even just one new player coming from overseas could be the difference between a Stanley Cup Championship and just being one season closer to the end of a winning window.