Before we start, please join me in spending five to ten minutes watching this gif in disbelief.
Kaner decides he doesn't need a goal just now. pic.twitter.com/cEMPtW0NRV

— NHL (@NHL) November 19, 2016
Painful. The silver lining is that aside from that double-tap no-goal, Patrick Kane is playing quite well. But the combination of Richard Panik, Jonathan Toews and Patrick Kane has had its share of struggles. You may be wondering "How is Kane leading the team in points if Panik-Toews-Kane isn't doing very well?" The answer to that is the continued blossoming of last year's quiet hero and last year's Calder winner.
The Artem Connection
Thanks to Dobber Hockey's Frozen Pool tool, we can look up the production of various forward line pairings at even strength this season. Instinctively, we would expect to see the faces of the franchise, expect that owners of $10.5 million cap hits would have offensives outburst whenever they're on the ice together. So, what has been the top two line combos? Something involving Kane and Toews, right?
| Str | On Ice Line Combination | Points |
| --- | --- | --- |
| EV | ANISIMOV,ARTEM – KANE,PATRICK – PANARIN,ARTEMI | 12 |
| EV | ANISIMOV,ARTEM – HOSSA,MARIAN – PANARIN,ARTEMI | 9 |
Oh… hmm, well then. Not only is the duo of Toews and Kane not on one of the top two line combos, the fearless leader, Jonathan Toews, isn't on either. Last year's unstoppable PAK line is again proving to be an effective tool at Joel Quenneville's disposal, but arguably, the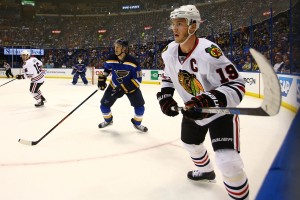 more interesting fact is that the next best choice in lines is to swap Kane out for another player. Now, Marian Hossa is not just any player, and what he may be losing in physical edge as he ages, he more than makes up for in hockey smarts and a feel for the game. The guy understands the strategic elements better than 99% of those on the ice.
With all deserved praise of Hossa and whether he belongs in the top six or elsewhere in the lineup aside, the story here is Artem Anisimov and Artemi Panarin.
Both are currently tied for the team-lead in plus/minus at plus-11, Anisimov garnered more interest at the beginning of this season with an impressive scoring streak. Many articles talked about how his success might not last or how his success may even be a bad thing for the Blackhawks.
Panarin is somewhat less of a surprise, with everyone league-wide looking out for him this year after his Calder-winning campaign. And still, he has been spectacular. Panarin leads the team in Corsi For Percentage, and by quite a wide margin. His 67.12% is almost ten percentage points ahead of Kane's figure of 57.76%. Going further, Panarin actually leads all NHL forwards in Corsi For Percentage. He is a dynamic offensive talent, and his pairing with Anisimov makes them a dangerous duo, regardless of the third player on their line.
http://gty.im/622600026
More Than One Line
Hockey is a team sport. This is evidenced by the success thus far this season of teams like the New York Rangers and last year's champions, the Pittsburgh Penguins, who utilize all four forward lines. So, if the Chicago Blackhawks are going to succeed, they will need their forwards apart from the PAK line or the Artem(i) pair to step up.
Going back to Dobber's Frozen Pool, the third-most productive line on the team is actually Ryan Hartman, Marcus Kruger, and Tyler Motte. This is especially attractive since the entire mantra of a "youth movement" in Chicago may have some solid footing. Unfortunately, Motte is out for a few weeks with a lower-body injury.
Fourth on the list is the Panik-Toews-Kane line, so while they seem to be struggling, they are still producing. This may be a situation where the eye test indicates that they're struggling, but really, they're just in the middle of the road. Now, when two-thirds of a line is making $21 million a year, it's right to expect more than a middle-of-the-road production level, but there's no need to overreact.
Winning the West
The Blackhawks currently sit atop the Western Conference standings, and there shouldn't be anyone trying to put out fires. This team is still an elite force in the National Hockey League, and Toews faultering is not the end of the world. The benefit the Blackhawks have is that they have skilled players to pick up the slack of the rest when someone slumps.
There are still issues to be addressed come playoff time, but the Blackhawks have the luxury of being a team that measures success in the spring. A win in November is helpful and expected. A win in April matters far more and is harder to come by, so they'll need to find more balanced scoring. Until then, Blackhawks fans can watch gifs like above in disbelief, and watch goals like below in equal measure.
I grew up in the northern Chicago suburbs but currently growing my passion for the game in the state of hockey.