Ryan Murphy has likely spent more time being discussed on Ron Francis's PNC Arena phone line than playing on the rink downstairs over the past year or two, and that trend isn't going to change in the coming week.
Just four NHL appearances after being unexpectedly signed to a new two-year contract over the summer — contrasted with months of rumors that the then-RFA's time with the Carolina Hurricanes was over — Murphy is back in the thick of trade talks.
Reported TSN's Darren Dreger on Friday:
"(Murphy) doesn't seem to be a fit for Hurricanes head coach Bill Peters. Murphy's name has been used as trade bait for months, but now the Canes are actively shopping him. With a salary of $750,000 this year and $825,000 next season, the 23-year-old, right-shot defenceman will likely be on the move."
Of course, Murphy has forever seemed on the verge of being traded, even though it has never come.
The former first-round pick has never been able to hold a spot in the NHL. He's always flashed glimpses of offensive brilliance yet proved an unreliable defender in his own end, making far too many blatant coverage gaffes to justify his former elite prospect status.
Murphy's first four outings of 2016-17 have held more of the same inconsistency, so it's bafflingly unclear what so drastically changed Francis's mind from July to now if Dreger's report is true.
But if the Hurricanes are legitimately planning to go through with dealing their most frustrating defenseman (unlike at last spring's trade deadline, when the buzz turned into nothing), they should have an interesting array of potential trade partners with which to work.
New York Islanders
The Islanders and Hurricanes were reportedly talking Wednesday before the Murphy discussion re-erupted:
Stape wasn't kidding at all when reported Snow working the phones. Told at least 4 teams in contact – Col, Zona, Car and Tor…#isles

— Andy Graziano (@AndyGraz_WFAN) November 17, 2016
The two clubs don't initially seem like perfect trade partners, as the Islanders are looking for forward help to replace the production they thought they'd get but aren't getting from summer additions Andrew Ladd and Jason Chimera.
But the Islanders have Jaroslav Halak, who was the centerpiece of the entire league's rumor mill for a brief time earlier this fall. Halak rumors have fallen off recently, and the Hurricanes' need for a new goalie has declined in urgency due to Cam Ward's temporary resurgence, but the 31-year-old Halak could still catch Francis's fancy — his .904 save percentage is a far cry from his .917 career average, and he's a good bet to ease back into the league's upper half as the season progresses.
If Murphy and some other goodies are enough to pry Halak from the Islanders, he'd be a significant upgrade over Ward.
Arizona Coyotes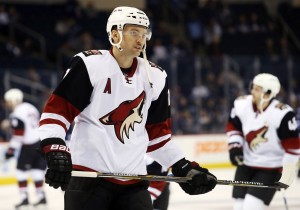 Another player almost as ubiquitous as Murphy on the NHL's 2016 rumor wire is Arizona Coyotes' Martin Hanzal.
Sportsnet's Elliotte Friedman reported in June that the Coyotes had asked Hanzal to submit a trade list, and then wrote this week that the Coyotes wanted to "receive a young player who can step in now" in exchange for the 29-year-old pending free agent.
Murphy is, indeed, a young player who can potentially step in now — he has 128 NHL games of experience under his belt already, albeit 128 rather unconvincing games. And Arizona ranks 29th in the league in goals allowed per game, fielding largely a mix-and-match defensive unit outside of Oliver Ekman-Larsson and Alex Goligoski.
Hanzal has terrific size (6'6″, 226 pounds), scored 41 points in 64 games last year and could step in as a proven center in Carolina now that Sebastian Aho, Teuvo Teravainen and Elias Lindholm are all playing the wing. But the Coyotes' demands for a player in such high demand will likely exceed Murphy alone, and Francis might not want to become a "buyer" with a 5-6-4 team.
Vancouver Canucks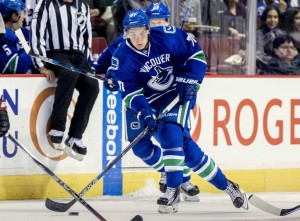 The Canucks are a mess right now, including 2014 sixth-overall pick Jake Virtanen, who the Vancouver Courier has likened to a "shiny new toy…broken" by the Canucks' mismanagement.
"He's got one assist in ten games. He's played the entire season on the fourth line, and he's been demoted to the Utica Comets twice," wrote the Courier's Will Graham.
Virtanen may be the most accurate forward equivalent to Murphy anywhere in the league right now, and that makes the two teams possible trade partners in the interests of changing the players' respective sceneries. After passing (smartly, it turns out) on the Nail Yakupov reclamation project, Francis might hop on board with the Virtanen one.
Detroit Red Wings
The Red Wings, as Friedman notes, lost out on acquiring both Cam Fowler and Jacob Trouba earlier this year. Murphy is hardly in the same company, but he is still young and the Red Wings' sputtering November (two wins in seven games) could have general manager Ken Holland looking to switch things up.
Jimmy Howard's out-of-nowhere hot start and Petr Mrazek's equally surprising struggles have created a puzzle in the Red Wings' goaltending unit — an area the Hurricanes are usually keeping an eye on — but someone like Riley Sheahan, an underrated buy-low candidate, is a reasonable exchange for Murphy.
Boston Bruins
The Hurricanes' third defensive pairing has been a constant liability ever since John-Michael Liles was traded to Boston at the trade deadline last year.
There's no indication that the Bruins are seeking to trade Liles, but he is technically a rental candidate with UFA status looming again next summer.
There's also no indication that the Bruins would be interested in Murphy, but the two players are similar enough that reaching out to Boston could be worthwhile for Francis.