Coming into this new season, the Columbus Blue Jackets had a checklist of things they needed to do to make sure they got off to a better start. Whatever they devised in the offseason, it's working well 15 games in.
They are off to their best 15-game start in franchise history.
Not many saw this coming. After losing their first two home games, worry and doubt set in with the fans. Was this season going to mirror previous disappointing campaigns?
They haven't lost at home since, winning seven in a row at Nationwide Arena, setting a new franchise record in the process. This isn't an accident. There's something to this run.
#CBJ beat #NYR 3-2. Franchise home winning streak of seven in a row.

— Aaron Portzline (@Aportzline) November 19, 2016
So what is it? What's working early on for the Blue Jackets that has them at 20 points in 15 games? They are getting contributions from different parts of the lineup. But one thing sticks out more than everything else thus far.
It is a much-improved defense, more so than I could have imagined this soon.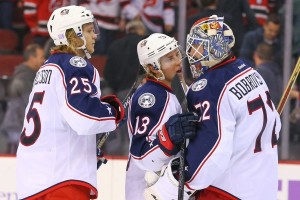 Ministers Of Defense
After Friday night's 4-2 win over the New York Rangers, the Blue Jackets have allowed just 35 goals in 15 games, an average of 2.33 goals/game. That is more than a goal/game less than at this time last season. Those 35 goals are the third fewest allowed in the NHL and they are tied for seventh in goals/game allowed.
There are a couple of factors in play. The biggest of these is Sergei Bobrovsky. He's back to his old self, back-stopping Columbus to a good start.
Consider these numbers: Bobrovsky has a 9-4-1 record with a 2.20 GAA and .932 save percentage. His GAA is 10th overall while his save percentage is 13th overall. Now, consider that Columbus is outshot by 5.5 shots/game, the highest differential in the league. Columbus allows over 32 shots/game, 4th most in the league. Here's your early Blue Jacket MVP candidate. Bobrovsky is the main reason for this massive turnaround.
Sam Gagner expressed how important Bobrovsky is to their defense after the Rangers game.
"We have confidence in Bob," Gagner said. "When you have a goalie that's going to make those big saves like that, that allows you to buckle down defensively."
The Neutral Zone
It goes further than strong goaltending. Look at the Blue Jackets' game plan against the Washington Capitals and New York. They have two of the most potent offenses. They're also two of the faster teams. The Blue Jackets successfully turned these games into muck and grind affairs. This allowed Columbus to play the way they want to play.
Against two of the Eastern Conference's fleetest teams (Mont &NYR), #CBJ allowed a combined two goals. Puck management very good tonight

— Tom Reed (@treed1919) November 19, 2016
Look at the tape of both games. Speed died in the neutral zone. There was hardly any room to move out there. Every play was contested. It was a chess match. Nobody wanted to make that fatal mistake that allowed the other team to gain momentum. One bad play would cost you the game.
This is what you can expect to see from Columbus this season. Take away the neutral zone, and force the opposition to play a slower game. They'll also try to keep everything to the outside while avoiding the big mistake. Gagner also said the team has avoided key errors for the most part.
William Karlsson told us the same, "We're trying to play smart. We're trying to play tight in the neutral zone, the simple stuff, keeping to the outside."
Rolling Four Lines
Karlsson also addressed another reason for their good defensive play. He spoke about the team's depth and ability to roll four lines.
"We have four great lines," Karlsson said. "When one line doesn't score, we have others who can step up. It is a strength of ours. It's especially a help in the third period when we have more energy."
Gagner echoed Karlsson's remarks.
"It helps us keep energy throughout the game. It definitely allows us to play with a lot of pace."
The Blue Jackets can roll four lines who play with the same energy in the first as in the third. All four lines can play double-digit minutes. This has forced opponents to try to match them. Both St. Louis Blues head coach Ken Hitchcock and Capitals coach Barry Trotz mentioned Columbus' ability to roll lines. Hitchcock said they have to match the Jackets. Trotz said they tried rolling four lines. In Washington's case, it resulted in Alex Ovechkin's lowest TOI in more than five seasons.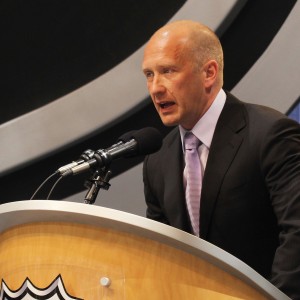 This Isn't A Fluke
What Columbus is doing is not a fluke. Consider what the Blue Jackets have done to some of the league's best teams. They held Chicago to two goals. They held Anaheim to two goals combined in two games. They held Washington to one goal. They held the league's highest-scoring team (the Rangers) to two goals. They held Dallas to two goals combined in two games. They also pitched a 10-0 shutout against the NHL's best team in Montreal.
On tape, the thing that stands out in these games is the lack of odd-man rushes they allow. Columbus has done a superb job of keeping good coverage at both ends of the ice. Their positioning has seen a drastic improvement from last season. The puck support, especially on the wall, has been noticeably better. Even though teams get a lot of shots, they are not high-quality chances.
Couple that with blocked shots and sticks in the lanes, and you see why Columbus is enjoying defensive success. This is still the youngest team in the league. They still have a lot to work on. But the team's foundation is set. General Manager Jarmo Kekalainen has always believed you build from the back-end up. They have the goaltender. They have a promising, young defensive core. If the playoffs started today, Columbus would be in.
But let's see what happens these next 15 games. The Blue Jackets, especially coach John Tortorella, believe that they don't have the respect of the league. They're winning games, but understand they have a long way to go. Can they keep up with this pace? Given the upcoming busy schedule, including five games in seven days, we will learn much more about the Jackets. Can they score enough to stay in the race? We'll see about the scoring. This much we do know: The Columbus Blue Jackets are playing defensive, and that ain't no lie.
This much we do know: The Columbus Blue Jackets are playing defensive, and that ain't no lie.