It seems like every time Tomas Hertl turns the corner, something holds him back.
He was a dynamic rookie three seasons ago, netting 15 goals in 37 games. But then came the knee-on-knee collision with Dustin Brown, and there went his season, lost to surgery to repair ligaments in his right knee.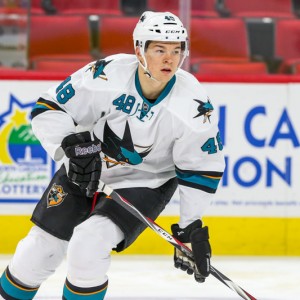 After a subpar sophomore campaign, he broke out last season, netting 21 goals and playing on the San Jose Sharks' top line. But just when his team needed him the most —needed his speed and agility against the Pittsburgh Penguins in the Stanley Cup Final — he took a hit from Patric Hornqvist and hurt the knee again. He missed the final four games of the championship round, and the Sharks missed his contributions — 11 postseason games — when they eventually fell to the Penguins.
Now, fans are on pins and needles awaiting an MRI result on (you guessed it) Hertl's right knee. The 23-year-old injured it again in Thursday night's 3-2 loss to the Blues when he attempted to hit St. Louis' Jori Lehtera in the second period. Hertl went right to the bench and walked gingerly to the dressing room, and did not return.
Hertl will miss Saturday's game against the Arizona Coyotes and is already back in the Bay Area to receive the scans.
"Anytime you're sending a guy back early on a trip to get looked at, there's concern," head coach Peter DeBoer told the media.
Hertl Plays a Valuable Role for the Sharks
Though he is young, Hertl has to be frustrated by the string of injuries. He is a talent, with natural skill and speed, that makes him an offensive threat on every shift.
This season, he has shown his versatility, at times playing on the top line with Joe Thornton and Joe Pavelski and at other times serving as the center on the third line. He is also is a power play weapon who can create chances in the offensive zone.
So far this season, Hertl has four goals and five assists in 17 games, averaging a career-high 16:28 of ice time.
"He's been through a lot for a young guy," DeBoer said. "He was playing great, arguably been one of our best players through the first [17] games and after a summer of rehab. You feel for him."
Hertl has not missed an extended amount of time due to injury since his rookie season, but repeated injuries to the same body part — especially one as important as the knee — is a concern. It could affect his mobility and skating prowess, two areas in which he excels.
Hertl's Potential is Too Bright for Injuries
After missing a large chunk of his rookie season, Hertl spent the 2014-2015 season catching up, putting up two fewer goals and just six more points despite playing in all 82 games — 47 more than the year prior. Last season, Hertl turned the corner and showed that his rookie flash of brilliance was not a fluke, that he can be a productive player for the long-term. This year, he was on pace to sustain that.
And so, the hope is the MRI results will come back clean and Hertl can re-join and rejuvenate a Sharks team mired in inconsistent play in the early going. They've been affected by a lack of goal scoring — San Jose's 39 goals is the fifth lowest total in the league and they are the only team yet to record five goals in a game — and they need Hertl at full strength to provide the energy and juice that he brings when healthy.
What the Sharks don't want to see is Hertl's career transforming into "what could've been." It's premature to jump the gun on the MRI results of this recent episode, but the fact that his health is already an issue this early in his career is cause for concern.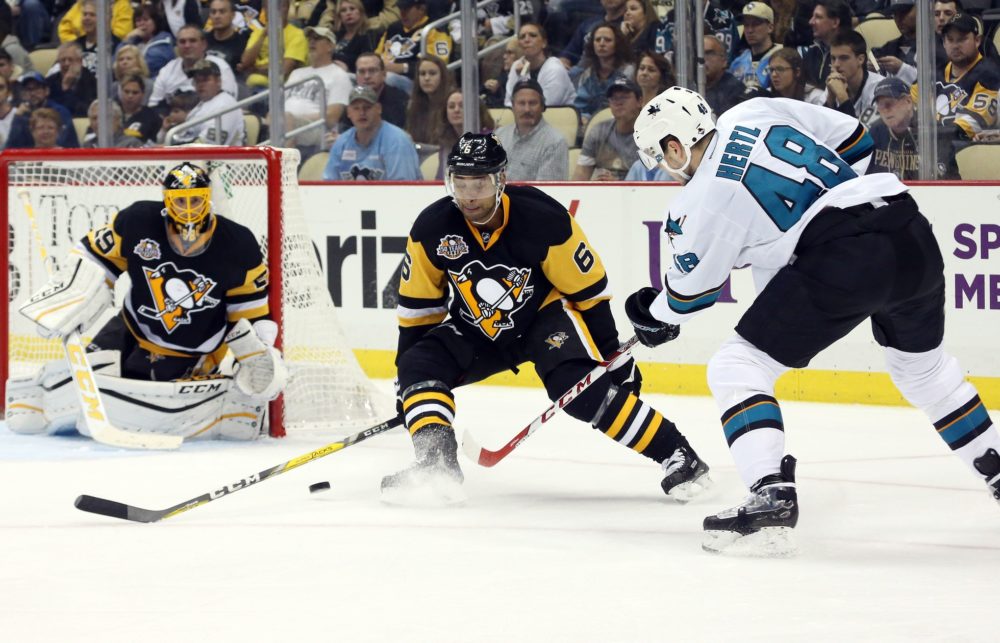 In fact, we can already play the "what could've been" game — would Hertl's presence in Games 3 through 6 have affected the result of the Stanley Cup Final? Would his combination of speed and skill — two facets in which the Sharks could not match the Penguins — mitigated Pittsburgh's performance? One player may not have made a huge difference, but one shift, one play, one goal could have impacted a series where each game was decided by two goals or less.
Bottom line: It is imperative for the Sharks to keep Hertl healthy. Because if he hadn't bumped into Hornqvist in Game 2, you don't know whether he could've altered the outcome of the series — and for a franchise still lacking that desired Stanley Cup, it's tantalizing enough to keep fingers crossed that their Czech phenom stays off the injury list.