We all love to debate draft prospects and player rankings prior to the NHL Entry Draft. But, there are always a number of promising young players who fall out of the discussion.
From Sweden, Timothy Liljegren, Lias Andersson and Elias Pettersson are anticipated to get picked within the first half of the first round this year. Rightfully so; they are all extremely talented and will be huge assets to their respective NHL teams in the future. In the shadow of their spotlight, however, is Erik Brannstrom who isn't receiving as much attention as he should. My intention is to change that.
Erik Brannstrom's first ever SHL goal.
Grattis till 17-årige Erik Brännström i HV71 som satte sitt första SHL-mål ikväll.#twittpuck #rlgifs #hv71 pic.twitter.com/DqSeCMCy8D

— RoadLaker (@RoadLaker) January 21, 2017
Brannstrom, a defenseman born in 1999, has been one of the most impactful young players in the Swedish Hockey League this season. Growing in confidence for team HV71, he has logged an average ice-time of almost 14 minutes per game over twelve SHL games in 2017. In total, he's played 28 games this season, adding one goal and four assists to his point total.
Think Kimmo Timonen
Just talked to a scout about 2017 prospect Erik Brannstrom: "He's the closest thing to Kimmo Timonen that I've seen."

— Ryan Kennedy (@THNRyanKennedy) September 8, 2016
When you're watching Brannstrom play, the first name that comes to mind is Kimmo Timonen, the Finnish defenseman who retired in 2015 after 16 seasons in the NHL. In his career, he totalled 1108 games and 571 points, representing Nashville Predators, Philadelphia Flyers, and Chicago Blackhawks.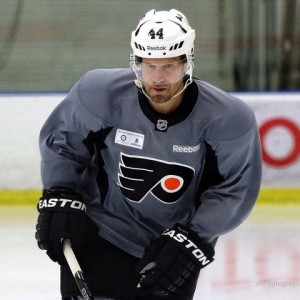 You know, that Kimmo Timonen.
I would say that Brannstrom's and Timonen's most similar features, well, apart from their small frames – Brannstrom is 5'11" and Timonen 5'10" – is their ability to control the tempo of a game.
Much like Timonen, Brannstrom is categorized as an offensive defenseman in terms of point production and, more significantly, setting up his teammates, and remaining constantly active and available for passes. Also, he's gifted with a sense of finding creative and smart solutions. Isn't that what you want from a D-man these days?
Filthy saucer passes from Brannstrom.
Sjuttonårig hockeymagi från Erik Brännström som frispelade Chris Abbott med en lobbpassning från egen zon. #HV71 pic.twitter.com/sCBPaMELLM

— Pontus Burman (@pontusburman) January 21, 2017
17-årige Erik Brännström slår en läcker lobbpass över Växjöförsvaret.#hv71 #twittpuck #rlgifs pic.twitter.com/FtMh0Do6Dc

— RoadLaker (@RoadLaker) January 5, 2017
Of course, like anyone, Brannstrom areas where he can improve in order to become a player worthy of an NHL career. His small size sometimes weighs against him in the defensive zone. However, that's a detail that usually gets better over time, and through experience. In Brannstrom's case, it's more important that he keeps that rare and exciting player identity of his. Because that's what makes him so valuable.
Possible Bargain
Competing for attention with Timothy Liljegren, known as "the next Drew Doughty" of Sweden, Brannstrom is quite low in the draft prospect rankings thus far. Judging from the consensus ranking along with The Hockey Writers' very own Ryan Pike's alternate ranking, he is likely to get picked in the late first round or early second.
There's no doubt in my mind that Brannstrom as a second round pick would be a bargain. Almost a steal! Remember this when you see him play in the World Junior Championships next year. He will be a key player for Sweden by then.
Yes, that's all him. Number 17.
Erik Brännström, 17 år gammal. Det räcker så. #HV71 pic.twitter.com/VkgYPmhpdh

— Pontus Burman (@pontusburman) January 13, 2017
If he can stretch out this development curve, as he has shown this season, it will be hard to miss out or even avoid Brannstrom's name in the future. To emphasize what level of talent we're talking about here, in the 2014-15 season he became HV71's youngest player to make an appearance in the SHL. Not much older than Rasmus Dahlin making his debut.
It will be exciting to see which NHL team lands Brannstrom's rights at the draft. What team would want a player like him?
The answer is all of them.
---
Feel free to reach out to me on Twitter (@_David Carlsson) and let me know your viewpoint on Erik Brannstrom, as well as your opinion on this article. Thanks for reading!