Erik Cole is one of the players you'll currently find on the fringes of trade speculation. He maybe hasn't been at the forefront of rumors because the Dallas Stars are still in the playoff hunt, but if they should find themselves on the outside looking in at the end of the month, Cole may be on the move and he could offer a nice boost to a team making a playoff push now. However, teams looking for more than a rental should be wary.
Why He Can Be Had
The Stars likely know that they have the potential to be a playoff team again this year, but that they aren't a Stanley Cup team yet. They're getting there, but this isn't the year.
They're well on their way to being contenders. Tyler Seguin, Cody Eakin, John Klingberg, Valeri Nichushkin, Brett Ritchie, Patrik Nemeth, Jamie Oleksiak, and Jyrki Jokipakka are all 23 or younger. They've also got Jamie Benn, Antoine Roussel, and Colton Sceviour, who are just 25. This team is loaded with young talent. They're going to be a scary team very soon (likely as soon as their young D group get healthy and develop a bit more). That also leaves out some big talent in the AHL like Julius Honka (19), Curtis McKenzie (23), and Radek Faksa (21).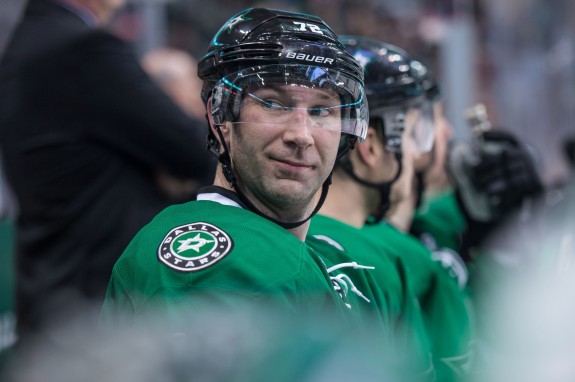 Cole, who is 36, is in the final year of a contract with a $4.5 million cap hit ($4M actual). The Stars have one of the most lopsided payrolls in the league with $47.608M in cap space dedicated to forwards and just $14.286M dedicated to defenseman. They'll be losing David Schlemko at the end of the season (they're unlikely to re-sign him) and they'll be looking to give raises to RFA defenseman Nemeth, Klingberg, and Jokipakka.
Cole's age and his cap hit may have Cole outside of GM Jim Nill's plans for next season. But you don't want to lose a player like Cole for nothing if you're not going to make the playoffs. Cole can be had.
Elite Goal Scoring
Cole has posted some pretty incredible scoring numbers in his career, especially for someone who gets absolutely no credit whatsoever. Talking about Evander Kane's production last week I had grouped the top 50 forwards in G/60 (goals scored per 60 minutes of play) since the 2009-10 season (min. 2,000 minutes). The usual suspects are in there: Crosby, Ovechkin, Stamkos, Neal, Gaborik, Kessel, Kane… and also Erik Cole.
Cole actually ranks 30th in that group of 50. That's ahead of guys like Zach Parise, Daneil Sedin, Jarome Iginla, Patrick Sharp, and Patrick Marleau, who are all in the top 50.
If you pull from the 2002-03 season onward — a larger pool of players — he is tied for 20th with a 1.0 G/60.
As I pointed out earlier, he's 36 and he's played in the NHL for 13 seasons. That score could be weighted more heavily toward his early years. (It's not.) Here's how his production per 60 minutes has progressed since the 2003-04 season.
He doesn't appear to be hitting the end of his career in terms of point production by any means. He's not at the height of his goal-scoring prowess, but he's ticked back up above where he's been the last couple of years and is hovering around the kind of production we saw from him three and four years ago. Aside from those two years, this is his best production since the 2007-08 season. In fact, he's posting this season's strong numbers while playing the fewest minutes per game of his career at 13:54.
With teams interested in big ticket players like Antoine Vermette, Evander Kane (who likely won't be moved until the draft), Chris Stewart, or any of the Oilers forwards who are rumored to be on the block, a player like Cole might fly a bit under the radar and because of that the price for him may be very reasonable if Dallas finds themselves to be sellers at the deadline.
That's good news for buyers, because with production like that, he could help a team that has solid possession and good defense, but could use a little more depth scoring. He's a solid third line guy who could play a role on the second line if called upon.
Is There a But?
Yes. If a team is asked to pay more than a deep draft pick or is looking for a long-term cure — something more than a rental — then GMs should be wary of Cole. He can provide a nice boost to a team's depth for a playoff run, but his defensive issues don't make him a great building block for the future, especially if he has a cap hit north of $3M.
The concern isn't just his age and declining production, but that his possession numbers aren't complimentary and he has required lots of protected zone starts in order to get the production he's shown and still can't manage to make a positive impact on his team in terms of possession.
Over the last 11 seasons, Cole has only had a positive relative Corsi For three times. (Relative Corsi For — expressed as CF%Rel — is essentially a player's Corsi For minus the team's Corsi For without him on the ice in games he played in. A positive CF%Rel means a player has a positive impact on team possession, even if the team has a negative Corsi For overall.)
Here are his numbers over the last 11 seasons:
| | 2014-15 | 2013-14 | 2012-13 | 2011- 12 | 2010- 11 | 2009- 10 | 2008- 09 | 2007- 08 | 2006- 07 | 2005- 06 | 2003- 04 |
| --- | --- | --- | --- | --- | --- | --- | --- | --- | --- | --- | --- |
| CF% | 49.2 | 49.4 | 45.9 | 51.1 | 48.3 | 44.8 | 50.9 | 52.4 | 53.1 | 44.5 | 47.2 |
| CF%Rel | -2.4 | -1.8 | -3.6 | 4.6 | -1 | -5.1 | 3.6 | 1.2 | -0.8 | -4.2 | -10.8 |
| SCF%Rel | -5.7 | -0.5 | -7.1 | 5.4 | -0.6 | -1.8 | 5.6 | 3.9 | -0.1 | -3.6 |   |
| ZSO%Rel | 5.2 | 1.5 | -8.1 | 4.2 | 2 | 1.9 | 3.9 | 2.5 | 2.2 | 7 | -16 |
Deadline Approaching
Cole has posted great scoring numbers over his career, but being buried in Dallas' depth chart and being behind guys like Seguin, Benn, and Jason Spezza may have him off the radar a bit. He can provide, but buyer beware. He's not a building block for a team with his defensive struggles. He's getting older, but could be productive for another couple years pretty easily. However, there's no reason to believe that we aren't going to see his possession numbers, which have never been strong, start to suffer.