The European Champions Hockey League has managed to engage into its tournament the best hockey teams of the Old Continent (with the exception of Russian clubs). Currently the league is past the quarter-finals' stage and is set for the intensive and most interesting semi-finals to be played in January 2015.
Until the semifinals the league's game had been dominated by the Scandinavian clubs. To be precise, those from Finland and Sweden. But starting since the semi-finals the Scandinavians were the only teams playing in the Champions League. They have managed to outperform and move aside in competition teams from Austria, Czech Republic, Denmark, England, France, Germany, Norway, Slovakia, and Switzerland. The result is not surprising, however. Finland and Sweden are the two European nations, which "are simply better developers of talent than their European competitors."
Thus, in the quarterfinals Skellefteå AIK (SWE) met Linköping HC (SWE). Luleå Hockey (SWE) played Lukko Rauma (FIN). Kärpät Oulu (FIN) met SaiPa Lappeenranta (FIN). And Frölunda Gothenburg (SWE) faced IFK Helsinki (FIN).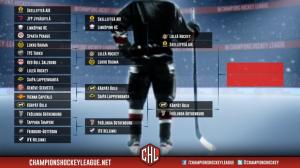 Looking at the results of the quarterfinals from the national perspective, the Finns will be represented in the Lague's semifinals by one team only – Kärpät Oulu. Whereas Swedish fans will be able to shout for three of their teams: Skellefteå AIK, Luleå Hockey, Frölunda Gothenburg. It is not surprising then that Kärpät Oulu need and hope for the support of all of Finland in order to get into the finals.
The first semi-final pair brings leaders of the national championships of the two neighboring countries into play – Kärpät Oulu and Frölunda Gothenburg. Both teams prefer to play defensive hockey. The games between them promise to result in fantastic rivalry of players and coaches likewise.
The other semi-finals pair will be purely Swedish: Skellefteå AIK vs. Luleå Hockey. Their games will be filled with rivalry, of course. And there are a few reasons for it. Luleå Hockey is currently placed unusually low in the Swedish national championships, whereas Skellefteå AIK tops the table. This season, Luleå won only one of the three encounters against Skellefteå AIK. Winning against Skellefteå AIK on an international level will bring Luleå Hockey players heaps of motivation for improving their game in the national SHL.
The first legs of the semifinals will be played on 13 January 2015 in Skellefteå and in Gothenburg. The replays will take place in Luleå and in Oulu on 20 January 2015.
Let's get ready for some of the best hockey action Europe has to offer!