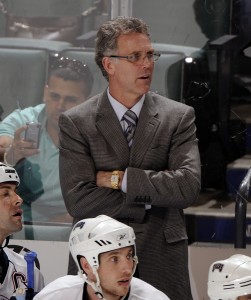 There is one thing you can be sure of in the NHL. When a team has a storied past, and a big checkbook, that hasn't made the playoffs in a while, and desperately needs to, every big name player that may or may not be on the block will be rumored to be a fit there. Enter the Edmonton Oilers. Years of futility and high unfulfilled draft picks have pushed the Oilers to the forefront of teams that need that to improve in a hurry, and perhaps bringing in a big name player will do that. There have been a lot of rumors, though mostly unfounded. Here are some of the possibilities, thought it's really not likely any of these guys will be in Edmonton next season, unless their own team is visiting the city.
Dion Phaneuf
Phaneuf is a polarizing figure in the hockey world. While in Calgary, he looked like he was going to the next great defenseman, but it didn't pan out that way. He is now the captain of the Toronto Maple Leafs, but his inconsistent play has made him public enemy number one to many a fan. He just signed a huge new contract, but that hasn't stopped the trade rumors. Not everyone likes Dion's personality, and his qualifications as a leader are constantly called into question. Unfortunately, his play on the ice doesn't always make it worth the trouble.
Phaneuf logs a lot of minutes. He's very reliable in that way. But he often makes bad decisions in his own end, as well as ill-advised pinches that come back to burn his team. He has his great moments, but do the Oilers really want to put their eggs in his basket? They need a top blueliner that isn't a flight risk or a liability. Sure, that's easier said than done, but between the price tag, and possibility that he could be worse than what they already have, the Oil should look past Phaneuf, even though he's an Edmonton native.
P.K Subban
Perhaps the most polarizing of them all is Montreal's P.K Subban. He can be absolutely brilliant, yet still hasn't convinced his critics. He has a mental lapse every now and then, but really who doesn't? Subban won the Norris trophy in 2013, and prior to their series against the Rangers, P.K looked like the Habs Conn Smythe winner in waiting.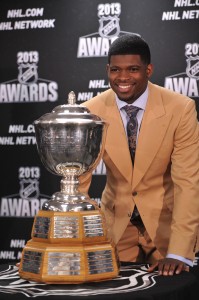 Be it because of his smug celebrations or perceived arrogance, Subban's star quality is often looked over. He played but one game for team Canada at the Olympics. The reasoning was his risk taking. Against the Boston Bruins, he was he best player in the world. But maybe there needs to be more consistency in his game. He tends to take runs at people when things aren't going well, taking him out of the play and putting his team at risk. He wants to take our breath away with end to end rushes, but they don't always work.
Unlike Phaneuf, Subban really does have the raw talent that should make him worth it. He's a free agent, but Montreal would be crazy not to throw all the money at him. If P.K decides to go to market, however, the Oilers must inquire.
Kris Letang
Similar to the aforementioned P.K Subban, Kris Letang is as much a liability as he is a star, and certainly even more so than the Canadiens d-man. Letang has the talent, but he lacks the hockey sense that would put him over the edge as a superstar. He makes worse decisions than most could ever imagine. And unlike Subban, he doesn't make up for them with a blistering shot from the point. Letang may never be better than he is now, even though he's capable. Perhaps a new coach would help. Or maybe a change of scenery.
Like Phaneuf, Letang is entering a new, long-term contract. He's terribly overpaid but so are many of his ilk. He has battled some health issues, but appears to be at 100% now. Imagine Letang feeding pucks to Taylor Hall all night. It's a nice image, but imagine him fleeing the zone and leaving no one to help out Justin Schultz or Jeff Petry. It's a frightening thought, really. Letang may or not be available, but the Penguins would certainly be listening to offers. The Oilers really want a stud number one d-man, and on paper that could be Letang. But since the games are played on ice, they should probably keep shopping.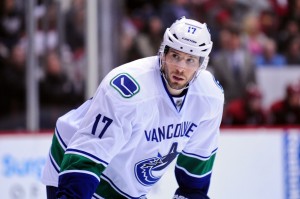 Ryan Kesler
Ryan Kesler is unhappy in Vancouver, and the gritty forward is the desire of many teams around the league. He can hit, he can skate, he can score, and he's got that character thing everybody likes. He's a veteran presence, but at age 29 he's still got some good years ahead of him. The major problem with Kesler is the notion that he's "injury prone" but he carries a cap hit of $5 million, and that's a bargain if he stays healthy. Teams like Anaheim, Pittsburgh and Los Angeles are probably more likely to land Kesler, and obviously the Canucks will do everything to hang onto him.
But imagine Kesler coming in on the depth chart behind Ryan Nugent-Hopkins. That's a pretty nice one-two punch. Granted, the Oilers will have to give up a lot to get him, but Kesler is exactly the kind of player the Oilers need. Then again, at this point they pretty much need anyone. Whether it's one of the guys listed here, we'll find out soon enough. Expect more names to be added to the list as we get deep into the summer. That's just how hockey rolls.