The Carolina Hurricanes are shaping into a pretty good team and it's all thanks to Ron Francis, the club's general manager — even though they're standing last in the Metropolitan division eight weeks before it's over.
With 29 games left to play, and 55 points, they're only one point below the New Jersey Devils, three points below the New York Islanders and six points below the Philadelphia Flyers. The New York Rangers have 73 points and they've won their last five games in a row but they've played two more games than the Hurricanes and they'll be facing some pretty tough teams by the time February is over. It's really not that far-fetched to think the Hurricanes still have a shot at making the playoffs this year.
After all, winning the Stanley Cup is the end goal and that would do a lot for their low attendance numbers. It's also why they embarked on a rebuild nearly three years ago.
The Hurricanes started rebuilding from the ground up with Francis propelling the franchise into action. As with all rebuilds, change is a regular occurrence and requires foresight. It's really easy to envision what the team could look like after they make some major decisions over the course of the next five months. Particularly on defense.
Francis Has Options, but None Are Easy
The first upcoming change facing Francis evolves around a time-sensitive matter. He still needs to meet the upcoming expansion draft's player exposure requirements. The NHL's 31st team will select one of the Hurricanes' players to join their roster and, right now, Francis doesn't have an available defenseman for the picking.
Noah Hanifin, Brett Pesce and Jacob Slavin are exempt from the expansion draft and Francis will protect Justin Faulk. He's now left with Ron Hainsey, Ryan Murphy, Klas Dahlbeck and Matt Tennyson. However, according to the expansion draft rules, each existing club must expose at least one defenseman who's under contract in 2017-18 and has played in at least 40 NHL games last season OR at least 70 NHL games over the last two seasons. Hainsey, Dahlbeck and Tennyson all have contracts expiring after the 2016-17 season ends.
Option #1: Expose Ryan Murphy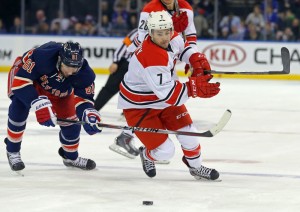 This leaves Ryan Murphy and he doesn't have the minimum number of NHL games played needed to meet the exposure requirements. However, if he were played in at least 24 of the next 29 games, he'd meet them. That being said, if Murphy were played in games he's not yet ready to play in for the sole purpose of meeting the player exposure requirement, the team's playoff contention could be in jeopardy. A move like this seems out of character for Francis and therefore, unlikely.
Option #2: Expose Klas Dahlbeck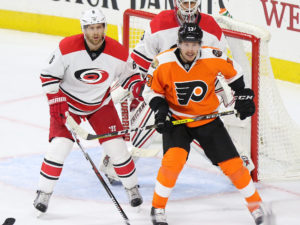 Another option is to extend the contracts of either Hainsey, Dahlbeck or Tennyson. However, Tennyson doesn't currently have the requisite NHL games played to meet the player exposure requirements. If his contract was extended, he'd also have to play in at least nine of the next 29 games. Hainsey, on the other hand, is already 35-years-old and has a contract worth $2,833,333.
Regardless of which one is exposed, neither are overly attractive and may not get picked by the new Las Vegas Golden Knights so it's quite possible that whichever defenseman gets exposed will end up staying with the Hurricanes anyways. Dahlbeck's contract is considerably less expensive than Hainsey's, so why eat up cap space when you don't have to?
Option #3: Trade a Forward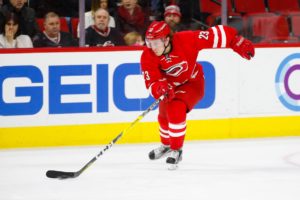 The third option is to make a trade for a defenseman who does have the requisite NHL games played before the trade deadline on Mar. 1, 2017, by 3:00 p.m. EST. For Francis, the simplest way to do this would be to trade a forward for a defenseman who meets the exposure requirements. There may even be other teams in the same boat who are shopping for one or two forwards that meet the exposure criteria.
Of the Hurricanes' list of forwards, Jordan Staal is protected, Sebastian Aho and Derek Ryan are exempt. Bryan Bickell, Ty Rattie and Brock McGinn don't meet the player exposure requirements, but this doesn't necessarily mean they can't be traded. The probability of Jeff Skinner, Victor Rask, Elias Lindholm and Teuvo Teräväinen being traded is nil considering their trajectory for future point-production is looking good.
Lee Stempniak and Joakim Nordström are the only other forwards who're under contract in 2017-18. If needed, Francis could extend the contracts of Viktor Stålberg or Jay McClement so they could meet the exposure requirements — if Bickell were played in 16 more games, he'd also meet the player exposure requirements. Furthermore, if McGinn played in three more games and had his contract extended, he'd meet the exposure requirements as well. These are all things that could impact the number of shoppers interested in doing a trade.

Finally, if Francis does trade for a defenseman who meets the exposure requirements, there's still that small chance this new defenseman could end up complimenting the current defensive structure and thrive in ways no one saw coming. Although it's unlikely, if Francis wanted this new guy protected, he'd need to have a backup plan.
In order to meet the player exposure criteria, the least complicated move Francis could make is extending Dahlbeck's contract because he already has the requisite NHL games under his belt. That being said, McGinn is only three games away from meeting the exposure requirements and that would give Francis another trading chip and this chip could open the door for more buyers. Either way, hope for a bright future in Carolina still exists and that's something fans can be proud of.