Facing Off is a weekly column debating five of hockey's hottest topics each and every Monday. From current events like trades and hat tricks to bigger-picture stuff like scandals and expansion — you name it, we're debating it. Albeit, not always with a serious tone. We're keeping this column light, so keep that in mind when reading, and feel free to join in on the fun by leaving a comment. Follow us on Twitter (@FacingOff_THW) and get in on the debate there too.

Sixteen sleeps. Yes, the countdown is on until the NHL's annual trade deadline — Wednesday, March 1.
That's just over two weeks away. So business is about to pick up and the deals will soon be going down.
Coming off a three-week hiatus, Facing Off wanted to return with a bang and we went all out for Episode 8 of the podcast — featuring more than 90 minutes of trade talk with Félix Sicard, one of our regular contributors to both the column and the podcast and THW's lead writer for the Anaheim Ducks.
Those Ducks could be one of the more active teams at the deadline, but we debated all the potential buyers and sellers, the players expected to move and where we see them landing.
From Matt Duchene to Marc-Andre Fleury, we discussed every player on THW's list of the top 25 trade targets and then some.
Scoring wingers. Starting goaltenders. Puck-moving defencemen. We have something for everyone on this show.
If you're the kind of person who calls in sick to work or plays hooky from school on deadline day, this is definitely the episode for you.
The hardcore trade junkies will catch one of my mistakes in saying Nick Spaling fetched a first-round pick for Buffalo a few years back. The 2012 deal I was alluding to involved Paul Gaustad, not Spaling, so my apologies there. Chalk that up to a little bit of rust coming off the Ultimate California Hockey Road Trip.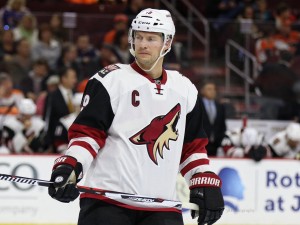 What we do know is that Colorado and Arizona are selling, but how about Winnipeg and Vancouver? Are Edmonton and Calgary going to be buying . . . maybe Toronto too? Is anybody selling in the Eastern Conference? Seriously, anybody?
We tried to answer those questions, albeit not always in agreement. And we even closed out the show with a friendly "future beers" bet over how many trades we'll see between now and the deadline.
You'll have to listen for those predictions — no spoilers here — but if you do listen, you might hear a couple spoilers for my upcoming trade deadline predictions. I'm just getting going on that piece, but I hope to have it done by week's end.
In the meantime, enjoy Episode 8 of the Facing Off podcast and look forward to more trade talk in next week's Facing Off column as well. It's that time of the year!
---
Who won this round of Facing Off? Feel free to weigh-in with your opinions in the comments below. We will be checking in periodically to both defend and expand on our initial answers. If you want us to face-off over a topic, we're open to suggestions as well.
Larry Fisher is a senior writer and head scout for The Hockey Writers, having been an at-large contributor for THW since August 2014. Fisher covers both the NHL and the WHL, specializing in prospects and NHL draft content, including his annual mock drafts that date back to 2012. Fisher has also been a beat writer for the WHL's Kelowna Rockets since 2008, formerly working as a sports reporter/editor for The Daily Courier in Kelowna, British Columbia, Canada from 2008-2019. Follow him on Twitter: @LarryFisher_KDC.