Visit California and The Hockey Writers sent Larry Fisher — an at-large contributor, columnist and podcast host — on the Ultimate California Hockey Road Trip with stops in San Jose, Anaheim and Los Angeles. This is the ninth and final story tracking those travels: 
• Gearing Up for the Ultimate California Hockey Road Trip
• California Dreamin' About Ultimate Hockey Road Trip
• Ultimate California Hockey Road Trip: Day 1 Delivers Delicious Beers
• Ultimate California Hockey Road Trip: Sharks Are Winning, Times Are Good
• Ultimate California Hockey Road Trip: Great One Grants Time in Anaheim
• Ultimate California Hockey Road Trip: Anaheim Offers Much More Than Disney, Gretzky
• Oilers' Fans Flocking to California for Ultimate Hockey Road Trip
• NHL Skills Competition Underwhelms Yet Again
---
LOS ANGELES — The NHL skills competition needs some work. There's no denying that.
The All-Star Game, as a 3-on-3 tournament, is pretty much perfect and getting better by the year.
The concept is genius, but the players still have to go out and perform. Last year set the bar high — with the whole John Scott phenomenon — but this year's showcase was all about the real All-Stars, no gimmicks, and they didn't disappoint.
Their execution was on point, and the 3-on-3 advancements from last year's inaugural tourney were plain to see. That debut was a massive improvement over the previous format, but the championship game kind of flat-lined when Corey Perry scored the only goal in Team Pacific's 1-0 win over the Atlantic.
More Goals, More Entertainment
This time around, the offence kept coming and the goaltenders weren't rolling over either. It was quite competitive from start to finish, and the final felt much like a regular-season overtime. That is a compliment, for those keeping score.
Both of the semifinal winners reached double-digits — Team Pacific clobbered the Central 10-3, and the Metropolitan Division pulled away from the Atlantic 10-6 — to set up a star-studded championship game, headlined by Sidney Crosby against Connor McDavid.
The NHL couldn't have scripted it any better, with the two biggest stars of today facing off in celebration of the centennial anniversary. This was the dream matchup and it lived up to the hype, with Team Metro dethroning the Pacific 4-3.
Former King Emerges as Hero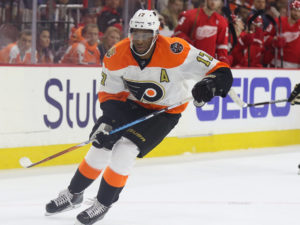 Philadelphia's Wayne Simmonds, who broke into the league here in Los Angeles, scored the go-ahead goal with less than five minutes remaining to earn MVP honours, while Braden Holtby backstopped the win with a series of sensational saves.
Cam Atkinson was the other standout for Team Metro, perhaps trying harder than his peers to prove himself as an injury replacement. Not that anybody was slacking, but Atkinson seemed to be going all out on every shift.
Superstars Surprisingly Quiet
Crosby and Alex Ovechkin, arch-rivals since entering the league together more than a decade ago, were paired as linemates by substitute coach Wayne Gretzky — filling in for John Tortorella — but they didn't dominate the way one might expect.
https://twitter.com/realPOSULLIVAN/status/825837479248949248
Whether that was due to a lack of chemistry or a lack of effort is a matter of debate, and the truth probably lies somewhere in between. Regardless, they were fun to watch and had the crowd buzzing every time they stepped on the ice.
McDavid Displays 'Wow' Factor
Ditto for McDavid, who was making his All-Star debut after missing last year's event in recovering from a collarbone injury that limited his rookie season to 45 games and cost him the Calder Trophy.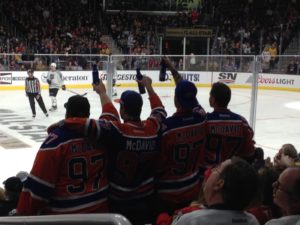 Undeterred by the controversy surrounding Saturday's fastest-skater competition — McDavid won the event and probably should have replaced Dylan Larkin in the record books — the league's leading scorer was determined to leave his mark on the All-Star tournament.
McDavid may not have been a consistent force — like Atkinson, or even Pacific teammate Johnny Gaudreau — but when McDavid did turn it up, he was the most electrifying player from any of the four teams.
The fans were always aware of his presence, and McDavid's breakaway goal on Sergei Bobrovsky to tie the title game at 2-2 will go down as one of the top highlights.
Goodness gracious @cmcdavid97. #NHLAllStar pic.twitter.com/ipBueHDCMn

— NHL (@NHL) January 29, 2017
What a pass from Ryan Kesler and what a move from McDavid. That had to be the goal of the day, while the save of the day belonged to Holtby for robbing Brad Marchand on a back-door chance in the semis.
😱😱😱 #HoltBeast #CapsAllStars #NHLAllStar pic.twitter.com/XT1jASEZFs

— Washington Capitals (@Capitals) January 29, 2017
My three stars would have been Simmonds, Atkinson and Gaudreau, with Holtby, McDavid, Seth Jones and Jeff Carter as honourable mentions.
Signing Off
That's it for the hockey portion of my trip — an unforgettable experience that crossed off a couple bucket-list items — but I'm sticking around California for a few extra days to do some more tourist stuff. Disneyland tomorrow. Universal Studios on Wednesday. I'll save those stories for another time, another place.
Then it's back to Kelowna and back to the real world on Thursday afternoon, with my Facing Off column making its return here next Monday morning. That's the plan.
Saying Goodbyes
As is the case with most trips, the people you meet are as memorable as anything you see or do. I had the pleasure of travelling alongside Ally Carlson of Visit California, who made this all possible, and Paul Knowles, a fellow journalist from just outside Toronto. They were great company every step of the way, as were all of our acquaintances from Team San Jose, Visit Anaheim and Discover L.A.
I look forward to keeping in touch and hopefully making it back down here at some point. If you've never been to California before, I highly recommend it. Fun times all around!