Visit California and The Hockey Writers sent Larry Fisher — an at-large contributor, columnist and podcast host — on the Ultimate California Hockey Road Trip with stops in San Jose, Anaheim and Los Angeles. This is the fifth of nine stories tracking those travels: 
• Gearing Up for the Ultimate California Hockey Road Trip
• California Dreamin' About Ultimate Hockey Road Trip
• Ultimate California Hockey Road Trip: Day 1 Delivers Delicious Beers
• Ultimate California Hockey Road Trip: Sharks Are Winning, Times Are Good
• Ultimate California Hockey Road Trip: Anaheim Offers Much More Than Disney, Gretzky
• Oilers' Fans Flocking to California for Ultimate Hockey Road Trip
• NHL Skills Competition Underwhelms Yet Again
• NHL All-Stars Save Best for Last
---
There were a lot of Wayne Gretzky jerseys in the crowd at Honda Center on Wednesday night.
Turns out, the Great One was there too — on the road with the Edmonton Oilers, watching them blank the host Anaheim Ducks 4-0 to close within a point of the Pacific Division-leading San Jose Sharks heading into tonight's first-place showdown in the Silicon Valley.
Not only was Gretzky in Orange County, but he was gracious enough to spend a few minutes talking hockey with yours truly and my travelling colleague Paul Knowles, a fellow Canadian journalist from just outside Toronto.
Credit Paul for approaching Gretzky with the interview request as I was chatting up Leon Draisaitl in the Oilers' dressing room following his two-goal, third-star performance. Gretzky obliged and spent the first bit discussing the importance of hockey to Canadians and the significance of the NHL's centennial anniversary for an upcoming feature that Paul is piecing together throughout our week-long Ultimate California Hockey Road Trip.
I managed to get in a question about this weekend's NHL All-Star Game in Los Angeles — where Gretzky put the game of hockey on the map in California following his trade from Edmonton in 1988. Now back with the Oilers' organization in the role of vice-chairman, Gretzky is helping to mentor the Next One in Connor McDavid, who will be making his All-Star debut after missing last year's showcase as a rookie because of injury.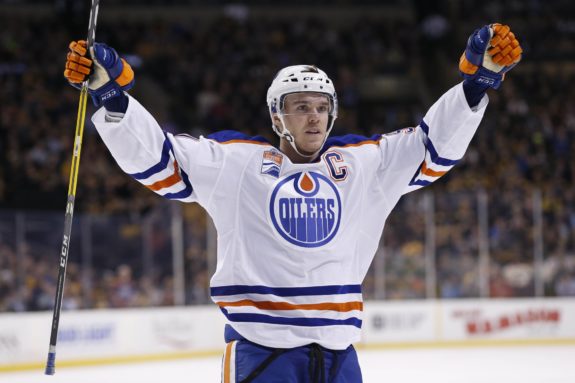 "He'll have fun, just take it all in — the first one. It's really all about having a good time and great memories, but I'm sure he's more worried about (tonight in San Jose) than he is Saturday and Sunday," Gretzky said of McDavid, who will have all eyes on him for Saturday's skills competition as well, particularly for the fastest-skater event.
"Oh, we'll see," Gretzky added in regards to McDavid's record-setting potential, not wanting to put any extra pressure on the young star who just turned 20 years old this month.
"Enjoy it, meet people & take in the whole event." Gretzky's #NHLAllStar advice for @cmcdavid97: https://t.co/gOVHSwgLRU pic.twitter.com/opyaSmpXc6

— Edmonton Oilers (@EdmontonOilers) January 26, 2017
Draisaitl won't likely get that All-Star experience despite being the second-highest scoring forward from the Pacific Division behind only the league-leading McDavid, who assisted on Draisaitl's first goal to open the scoring in the second period of Wednesday's win.
Another look at @Drat_29's tally! #EDMvsANA pic.twitter.com/HCKXNcA2Dn

— Edmonton Oilers (@EdmontonOilers) January 26, 2017
McDavid is now up to 57 points in 50 games, while Draisaitl is tied for 13th in the league with 44 points, including a team-high 19 goals — overtaking his other linemate, Patrick Maroon, who set up Draisaitl's second tally to close out the scoring last night.
That passing tho… #EDMvsANA pic.twitter.com/4Jcj85qXhD

— Edmonton Oilers (@EdmontonOilers) January 26, 2017
Asked about the All-Star snub, Draisaitl was taking it in stride.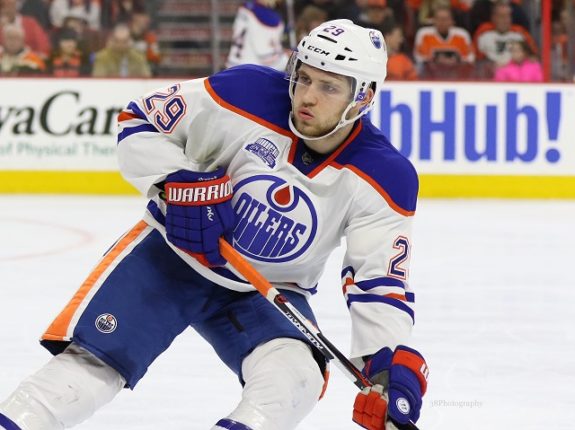 "They picked the teams and it would have been a fun event to be in, but it didn't happen. Maybe in the future," he said, though it's still possible that Draisaitl could become an injury replacement if one of Team Pacific's six forwards were to pull out over the next 48 hours.
Had Gretzky been picking that team, there's little doubt that Draisaitl would have been on it.
"Over the course of the season, he's been as consistent as anybody on the team. He's been really solid," Gretzky said in praising Draisaitl to a female reporter just prior to turning his attention towards us.
Draisaitl wasn't about to make a case for himself, but was quick to note McDavid's influence on his surging stat-line.
"Obviously playing with Connor makes it a lot easier," Draisaitl said. "He's such a smart player and I think we complement each other really well. He pushes me to play with pace, to play fast, and to try to make those little plays to him in full speed.
"Connor is just an unselfish guy. With him, you always have to be ready no matter where you are. He's able to find you and able to find those seams," Draisaitl continued. "It's been working for us. We've been playing really good and creating, and it's a lot of fun playing with those two guys (including Maroon)."
That chemistry has continued to blossom, and Gretzky felt Wednesday's victory was another step in the right direction for the team in general.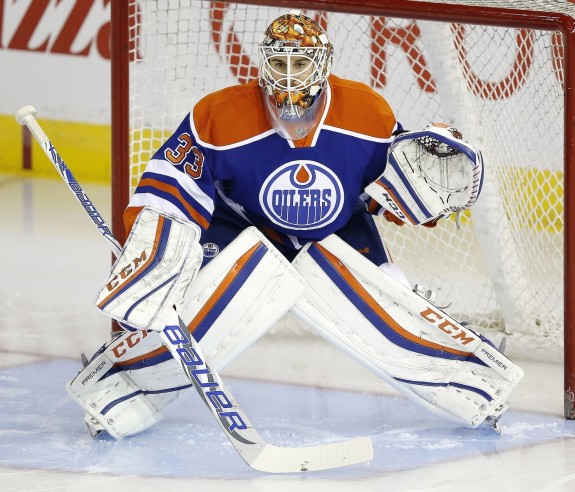 "It was a big statement for these guys, to play a game like this, and to have an opportunity to go into San Jose (tonight) with first place on the line heading into the All-Star break," Gretzky said. "I know people in Edmonton have waited a long time to have a season like this, and it's exciting for everyone."
"We're very tight with the other two teams up there (San Jose and Anaheim), and every point we can get is huge for us," Draisaitl agreed, "and to beat (the Ducks) in their rink is real big."
McDavid, whose scrum was done by the time we got down to the room, has been leading the charge on and off the ice in his first season as the NHL's youngest captain in history.
He's also endeared himself to hockey fans around the league, which was evident by the amount of No. 97 sweaters in the stands — even more prevalent than Gretzky's No. 99, and right up there with Ducks captain Ryan Getzlaf's No. 15 and his longtime wingman Corey Perry's No. 10 on a night when the Oilers drew the biggest cheers and loudest chants.
"He's a charismatic young man, and you either have charisma or you don't," Gretzky said of McDavid's widespread appeal from Alberta to California and beyond. "He plays the game hard and plays the game unselfishly and, consequently, he's a big part of the success of the organization."
---
Stay tuned for a full recap of our day in Anaheim — it was an eventful one, short but so very sweet, thanks to Erin Ramsauer of Visit Anaheim, who was ultimately responsible for our Gretzky encounter by ensuring we received media credentials for the game.
Today, we are off to our final destination — The Standard hotel in downtown Los Angeles, with plans to tour Dodger Stadium before noon and check out L.A. Live into the evening. Possibly wind up somewhere to watch that Sharks-Oilers game.
Be sure to follow me on Twitter (@LarryFisher_KDC) and Instagram (larryfisher31) for updates throughout the trip.
Larry Fisher is a senior writer and head scout for The Hockey Writers, having been an at-large contributor for THW since August 2014. Fisher covers both the NHL and the WHL, specializing in prospects and NHL draft content, including his annual mock drafts that date back to 2012. Fisher has also been a beat writer for the WHL's Kelowna Rockets since 2008, formerly working as a sports reporter/editor for The Daily Courier in Kelowna, British Columbia, Canada from 2008-2019. Follow him on Twitter: @LarryFisher_KDC.