Visit California and The Hockey Writers sent Larry Fisher — an at-large contributor, columnist and podcast host — on the Ultimate California Hockey Road Trip with stops in San Jose, Anaheim and Los Angeles. This is the sixth of nine stories tracking those travels: 
• Gearing Up for the Ultimate California Hockey Road Trip
• California Dreamin' About Ultimate Hockey Road Trip
• Ultimate California Hockey Road Trip: Day 1 Delivers Delicious Beers
• Ultimate California Hockey Road Trip: Sharks Are Winning, Times Are Good
• Ultimate California Hockey Road Trip: Great One Grants Time in Anaheim
• Oilers' Fans Flocking to California for Ultimate Hockey Road Trip
• NHL Skills Competition Underwhelms Yet Again
• NHL All-Stars Save Best for Last
---
Anaheim really is the place where dreams come true.
It's a slogan of Disney Parks here but, in my case, it applied to the Honda Center.
Day 3 of our week-long Ultimate California Hockey Road Trip was, in a word, great — highlighted by meeting and interviewing the Great One, Wayne Gretzky.
Ultimate California Hockey Road Trip: Great One Grants Time in Anaheim – https://t.co/WHOYprMQ55 #hockey #THW pic.twitter.com/RcUnPLdOH3

— The Hockey Writers (@TheHockeyWriter) January 26, 2017
That brush with greatness will be tough to top and overshadowed the rest of what Anaheim had to offer, including a revitalized downtown that far exceeded our expectations.
Located about three miles from all that is Disney — and from where we were staying at the suite-style Residence Inn (highly recommend) — there is another bustling but lesser-known district that our tour guide, Erin Ramsauer of Visit Anaheim, was eager to show off.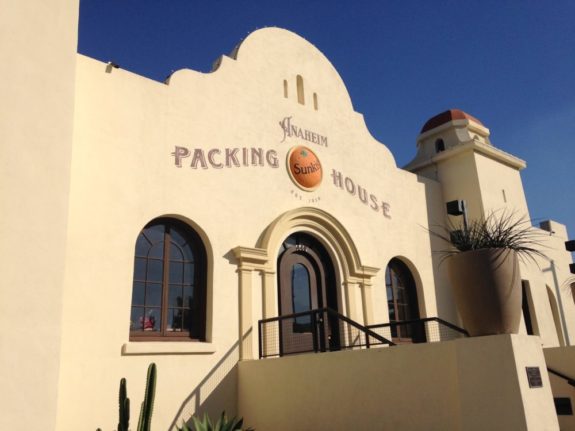 An Orange County local, Erin clearly knew all the go-to spots. Our first stop was the Anaheim Packing House, a 42,000 square foot food-and-beverage paradise surrounded by breweries and other emerging restaurants in Farmers Park.
For at least three decades, this was a deteriorating, run-down region of her hometown. It had very little going on, but suddenly it has a little something for everyone.
After making the rounds through the 20-plus merchants, we settled on Georgia's Restaurant — on Erin's advice — and it didn't disappoint. I went with the jambalaya (rice over pasta, for the record) and a side of mac-and-cheese. Filling and off-the-charts flavourful.
The building itself, believe it or not, was an original Sunkist oranges factory built in 1919 that later delved into a warehouse for used hotel furniture before becoming the cultural hub that it is today.
That transformation took place within the last few years, an ambitious project that is just starting to reap the rewards but has a bright future.
Mmm, More Beer
Once full, we meandered through the park to the Anaheim Brewery — another reclamation that has a history dating to 1870. That particular building was a car dealership in the 1920s and the brand of beer didn't survive prohibition, but the husband-and-wife brewing team of Greg and Barbara Gerovac heroically brought it back and began crafting some of the best traditional German options available in California or North America for that matter.
Breweries have been a big hit on this trip — second only to hockey so far — and Anaheim is home to 12 of them, with upwards of 30 in the surrounding county. Known more for its wine, beer is coming on strong in California and Anaheim's mayor, Tom Tait, has embraced that movement.
When the Gerovacs arrived on the scene six years ago, there were only four breweries in existence, and now there is a new one popping up almost monthly. As we experienced in San Jose as well, this industry is a friendly competition — willing to lend ingredients or even share entire recipes at times.
The more, the merrier it seems, and most appear to be doing their own thing. The Anaheim Brewery is specializing in what Greg dubbed "approachable" beers in the 5 1/2 to 6 per cent alcohol range — not as powerful as some of our previous samplings but every bit as satisfying.
The Gerovacs, who met while serving in the military, deliver their own beer to clients — be it bottled or in kegs — and also have a family-friendly tasting room. They are old-school in their approach and it is working.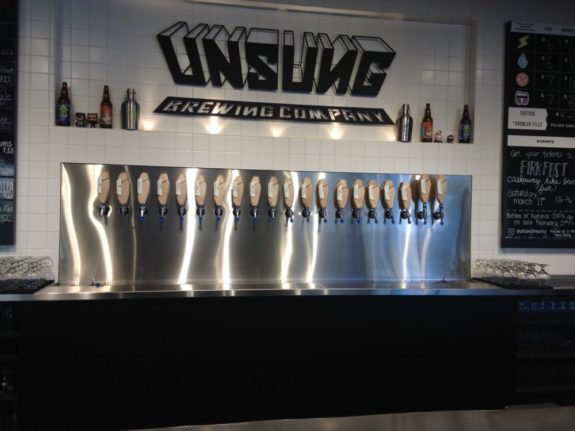 Less than a block away, and right across the street from the packing house, resides a much different operation known as Unsung Brewing.
It's the first business to open in a brand-new development that plans to eventually house a winery, distillery and barbeque restaurant as well. We paid a brief visit there, sampling some funkier, fruitier flavours — almost more to my liking, as a guy who drinks Kronenbourg 1664 Blanc and Hoegaarden (bottled or by the pint) — in a flashier environment inspired by superheroes rather than history. The walls are bright, not rustic, but the clientele tends to overlap despite those discrepancies. What's good for one is good for all, they tell me.
We also cut a lap down Center Street Promenade, another trendy area within walking distance of the packing house that actually features the Ducks' practice facility known as Anaheim Ice.
Not to push you off the beaten path in and around Disney headquarters, but you wouldn't regret exploring that part of Anaheim. Heck, I might even go back for seconds on Tuesday.
Shifting Back Into Hockey Mode
This trip, as you can tell, is as much about culture and cuisine (and beer) as it is hockey. The latter still holds the most appeal for me — the hockey rink has always been my happy place — so I couldn't wait to experience my first NHL game outside of Canada in Anaheim.
The Edmonton Oilers were my boyhood team, so getting to see them live again — I've already been to the state-of-the-art Rogers Arena this season — added to that anticipation.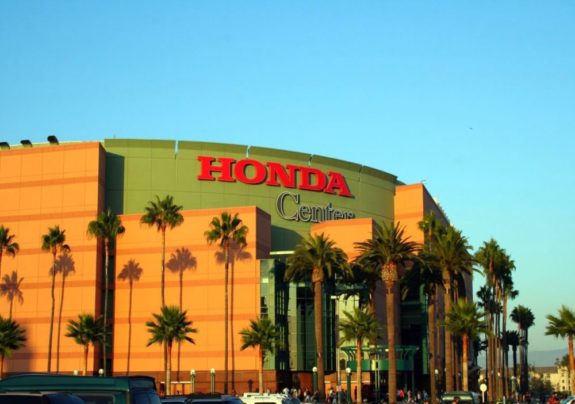 Erin and the Visit Anaheim team brought their A-game in treating us to a pre-game buffet at the Jack Daniels' Old No. 7 Club inside Honda Center as well as club seats — in the end that the Oilers attacked twice — while also securing us the media credentials that led to the opportunistic Gretzky interview following Edmonton's 4-0 win on Wednesday.
That culmination — the brief but treasured time with Gretzky — allowed me to cross another item off my bucket list.
Next, it was Ally's turn — for those just joining us, Ally Carlson of Visit California is the mastermind behind this trip, making it worth our while every step of the way.
Moving On to Los Angeles
Ally is from Whitby, Ont., and spent time in Edmonton before settling in Toronto as a Canadian rep for her company, but she's not the biggest hockey fan. She's hardly a hockey fan at all.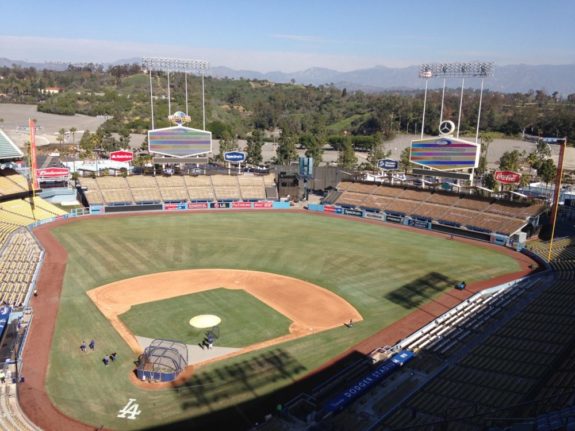 Ally likes baseball, that's her sport. She loves it so much that she — admittedly, for selfish reasons — booked us a tour of Dodger Stadium on Thursday morning as our first activity upon rolling into Los Angeles for this weekend's NHL All-Star Game festivities.
Ally's excitement was on another level — nearing that bucket-list territory — and we certainly appreciated how fortunate we were to be roaming around the largest and third-oldest MLB stadium — behind only Wrigley Field in Chicago and Fenway Park in Boston. Dodger Stadium can accommodate up to 56,000 fans and routinely averages between 35-42K in attendance.
It's not the most high-tech building, but it's one of the most iconic in America. We got a chance to sit in the Los Angeles Dodgers' dugout as well as the old visitors' dressing room where many of the game's greats suited up from 1962 until three years ago when Dodger Stadium underwent renovations, including new rooms for both the home and away teams. We even checked out the views from the Vin Scully Press Box and a nearby luxury suite.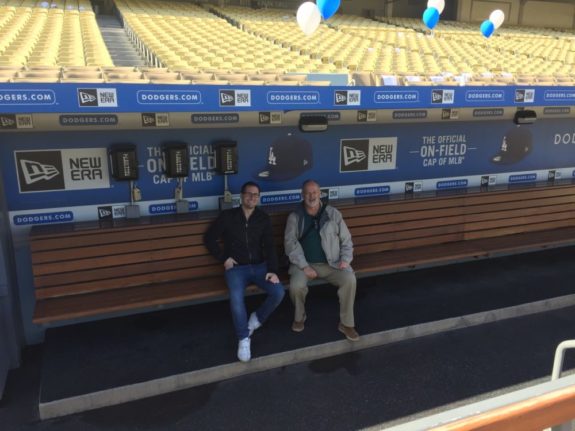 Batting practice didn't come to fruition because some top minor-league prospects were already swinging for the fences as we watched in awe of one particular slugger hitting a few home runs to straight-away centre-field. Thankfully, their presence saved me of that sure embarrassment.
Our tour guide, Marc, a retired probation officer of 25 years, really added to the experience with insightful facts and funny stories.
Being the offseason, we couldn't get any hot dogs or popcorn (or beer), so we headed for downtown, checked into The Standard hotel and wound up grabbing a bite at the Sixth Street Tavern. The crunchy chicken sandwich proved to be in a league of its own, a quick fix, and we were off — on foot — to check out the developing All-Star scene near Staples Center.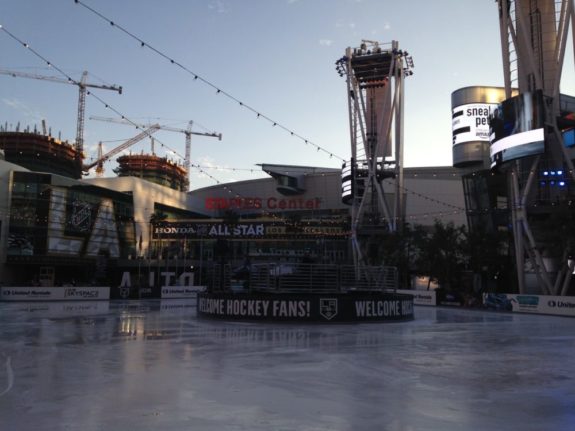 It was still the calm before the storm in and around L.A. Live — the props were all in place, but it wasn't crawling with people just yet.
We did spot Gretzky's former wingman, Luc Robitaille, strolling down the street before stopping to sign a few autographs. We let him be and carried on to the Wolfgang Puck Bar and Grill for a couple drinks and a few laughs with their Angel-and-Angel bartending tandem. Yes, two Angels — one female and the other male.
From there, we headed for our dinner reservation at Cleo's Restaurant just a hop, skip and a jump away. We've yet to encounter bad food, nor bad service at anywhere we've been — in San Jose, Anaheim or Los Angeles — but the crew at Cleo's went above and beyond. Our waiter, Anil, was as good as it gets and the food was second to none so far — both his recommendations and our own selections. The bar just keeps going up on this trip.
Day 5 Preview
We called it an earlier night Thursday because tonight is going to be a late one, with the All-Star Game's "welcome party" only getting underway at 11 p.m. PT. At last check, 20-plus NHL players had registered to attend that informal mixer, so there should be plenty of elbow rubbing and casual conversing there — even if it's off the record and doesn't show up in a story here. Nevertheless, it's shaping up to be a good opportunity for networking and connections.
Being another long day with little downtime — starting with a breakfast at the Grand Central Market followed by a Warner Bros. Studio Tour, tough life I know — I might not file another update until after Saturday's skills competition.
Stay tuned! And follow me on Twitter (@LarryFisher_KDC) and Instagram (larryfisher31) for updates throughout the trip.
Larry Fisher is a senior writer and head scout for The Hockey Writers, having been an at-large contributor for THW since August 2014. Fisher covers both the NHL and the WHL, specializing in prospects and NHL draft content, including his annual mock drafts that date back to 2012. Fisher has also been a beat writer for the WHL's Kelowna Rockets since 2008, formerly working as a sports reporter/editor for The Daily Courier in Kelowna, British Columbia, Canada from 2008-2019. Follow him on Twitter: @LarryFisher_KDC.