Visit California and The Hockey Writers sent Larry Fisher — an at-large contributor, columnist and podcast host — on the Ultimate California Hockey Road Trip with stops in San Jose, Anaheim and Los Angeles. This is the second of nine stories tracking those travels: 
• Gearing Up for the Ultimate California Hockey Road Trip
• Ultimate California Hockey Road Trip: Day 1 Delivers Delicious Beers
• Ultimate California Hockey Road Trip: Sharks Are Winning, Times Are Good
• Ultimate California Hockey Road Trip: Great One Grants Time in Anaheim
• Ultimate California Hockey Road Trip: Anaheim Offers Much More Than Disney, Gretzky
• Oilers' Fans Flocking to California for Ultimate Hockey Road Trip
• NHL Skills Competition Underwhelms Yet Again
• NHL All-Stars Save Best for Last
---
And we're off! California, here I come!
By the time you're reading this, I'll be in the air — or at least an airport — destined for San Francisco to begin my 10-day adventure of a lifetime, the Ultimate California Hockey Road Trip.
ICYMI, Christmas came a little late this year . . .
Thanks to Visit California and The Hockey Writers, this dream trip for hockey fans — heck, sports fans in general — fell into my lap a couple weeks ago. The stars had to align to make it possible, and I can't help but think a couple of my recently passed hockey-loving uncles were pulling some strings for me from above.
It still seems surreal and I've had to pinch myself several times, but it's really happening — I'm going to the NHL All-Star Game as the highlight of an action-packed itinerary that starts in San Jose today before moving on to Anaheim for the Ducks-Oilers game on Wednesday and, ultimately, winding up in Los Angeles for the NHL's showcase weekend.
It's going to be a wicked experience from start to finish, especially for someone who has never been to California before. Everything will be new to me.
I mean, I'm even an In-N-Out virgin — you know, the famous fast-food chain. The wife-to-be wants me to hold out for her arrival on Sunday, even though she's a vegan. Apparently, there's a "grilled cheese burger" without the beef patty. Something for everyone in California, they say.
I guess it's the little things that Canadians look forward to — the things we can't get north of the border. At some point, we'll see whether In-N-Out is all it's cracked up to be.
In the meantime, my trip coordinator and tour guide Ally Carlson has some finer dining lined up for us, along with our share of drinking. Yes, this is a work trip, but it's as much about the culture and cuisine as it is the hockey. Call it a working holiday.
Day 1 Preview
It starts with an early-morning flight that will feel like a red-eye. I'm not a morning person and I won't be home from my newspaper job until around midnight on Sunday, with an airport shuttle scheduled to pick me up bright and early at 3 a.m.
So it's shaping up to be an all-nighter unless I'm able to get some shut-eye on the flights from Kelowna to Vancouver and on to San Fran. Failing that, I'll be running on fumes and adrenaline for the first day.
That's OK because all we're doing is commuting from San Fran to San Jose, checking into the Hotel De Anza and hitting the sheets, right? Wrong!
Ally has a full day of, well, drinking in store for us. How could anything possibly go wrong?!? All kidding aside, we'll be touring and tasting some of San Jose's top breweries — Uproar, Santa Clara Valley Brewing, Original Gravity and ISO Beers.
Nothing like a pub crawl to kick off a trip. Again, I swear I'm here on behalf of THW and not for a buddy's stag, although Day 1 could be mistaken for the latter. So forgive me if my recap later tonight comes out a little slurred in the morning.
Had I known this is how we'd be starting out, I would have practised my drinking skills.
Truth be told, I'm more of a Caesar guy these days — the wifey converted me, extra spicy please — and I might be going through withdrawals by the time we get home. Having been to other States — specifically to Seattle and Las Vegas — I'm well aware that Bloody Mary's just aren't the same without Mott's Clamato. I'll be switching back to beer as my beverage of choice for this trip and it appears I'll be getting my fill on Day 1.
We'll be balancing our barley diet with lunch at Deluxe and dinner at Olla Cocina. If we're still thirsty into the evening — or awake, in my case — we may end up at the Haberdasher saloon or perhaps check out an open mic at the Poor House Bistro. Maybe both. Who knows where the night will take us. As long as it takes us back to Hotel De Anza, with enough energy to cobble together a readable recap.
Hi Friends
I'll be meeting a ton of new people throughout my travels — mostly strangers, but potentially a couple colleagues as well.
Félix Sicard, one of the regular contributors on my Facing Off column and my go-to podcast guest, lives in San Jose now but still covers the Anaheim Ducks for THW. Félix is a fellow Canadian, originally from Montreal — thus a Habs fan at heart — while Andrew Bensch, a former Sharks writer for THW and my original partner-in-crime for Facing Off, is a Bay Area local and renowned San Jose homer. I owe them a drink (or two or 10) for their Facing Off efforts over the last 2 1/2 years, so hopefully we can cross paths during my two-day stay in their stomping grounds.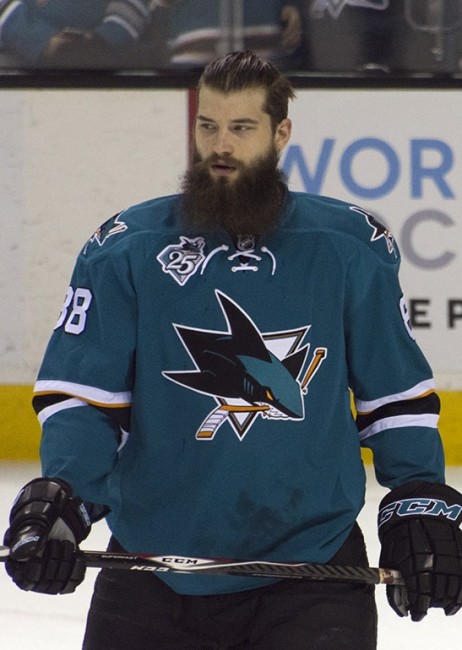 There is also a reunion in the works for the San Jose stop. My former co-worker from the Lloydminster Meridian Booster (2004-08), a longtime friend and fellow small-town Saskatchewan farm boy, John Spigott, somehow hangs his hat there now. In fact, he tells me his office is a stone's throw from the SAP Center, home to the the NHL's Sharks and AHL's Barracuda. We'll be touring that facility on Tuesday, so I'll be sure to pay him a visit if he doesn't make it out for beers tonight.
John is the only person I know in all of California, but talk about a small world. John and I go way back. We were senior hockey teammates for the Neilburg Monarchs — him, a surly defenceman, and me, a mediocre goaltender — and we teamed up in the broadcast booth on occasion too. John wore many hats, also serving as the play-by-play voice for the AJHL's Lloydminster Bobcats and I made token appearances as his colour commentator. He was even my favourite bartender at Original Joe's. Fun times, I tell you!
So, if and when we get together, there will be lots of reminiscing, and I'm sure John can offer an interesting perspective on life and hockey in California. We'll undoubtedly be able to swap "we're not in Luseland/Outlook anymore" stories.
Granted, spending the last eight-plus years, including nine summers, here in Kelowna as a sports reporter and editor for The Daily Courier, it has somewhat prepared me for what to expect there. For those who have never been, Kelowna is often called the California of the north — or simply Kelownafornia.
Yes, that's a thing, and it has even inspired a cheesy rap song complete with an equally cheesy music video showcasing a little of what the Okanagan has to offer.
Kelowna has been the theme of a few tunes in recent years — acting as the backdrop for their videos — and this one might be marginally better.
You get the drift. Not the worst place in the world to call home. No igloos, just wineries.
I'll be doing some comparing and contrasting but, in fairness, I hear it's not exactly Speedo weather in California right now. My flip flops are packed regardless, and off I go to start broadening my horizons on everything from beers to burgers.
Stay tuned! And follow me on Twitter (@LarryFisher_KDC) and Instagram (larryfisher31) for updates throughout the trip.
Larry Fisher is a senior writer and head scout for The Hockey Writers, having been an at-large contributor for THW since August 2014. Fisher covers both the NHL and the WHL, specializing in prospects and NHL draft content, including his annual mock drafts that date back to 2012. Fisher has also been a beat writer for the WHL's Kelowna Rockets since 2008, formerly working as a sports reporter/editor for The Daily Courier in Kelowna, British Columbia, Canada from 2008-2019. Follow him on Twitter: @LarryFisher_KDC.