Visit California and The Hockey Writers sent Larry Fisher — an at-large contributor, columnist and podcast host — on the Ultimate California Hockey Road Trip with stops in San Jose, Anaheim and Los Angeles. This is the first of nine stories tracking those travels: 
• California Dreamin' About Ultimate Hockey Road Trip
• Ultimate California Hockey Road Trip: Day 1 Delivers Delicious Beers
• Ultimate California Hockey Road Trip: Sharks Are Winning, Times Are Good
• Ultimate California Hockey Road Trip: Great One Grants Time in Anaheim
• Ultimate California Hockey Road Trip: Anaheim Offers Much More Than Disney, Gretzky
• Oilers' Fans Flocking to California for Ultimate Hockey Road Trip
• NHL Skills Competition Underwhelms Yet Again
• NHL All-Stars Save Best for Last
---
Flip flops — check.
Rubber boots, err galoshes — check.
Selfie stick — hmm, never know when you might need one of those, check.
Laptop, recorder, pen, paper — all the tools of the trade, check, check, check and check.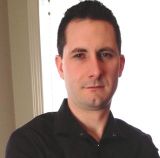 Yes, I'm packing up for a trip, but not just any trip — the trip of a lifetime, the Ultimate California Hockey Road Trip.
In less than two weeks' time, in the early morning hours of Jan. 23, I'll be hopping on a plane and heading to California for the first time ever. No, I didn't get the Disneyland experience as a kid. So I'm getting all that and so much more now, as a 32-year-old.
Itinerary Highlights
Disneyland, Shmisneyland, I'm going to the NHL All-Star Game! There, the cat's out of the bag. That's what this trip is all about. Well, that and so much more.
I'm flying from Kelowna to San Francisco, via Vancouver, on Jan. 23, meeting up with Ally Carlson, from Visit California, and fellow journalist Paul Knowles, from Toronto. We'll be travel companions, with Ally serving as our tour guide on this week-long, fun-filled adventure.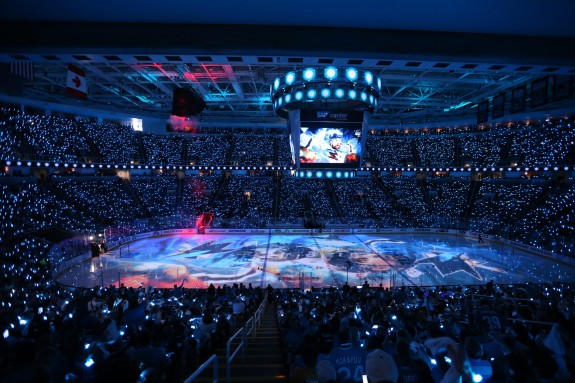 Upon landing in San Francisco, we'll be shuttled off to San Jose where we'll be touring the SAP Center — better known as The Shark Tank, the home arena of the NHL's San Jose Sharks. The Sharks are on the road, in Winnipeg of all places, during our brief stay in San Jose, but we'll be watching them battle the Jets from one of the top sports bars in the Bay Area, mingling with the locals and possibly some Manitoba transplants too.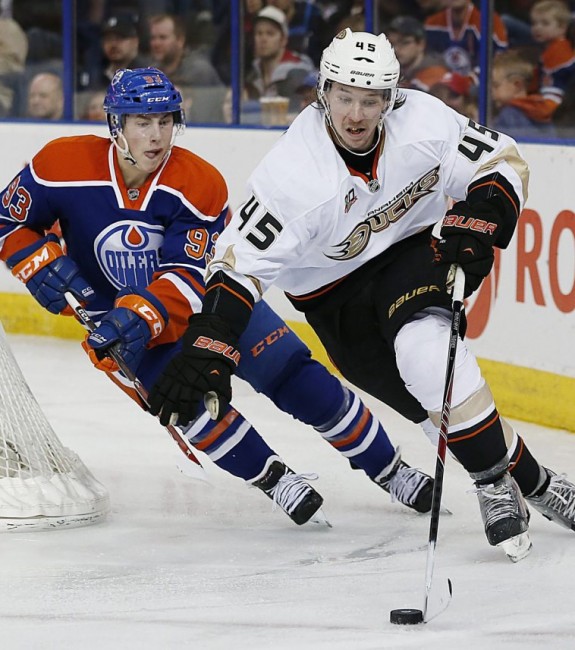 On Jan. 25, we're off to Anaheim, flying in for a tour of the Honda Center prior to attending our first live game between the host Anaheim Ducks and the visiting Edmonton Oilers. I've been to a few NHL rinks, including the brand-new Rogers Place in Edmonton, which set the bar extremely high, but I can't wait to explore the friendly confines of California. And also to take in the atmosphere in enemy territory, though I fully expect to see several Oilers jerseys dotting the crowd.
The Canadian teams all travel well, and Albertans often head south for the winter — be it to California, Arizona, Florida, or now Nevada, with the Vegas Golden Knights joining the fold as an expansion franchise for next season. There should be plenty of snowbirds in our midst at the end of January.
On Jan. 26, we'll make the hour-long, traffic-permitting trek into our final destination of Los Angeles, setting up shop at The Standard hotel in the heart of downtown and near Staples Center where all the All-Star action will go down that weekend.
http://gty.im/142644220
With a couple days to kill in L.A. before those festivities begin, Ally has arranged a wicked bucket-list lineup for us, including tours of the aforementioned Staples Center, Los Angeles Memorial Coliseum — the 80,000-seat current home of the NFL's Los Angeles Rams and NCAA's USC Trojans — and Dodger Stadium, a legendary ballpark named after its primary tenant, MLB's Los Angeles Dodgers.
The latter includes a batting-cage experience, which should be interesting since I haven't swung a bat — not even in slo-pitch — in probably a decade. Fun times, nonetheless, and something most people will never get to do. I'll be sure to relish the opportunity, swinging for the fences but likely striking out.
That will be sure to work up an appetite, and we're being treated to some fine dining all along the way, including dinners at Broken Spanish and Cleo at LA Live, plus a lunch at Phillipe's.
Everything, to this point, serves as the appetizer for the main course — the 62nd NHL All-Star Game, celebrating the league's centennial (100th) anniversary and the golden (50-year) mark for the host Los Angeles Kings.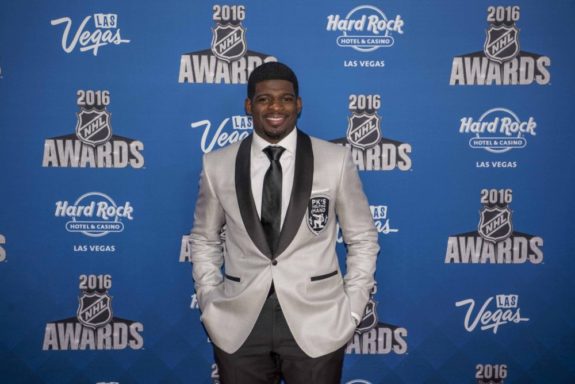 On the evening of Jan. 27, we'll be there when the NHL rolls out the red carpet for its biggest stars and some of Hollywood's A-list celebrities. That "welcome party" will be another pinch-yourself moment, though I'm sure I'll still recognize more players than actors.
Brent Burns should be unmistakable, so long as he doesn't shave that (beloved?!?) beard in the meantime.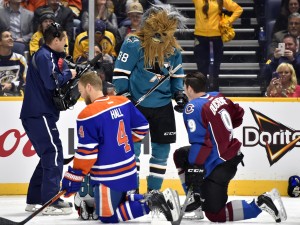 That will set the table for the skills competition on Jan. 28, where Burns will have a tough act to follow after busting out a Chewbacca costume for last year's shootout event. There will be no encore for John Scott, the reigning-but-retired improbable MVP, but Shea Weber will be back for another crack at Zdeno Chara's hardest-shot record (108.8 miles per hour). My money is on Connor McDavid for the fastest skater, potentially another record-setter there as well. Dylan Larkin broke Mike Gartner's 20-year-old mark last year, with a blistering time of 13.172 seconds, but McDavid's speed is something to behold. Wait and see.
Prior to settling in for the skills showcase, we also plan on hitting up the All-Star gifting lounge and checking out the sights and sounds surrounding the Fan Fair.
For the early risers on game-day, Jan. 29, we are free to explore downtown and try our hand at any number of activities, such as bouldering at L.A. Boulders, shooting at L.A. Gun Club, rock climbing at Stronghold Climbing Gym, boxing at City of Angels Boxing, and/or fitness classes at YAS.
I'll be honest, I'm not much of a morning person, and with a 2 p.m. PT puck-drop, I'm not sure how ambitious I'll be before heading back to Staples Center. In saying that, Los Angeles is no place for sleeping in, so if I'm not too "hungover" from writing into the wee morning hours following the skills competition, I'll probably set the alarm and force myself to do something, anything. . . . When in L.A., right?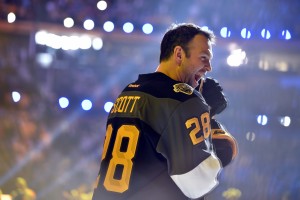 The game itself is actually plural, a 3-on-3 tournament between the NHL's four divisions, with those rosters revealed on Tuesday. I actually prefer the tournament format to the traditional game, which was getting stale and lacking in competitiveness, let alone creativity. In all honesty, I had stopped watching it on television in recent years, but the tournament has piqued my interest and promises to be must-see TV again even without Scott's mystifying presence.
As per usual, the winning team of the All-Star Game will be the least "hungover" in the more traditional sense, with no shortage of nightlife in Los Angeles for the players to enjoy. They deserve that chance to unwind while continuing to entertain.
Speaking of Extra-Curricular Activities . . .
The trip was supposed to end there, with a morning breakfast and checkout from The Standard on Jan. 30 before jetting from LAX back to YLW — and, alas, back to reality.
However, the wife-to-be had other plans. Undeniably jealous, albeit supportive of my upcoming journey, she couldn't help but wonder aloud about the possibility of joining the trip towards the end. Perhaps sticking around for a couple extra days to experience the non-sporting side of California.
http://gty.im/485439078
Yes, we're talking Disneyland and Universal Studios, maybe Rodeo Drive or Venice Beach, the Hollywood Hills sign and the Walk of Fame. You know, girl things — or, rather, tourist things.
I told her it was a long-shot but pitched the extended stay to Ally, who was more than accommodating in making her California dreams come true too.
Call it an early Honeymoon for a delayed wedding, but now we're coming home on the same flight on Feb. 2. Lucky us!
Thank You, Thank You
Fortunate as we're feeling, none of this would have been possible without the following people.
Yes, this is my "thank you" spiel, though it won't be nearly as epic, nor controversial, as Meryl Streep's acceptance speech from the recent Golden Globes. So bear with me . . .
Thanks to Ally and Visit California, first and foremost, for making the magic happen and inviting a THW representative on this wild ride. My dad says "it's sounding too good to be true," but I trust that Ally is a real person and not an evil prank, nor a Nigerian scam artist. In fact, she has yet to ask for my credit card number or so much as a penny. Did I mention this trip is all expenses paid — essentially free, from start to finish? Yeah, that's the best part.
Thanks to THW founder Bruce Hollingdrake and to managing editor Dean Plunkett, for handpicking yours truly from upwards of 100 Canadian contributors to this site. I'll be forever grateful to them, for putting their confidence in me to pursue this once-in-a-lifetime, dream-come-true opportunity. Bruce welcomed me to the THW team just over 2 1/2 years ago, in August 2014, and it has honestly been a very rewarding, enjoyable and enlightening experience.
This is my 285th post for THW and I've totalled 758,652 pageviews at the time of this submission — making me a top-15 traffic producer since the day I started here. If we were ranked by word count, I'd almost certainly be topping the charts and, as the guy who sees most of my work before it's published, Plunkett can attest to that infamous ability of writing to great lengths. All things considered, I like to think I've earned this opportunity, and I do look forward to making the most of it.
Thanks to Doyle Potenteau, my managing editor at The Daily Courier newspaper here in Kelowna, for giving me the time off on such short notice. I will still be on the clock (at least part-time) from California, with plans to write a travel feature upon returning and perhaps file a sports story or two as well.
Thanks also to the inlaws, for puppy-sitting our precious little Yorkies — Myah and Max, weighing a combined seven pounds — to free up the fiancée and avoid any further requests for Ally. Those two fur-bearing family members will have to wait for their stroll around Venice Beach, though I'm sure they'd fit right in.
Now I just have to make everybody proud, my parents included. I know my mom is reading this — she's my biggest fan.
Oh, and for the record Ally, I was just kidding about the galoshes. I won't be packing a pair, nor do I own a pair, or plan on purchasing a pair. So, not to worry, I won't be trudging along next to you like a character from the Walking Dead attraction at Universal Studios. Again, never been, but heard rave reviews.
Here's hoping it'll be all sunshine and rainbows. Regardless of the weather, it'll be a long way from Luseland, the small Saskatchewan town that I'll always call home.
This still feels surreal — I just received an email detailing all my flight information — and I'm not sure when it'll sink in. Maybe once I'm in the air. Perhaps when I touch down in San Fran. Or when I take my seat at Staples Center for the All-Star Game. Or if and when I meet Mickey Mouse.
Stay tuned! And follow me on Twitter (@LarryFisher_KDC) and Instagram (larryfisher31) for updates throughout the trip.
Larry Fisher is a senior writer and head scout for The Hockey Writers, having been an at-large contributor for THW since August 2014. Fisher covers both the NHL and the WHL, specializing in prospects and NHL draft content, including his annual mock drafts that date back to 2012. Fisher has also been a beat writer for the WHL's Kelowna Rockets since 2008, formerly working as a sports reporter/editor for The Daily Courier in Kelowna, British Columbia, Canada from 2008-2019. Follow him on Twitter: @LarryFisher_KDC.