Visit California and The Hockey Writers sent Larry Fisher — an at-large contributor, columnist and podcast host — on the Ultimate California Hockey Road Trip with stops in San Jose, Anaheim and Los Angeles. This is the eighth of nine stories tracking those travels: 
• Gearing Up for the Ultimate California Hockey Road Trip
• California Dreamin' About Ultimate Hockey Road Trip
• Ultimate California Hockey Road Trip: Day 1 Delivers Delicious Beers
• Ultimate California Hockey Road Trip: Sharks Are Winning, Times Are Good
• Ultimate California Hockey Road Trip: Great One Grants Time in Anaheim
• Ultimate California Hockey Road Trip: Anaheim Offers Much More Than Disney, Gretzky
• Oilers' Fans Flocking to California for Ultimate Hockey Road Trip
• NHL All-Stars Save Best for Last
---
LOS ANGELES — The NHL skills competition is in serious trouble when Justin Bieber steals the show.
Sure, John Scott was a sideshow in Nashville last year — a controversial fan-voted captain who somehow became tournament MVP — but at least he was a professional hockey player.
Now, we're talking about the Biebs — a pint-sized pop singer who, to his credit, has decent skill on skates. But we're also talking about a celebrity game that wasn't even on the schedule of events — thus played in front of a half-full building at Staples Center — as the highlight from opening day of the All-Star weekend in Los Angeles.
Nothing against Bieber — he was impressive in his own right, with a goal and an assist plus two failed penalty shots in Team Gretzky's 5-3 win over Team Lemieux.
A relentless Justin Bieber gets rewarded with an empty-net goal in 5-3 win. Hard not to like that kid. #NHLAllStar pic.twitter.com/gQ5v3Nz57Y

— Larry Fisher (@LarryFisher_KDC) January 28, 2017
As an opening act, Bieber did his part in working the crowd into a frenzy. However, the NHL All-Star headliners that took part in the Skills Competition, left a lot to be desired.
They didn't bring their A-game in any of the events — aside from the accuracy shooting — and they lacked charisma for the most part too.
Even worse, it didn't look like they were having a ton of fun. Most appeared to be going through the motions, without showing much emotion.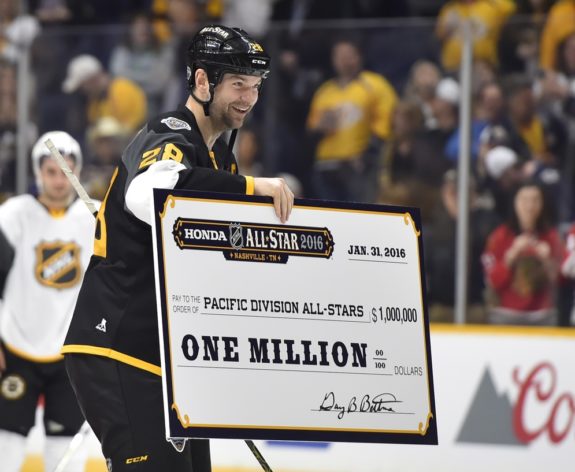 Scott was going to be a tough act to follow — and his presence, as a spectacle, was missed — but nobody stepped up to snatch that spotlight despite being under the bright lights of Hollywood.
As it played out, there were no real surprises and very little suspense.
The two most prominent events — hardest shot and fastest skater — were won by the favourites in Shea Weber and Connor McDavid, respectively, but they fell short of the records and Weber was well below his personal best.
Hardly the drama from Weber's record-setting attempt last year in front of his former fans in Music City, where he unleashed a 108.1 mile-per-hour rocket — just shy of Zdeno Chara's record (108.8) from 2012. Here in L.A., Weber's first shot stood up as the winner at 102.8 — edging rookie sensation Patrik Laine (101.7) for his third straight title — but it was an anticlimactic ending, with Weber's second shot, a formality, only registering 99.4.
McDavid, making his All-Star debut, brought the fans out of their seats by blowing away fellow speedster Nathan MacKinnon in their heat.
Vroom Vroom. #NHLAllStar pic.twitter.com/fQrQVZmnJo

— NHL (@NHL) January 29, 2017
That set the stage for McDavid's highly anticipated run at Dylan Larkin's record lap from last year, but it wasn't meant to be.
McDavid clocked 13.310 seconds — faster than Mike Gartner's mark that had been unbeatable over the previous two decades (13.386 from 1996) — but Larkin's time of 13.172 remains the standard, albeit with an asterisk.
McDavid isn't one to complain but, reality is, he wasn't skating on a level playing field. McDavid started from a standstill, whereas Larkin was oddly allowed to build up a bit of speed before the start-line — a distinct advantage over Gartner, McDavid and everybody else in the events' history.
McDavid says he wanted a running start in the fastest skater, that Larkin got last year, but #NHL drew a line of where he could start on ice

— Frank Seravalli (@frank_seravalli) January 29, 2017
League officials need to right that wrong. Sorry Larkin, you're not faster than McDavid. We all know that. Do the honourable thing and hand over the record.
McDavid also isn't the type to show off, and he might have been guilty of holding back at times — not wanting to show up his peers. It wasn't a bad first impression, but he didn't blow anybody away either.
Point Fingers Elsewhere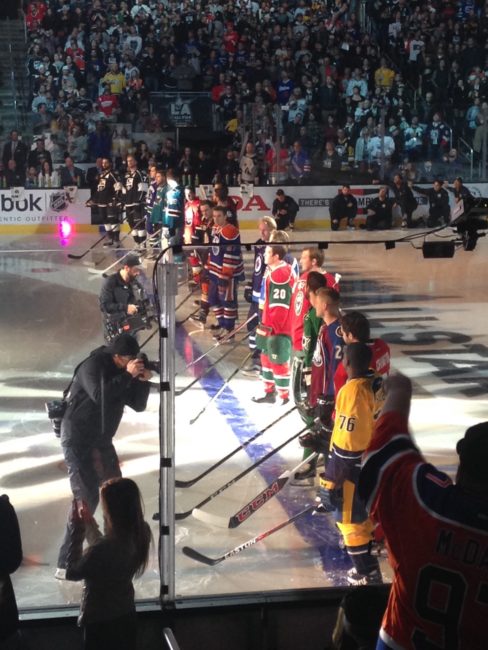 Disappointing as the skills competition was, the script writers deserve their share of the blame.
The players, in general, were set up to fail — especially in the brand-new Four-Line Challenge that totally missed the mark — and they were poorly cast in some of the events too.
The hometown Kings, for example, seemed underutilized. Drew Doughty and Jeff Carter should have had starring roles. Instead, they were just sort of there, almost like extras on a movie set — the guys that nobody remembers when looking back on the production.
Get Rivalries Going
Conversely, it felt like Laine was participating in everything and Auston Matthews next to nothing.
Why not put them head-to-head in a best-of-three, featuring accuracy shooting, hardest shot and fastest skater? Hands up if you would have rather watched that . . . yeah, me too.
The NHL missed its chance to stoke that rivalry, among many others. The possibilities were plentiful this year.
Nothing but love. #NHLAllStar pic.twitter.com/3vTh8zDhH5

— NHL (@NHL) January 29, 2017
Weber and P.K. Subban — traded for each other this past summer — could have squared off in a similar series of events, or at least in the hardest shot.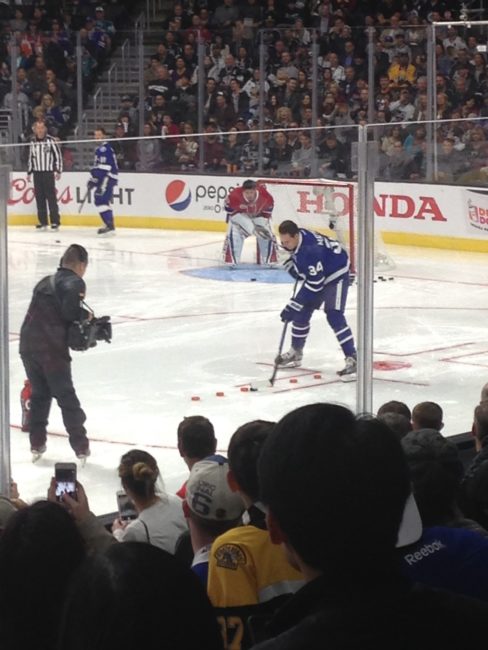 Matthews versus McDavid would have been another enticing matchup given the ongoing debates between the Toronto and Edmonton fan bases. The skills competition could have settled that in some capacity.
Sidney Crosby against Alex Ovechkin never gets old. Both were named in the top-100 players of all-time on Friday night, so the timing was perfect there too.
Get More Creative
Here's another idea, how about an all-Chicago shootout — pitting Jonathan Toews against Patrick Kane in a Canada-USA showdown? Make it five rounds, just the two of them, shooting on the same goaltender. You'd watch that, right?
It would have been much more captivating than the 10-round finale that lacked both goals and creativity. It actually seemed to drag on, lame move after lame move with the exception of Brent Burns' between-the-legs, bar-down attempt.
Top cheese from center ice, then this. @Burnzie88 is awesome. #NHLAllStar pic.twitter.com/WcmpUXaNLo

— NHL (@NHL) January 29, 2017
That's the kind of swagger and bravado the skills competition needs to be successful. It doesn't need props and costumes, or even Ryan Kesler's kid — cute as the little guy was, the majority of fans were there to be wowed not awwed.
If the skills competition is going to continue to be a thing — and it should be — then players and organizers need to start thinking outside the box. This format and a few of the events need revamping. That Four-Line Challenge needs to go away. Pretend it never happened.
I'm guessing the #NHLAllStar Four-Line Challenge will be one-and-done. Not very flattering for players. They went 4-for-32 by my count. #THW

— Larry Fisher (@LarryFisher_KDC) January 29, 2017
Mike Smith hitting the hole from far goal-line saved a bit of face, but the Four-Line Challenge was a flop IMO. Very meh! #NHLAllStar #THW

— Larry Fisher (@LarryFisher_KDC) January 29, 2017
As harsh or negative as that all sounds, I was still thoroughly entertained by seeing the sport's biggest stars on the same ice. Critical from a media perspective — in thinking the skills competition had the potential to be so much more — the fan in me was loving every minute of it and soaking up the atmosphere.
I was sitting nine rows up, at the height of the glass, between the red and blue lines, and we'll be in the same seats for today's 3-on-3 tournament. Here's hoping the players pick it up a notch and take some risks to send everybody home happy.
Stay tuned! And follow me on Twitter (@LarryFisher_KDC) and Instagram (larryfisher31) for updates throughout the trip.
Larry Fisher is a senior writer and head scout for The Hockey Writers, having been an at-large contributor for THW since August 2014. Fisher covers both the NHL and the WHL, specializing in prospects and NHL draft content, including his annual mock drafts that date back to 2012. Fisher has also been a beat writer for the WHL's Kelowna Rockets since 2008, formerly working as a sports reporter/editor for The Daily Courier in Kelowna, British Columbia, Canada from 2008-2019. Follow him on Twitter: @LarryFisher_KDC.