Since he took the reins as the Calgary Flames' general manager in April of 2014, the consensus on Brad Treliving has been overwhelmingly positive. So, when Sportsnet's Elliott Friedman mentioned on Calgary radio earlier this week that he was "not 100 percent convinced" that Brad Treliving would be back as the Flames' GM next season, it took a lot of people by surprise.
Elliotte Friedman tells Boomer & Warrener he's not 100% convinced Brad Treliving is still Flames GM next year. https://t.co/ynGXAYYrJh

— Sportsnet 960 (@Sportsnet960) January 23, 2017
After Friedman brought up Treliving's lack of a contract beyond this year on Hockey Night in Canada, and again in his weekly "30 Thoughts" column, fans and media alike piled on Flames ownership to re-sign Treliving immediately.
However, taking a look back over Treliving's two-plus years in Calgary, how does he really stack up? Have his signings, trades and draft picks earned him more time at the helm of the team? Ultimately, what should the Flames look to do with the GM as his contract expires?
Key Moves
Regardless of what you think of Treliving, there's no questioning that he has put his fingerprints all over the team in a relatively short span. For better or worse, he has turned over a great deal of the roster in two years. Here's a look at some of the more notable moves and how they've panned out:
The Good
Treliving has made a few nice deals as the Flames' GM, but none that boosted the team as much as the trade for Dougie Hamilton, which saw the Flames send three picks (one first rounder and two second rounders) to the Boston Bruins in return for the defenseman. Treliving then followed that up by signing Hamilton to a six-year, $34 million contract, which looks to be tremendous value for a young player who is emerging as a legitimate number-one blueliner.
In addition to the Hamilton signing, Treliving also did very well in re-signing TJ Brodie and Mikael Backlund to deals with great value and solid term. Both players look to be key pieces to the Flames' success over the next few years, and should contribute well with very cap-friendly deals.
It's also worth noting the solid albeit unspectacular returns received for Jiri Hudler, Kris Russell, and Curtis Glencross via trade. The three players – all pending UFAs at the time of their trade – combined to fetch three second round picks, along with a couple more mid-round picks, prospect Brett Pollock, and Jyrki Jokipakka.
The Bad
On the other hand, every general manager is going to make some bad moves, and Brad Treliving is no exception. As the Dougie Hamilton deal has been Treliving's only major trade to date, the Flames' haven't been burned too badly on that market, but there have still been some moves that have clearly backfired.
Perhaps most painful are the two trades made with the Vancouver Canucks that saw Sven Baertschi and Markus Granlund each head to the Flames' bitter rival, with a second round pick and Hunter Shinkaruk coming back in the deals. While Shinkaruk is a young, gifted prospect who should have an impact at the NHL level soon, Granlund and Baertschi have been excelling with the Canucks in a way they were never able to in Calgary. Baertschi currently sits second on the Canucks in goals with 13, while Granlund is third with 12.
In addition to those deals, the Flames – in a move necessitated by the team deciding to keep three goalies on its roster to start the 2015-16 season – gave Paul Byron away for nothing by putting him on waivers, where he was claimed by the Montreal Canadiens. Byron has since excelled, notching 13 goals so far with the Habs this season.
To put it in perspective, on the Flames, only Sean Monahan and Mikael Backlund have more goals than Byron, Baertschi, and Granlund do this year. For a team seriously struggling to find offensive depth, letting those three players go without getting a single NHL-ready player in return certainly doesn't look great for the Flames' front office.
"After signing him to a 4-year, $18 million contract, the Flames shouldn't expect #Troy Brouwer…" #hockey #sports https://t.co/MZG91xdOGO

— LilyNHL (@LilyNHL) November 28, 2016
Lastly, when Treliving handed 31-year-old Troy Brouwer a four year, $18 million contract this summer, seemingly everyone in the hockey world knew it was a bad move right out of the gate. On top of the burden of his contract, Brouwer also received a no-trade clause in his deal, meaning the team has to protect him in the upcoming expansion draft.
With only 17 points through his first 44 games with Calgary, and with horrific underlying numbers, Brouwer will need to find his game now on the wrong side of 30 to keep this contract from becoming an albatross around Treliving's neck.
The Wait-and-See
While it's easy to speculate on a few of Treliving's moves to date, it will be hard to fully evaluate them for at least a couple more years. Namely, the long-term deals given to Michael Frolik (five years, $21.5 million) and Mark Giordano (six years, $40.5 million) stand out. Both look to be fair enough value now, but Giordano will be 38 when his contract expires, and Frolik is heading into his 30s having not scored 20 goals in seven years.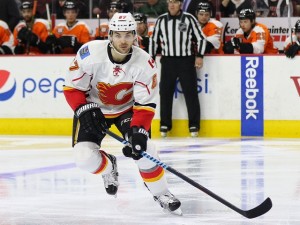 Regardless of how confident anyone (including Treliving or President of Hockey Operations Brian Burke) might be in those deals, no real determination can be made just yet. The same applies for the new contracts handed out to Sean Monahan and Johnny Gaudreau. While confidence is sky high on the two, neither deal exactly screams "team friendly," and we will have to wait and see how the two young stars continue to develop before praising or deriding Treliving for either contract.
Success at the Draft
It's difficult to hand out a verdict on a GM's draft classes within a year or two of the draft, but there are strong signs that suggest Treliving has made some nice selections both early and late in his three drafts as the Flames' general manager.
Beyond the obvious first-round selections of Sam Bennett and Matthew Tkachuk (Calgary did not have a first-round pick in 2015), the team has also done well in the following rounds. Tyler Parsons, Dillon Dube, Adam Fox, Rasmus Andersson and Oliver Kylington have all excelled and look to have high potential after being drafted in the second and third rounds over the past two years.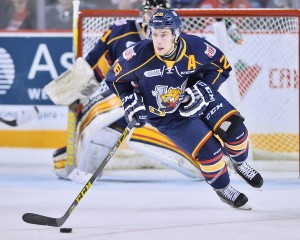 However, the steal of them all looks to potentially be Andrew Mangiapane, who was selected in the sixth round of the 2015 draft. A late-round pick, the 20-year-old currently has 10 goals and 23 points through 35 games in his first season with the AHL's Stockton Heat.
A smaller player, Mangiapane could draw comparisons to Brendan Gallagher – another late-round pick who saw very similar success in his rookie AHL season at 20, before being called up to the NHL and instantly becoming an impact player. If Mangiapane can evolve into a late-round gem that provides a real impact to the team, Treliving will see a lot of praise for the pick, and rightly so.
Conclusion
Brad Treliving is an immensely popular GM among Flames fans and media alike, perhaps in part due to making the playoffs in his first year, and even due to his general accessibility and willingness to engage with the fan base. That being said, his two years with the team have seen their share of both good and bad moves, and he frankly shouldn't be free from criticism, nor put up on a pedestal as a mastermind that the team simply cannot afford to lose.
In the end, Treliving has made some nice moves, and looks to be heading a savvy scouting team that has found some nice pieces throughout the draft, but he has also made some glaring mistakes that have cost the team now and could continue to for some years to come.
Consistency in management is an aspect of professional sports that is far too often overlooked as a key to winning. Time and again you see teams dismiss general managers and coaches before they are truly able to leave their mark on a team and finish the job they set out to do.
It would be understandable for the Flames to bring Treliving back for another year or two to finish the job and maintain consistency, but there are also a lot of reasons why the organization may want to move on, and it might not be worth bringing out the torches and pitchforks if they do.