Visit California and The Hockey Writers sent Larry Fisher — an at-large contributor, columnist and podcast host — on the Ultimate California Hockey Road Trip with stops in San Jose, Anaheim and Los Angeles. This is the seventh of nine stories tracking those travels: 
• Gearing Up for the Ultimate California Hockey Road Trip
• California Dreamin' About Ultimate Hockey Road Trip
• Ultimate California Hockey Road Trip: Day 1 Delivers Delicious Beers
• Ultimate California Hockey Road Trip: Sharks Are Winning, Times Are Good
• Ultimate California Hockey Road Trip: Great One Grants Time in Anaheim
• Ultimate California Hockey Road Trip: Anaheim Offers Much More Than Disney, Gretzky
• NHL Skills Competition Underwhelms Yet Again
• NHL All-Stars Save Best for Last
---
Dave Forrest and Shawn McDonald were on a boys' trip — a physician and a realtor from Nanaimo, B.C., though both grew up in Edmonton.
Edmonton is still home for the Kratzmann brothers — Mike, 30, and Chris, 25 — as well as the Quilley and Paton families.
Kevin Ding also lived there while studying finance at the University of Alberta, but he hails from small-town Saskatchewan and now resides in San Diego of all places.
Four different groups of people — none of them known to each other — all under the same roof on Wednesday night. That being, the Honda Center in Anaheim, where they had randomly gathered to cheer on the Edmonton Oilers.
All proudly sporting their Oilers jerseys, they were rewarded with a 4-0 win to celebrate. Forrest and McDonald then headed to San Jose, as did the Kratzmanns, to witness Edmonton complete its first California sweep since 2008 with Thursday's 4-1 triumph over the host Sharks — thus heading into the All-Star break tied for top spot in the Pacific Division.
Great success all around for those rookie road-trippers — none of whom had followed the Oilers to the Golden State before.
Hey @EdmontonOilers the 2nd game outside of Northlands/Rogers and both are wins!! I'm 2-0! #NotSayingButImSaying

— Darren Quilley (@thinkDQ) January 26, 2017
With the exception of Ding, who has remained a loyal fan since relocating south of the border and catches as many games as possible when the Oilers come to visit his current stomping grounds. It wasn't Ding's first time at Honda Center, and he's made it up to Staples Center in Los Angeles on multiple occasions too.
The rest, including yours truly, were new to it all and pursuing their sense of adventure.
"We both needed a break, it was a beautiful road trip, a great time to come down, do a bit of Disneyland, maybe go to Apple (headquarters near San Jose)," Forrest said of their itinerary prior to flying home on Friday.
Ultimate California Hockey Road Trip: Anaheim Offers Much More Than Disney, Gretzky – https://t.co/fR3Oj9QUUd #hockey #THW pic.twitter.com/sHKntJ01Mk

— The Hockey Writers (@TheHockeyWriter) January 27, 2017
"We planned our Disney family vacation around coming to the Oilers' game," said Darren Quilley, whose wife drew the short straw and was back at the hotel with the two couples' four combined children.
"We brought our family, then we ditched them and came to the game," Naomi Paton added with a laugh.
Thoroughly enjoying the Honda Center experience — helped by the fact that the Oilers were winning 3-0 in the second intermission — they were contemplating a detour to San Jose to check out the SAP Center for Thursday's game as well.
"We're thinking about it, it's not off the table," Derek Paton said.
"We weren't going to, we don't have tickets yet, but StubHub is our friend," Quilley elaborated.
The Kratzmann brothers had it all mapped out well in advance.
"The California trip is easy, it's all close enough and the flight from one place to the next isn't too expensive, so you can see a couple games at one time," said Chris, adding they had already done Disney on Tuesday.
Chris was sounding like a seasoned traveller until Mike revealed: "These are our first-ever games away from Edmonton, so it has been a lot of fun.
"It's nice to go around the league and see different places, and we're looking forward to (San Jose) too," Mike continued. "We might expand it to a few more arenas next season and just try to catch a few more Oilers games throughout the year."
Let's Do It Again, Shall We?
Everybody seemed on board for another trip. First, but not the last was an overwhelming sentiment.
"We're thinking about it," McDonald said of making the California tour an annual tradition.
"We're also thinking about maybe going to the east coast for a couple of back-to-back games out there," he added.
There was some mention of how cheap the ticket prices were here in California compared to back in Canada — Ding paid US$150 for two club seats, $75 each. When the dollar was closer to even, it was arguably cheaper to fly down and attend a game in, say, Anaheim than to pay the going rate in Edmonton where scalper prices can exceed C$500 for the same type of club seating — especially at the brand-new Rogers Place.
Quilley and the Patons don't have that problem as season-ticket holders at Edmonton's state-of-the-art facility.
"It's gorgeous, it's beautiful," Naomi said of Rogers Place, "but this is a nice building too. We've been pretty impressed."
Small Towns, Small World
I made it my mission to seek out some Edmonton fans during the intermissions — to find out whether California was home or what brought them to Orange County.
Fortunately, I didn't have to look far, nor wait long to spark up my first conversation since the crowd was filled — not dotted, but filled — with Oilers jerseys, almost outnumbering the host Ducks fans.
We had media credentials but sat in the stands rather than the press box — settling into the second row of the second deck at the end where Edmonton attacked twice.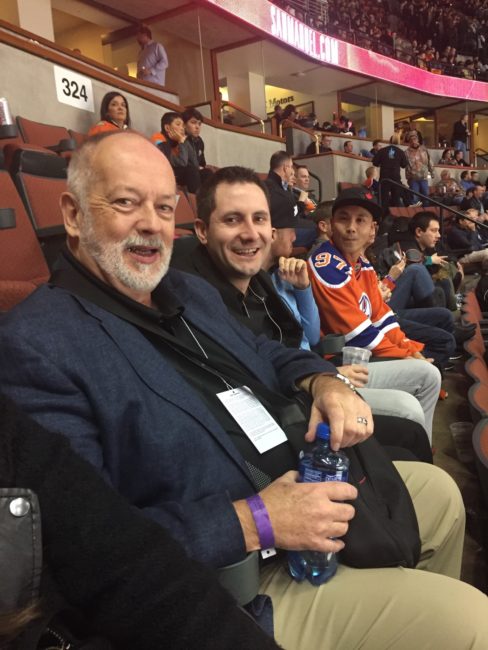 Just two seats down, to the left of me, there was a guy around my age wearing a Connor McDavid jersey. Once it was established that his friend was sitting between us, I broke the ice during one of the first stoppages of play.
"You guys are Oilers' fans?" I asked.
"He is," the middle man responded, later admitting his allegiances to the rival Calgary Flames.
"Cool, are you from here?" I asked.
"No, San Diego now, but I'm originally from Canada," the Oilers' fan responded, not yet knowing we were Canadians as well.
The rest of the conversation played out something like this . . .
ME: "Nice, whereabouts?"
HIM: "Saskatchewan, actually, a really small town."
ME: "Serious? Which one?"
HIM: "Kerrobert."
ME: "Shut the front door, you can't be serious? I'm from Luseland."
An awkward pause ensued, almost a staredown of sorts. Turned out, we were neighbours from rival towns — Luseland located less than a half-hour drive from Kerrobert, which was about twice the size (1,061 to 566 residents, according to the 2011 census numbers on Wikipedia).
This was too weird to be true and suddenly the first-period action seemed secondary.
ME: "So, what's your name?"
HIM: "Kevin Ding."
Hmm, didn't ring a bell at first — we somehow didn't know each other from a past life. Probably because he was five years older than me, graduating and moving away in 1997 — right around the time I was playing my first of two minor-hockey seasons for the Kerrobert Tigers, prior to graduating and getting out of dodge in 2002.
We briefly went back to watching the game, but both teams got off to a sluggish start — scoreless after 20 minutes, with Anaheim outshooting Edmonton 7-6 — so the small talk continued.
HIM: "My dad was Dr. Ding . . ."
Oh boy, alarm bells are going off now. Finally.
In a town that size, there is only one, maybe two physicians. The Kerrobert doctors also served Luseland since we didn't have any of our own.
So, as fate would have it, Kevin's dad (David) was my family doctor for some time. I'd have to double-check with my parents, but I'm pretty sure he delivered my younger sister. I was born in the next town over (Unity) but, still, the world doesn't get any smaller than that.
We had plenty of catching up to do, it seemed, and I managed to get the whole Ding family story. This won't interest everybody, but I just have to share it for my small-town readers — of which I like to think there are many back home in both Luseland and Kerrobert. Consider this a little "where are they now" segment.
Kevin, as mentioned, lives in San Diego and is the head of power training for Sempra Energy. His friend from the game was actually a co-worker in the trading side of the business and a fellow Canadian, who grew up in Halifax, N.S., but recently spent a decade in Calgary and even vacationed in the Okanagan region of B.C. where I now call home. He had stayed at Sparkling Hill Resort and golfed Predator Ridge, both tourist destinations just outside Vernon, and had a cool story about ziplining with Jarome Iginla and his family in nearby Oyama. Extra cool for a Flames fan, no doubt.
Kevin married a California girl and is a permanent resident here. His friend, whose name is escaping me, was relatively new to San Diego and half-jokingly hoping that Donald Trump doesn't deport him.
As for the rest of the Dings, Dr. David is retired and spends his winters in Paradise, Calif., where he had a private practice after leaving Kerrobert. David also has a place in Calgary, where Kevin's four sisters all live — two of them are doctors and one is a lawyer. That took the pressure off Kevin to follow in his father's footsteps and he's definitely doing well for himself too.
Day 6 Preview
Moving along, I'll be focusing my California coverage more so on hockey for the next couple days, with All-Star weekend upon us — starting with today's skills competition and followed by Sunday's 3-on-3 tournament.
Brent Burns practising up for #NHLAllStar at Players' Gifting Suite. Showing off sniping ability for @SauceHockey and @TheFourthPeriod. #THW pic.twitter.com/aL4th5UGhs

— Larry Fisher (@LarryFisher_KDC) January 28, 2017
I'll be attending both events but, due to the last-minute nature of this trip, I unfortunately missed the deadline for media credentials. So I'll be watching from the audience, without my laptop, and won't be filing until later in the evening or perhaps the next day as per the trend so far.
The good news is that Mark Brown, who covers the Arizona Coyotes for THW, is also here in Los Angeles and does have press passes throughout the weekend. So be sure to check out his work for the more hard-hitting, timely angles.
Stay tuned! And follow me on Twitter (@LarryFisher_KDC) and Instagram (larryfisher31) for updates throughout the trip.
Larry Fisher is a senior writer and head scout for The Hockey Writers, having been an at-large contributor for THW since August 2014. Fisher covers both the NHL and the WHL, specializing in prospects and NHL draft content, including his annual mock drafts that date back to 2012. Fisher has also been a beat writer for the WHL's Kelowna Rockets since 2008, formerly working as a sports reporter/editor for The Daily Courier in Kelowna, British Columbia, Canada from 2008-2019. Follow him on Twitter: @LarryFisher_KDC.