---
[mc4wp_form id="230175″]
---
In the first of a three-part series, we tried to tackle the question: are the Edmonton Oilers really as good as their recent record and current position in the Pacific Division standings suggest? We used the offense, led by Connor McDavid and Leon Draisaitl, as a way to suggest that yes, the Oilers are more than just a team on the rise. They are brimming with confidence, the real deal and nearly ready to challenge for a playoff run. If the secondary scoring comes together and Edmonton adds some small depth pieces at the deadline, the offense could be dangerous.
In part two, we take a look exclusively at the defense. Is the blue line that appeared improved, but also somewhat thrown together by GM Peter Chiarelli good enough? With the lack of a bonafide top-pair defenseman on the roster, can Edmonton really find success by committee? With such a young core, is the experience enough to win games when the pressure is really on?
A Steady Duo at the Top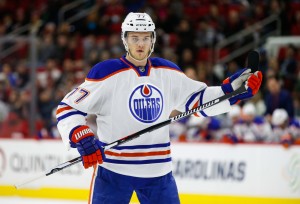 They aren't flashy. They aren't superstars. To some people, they're not even first-pair material. But, on most nights, Oscar Klefbom and Adam Larsson have been a reliable duo that is performing as asked.
Heading into the All-Star break, Klefbom has not only removed the fear that he wasn't completely healthy but added an offensive flare to his game. He has 8 goals and 18 points in 51 games and perhaps most impressively, he ranks third on the team in shots taken and seventh in the NHL among defensemen. Klefbom is about as close to a power play blue line specialist as the Oilers have.
Meanwhile, Larsson has been every bit the shutdown defenseman he was touted to be. Better yet, he's showing grit, nastiness and a compete-level that few expected. Not getting to see what kind of ferocity he brought to the table game in and game out has shocked Oilers' followers. It's a pleasant surprise.
More Pleasant Surprises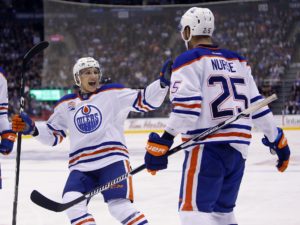 Before going down to injury, Darnell Nurse was coming on strong and blossoming as a well-rounded defenseman. To go along with his grit and edge, he'd added an ability to control his play, pick and choose his battles and channel his enthusiasm in the right manner. That he has missed so much time due to an unexpected injury is a setback, but the emergence of other blueliners on the roster have made Nurse's absence bearable.
Matthew Benning
At the top of that list is Matthew Benning. A college free agent signing this season, Benning was looked at as a right-handed defender who may see some playing time but wasn't a lock for NHL action. In only a few short months, Benning has not only surpassed that expectation but made himself nearly indispensable.
He has 10 points in 38 games and averages 16 minutes per game, but in that conservative ice time is playing important minutes in key situations. Benning has earned the trust of his coaching staff and cemented himself as a righty on the blue line with the potential to be a top-four defenseman moving forward. He was acquired for nothing and he's turning out to be an astute signing. If there is a downside, it's that he lacks experience and while it hasn't yet, it could pose a problem.
Kris Russell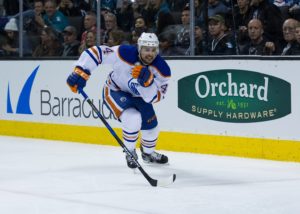 Perhaps categorizing Russell as a pleasant surprise isn't fair thanks to his wealth of NHL experience, but there were a number of detractors against the signing of Russell when it happened. There are still some in the stats community that cling to his underlying numbers and below average Corsi and claim he's a mistake, but it's difficult to deny that Russell has earned his paycheque night in and night out.
He leads the team and the NHL in blocked shots with 130 and he tops the Oilers in even-strength time-on-ice per game. He plays some the toughest opposition and he routinely makes textbook plays to break up the attack.
It is true that he offers little to no offense and is somewhat one-dimensional, but that one dimension has earned him a ton of respect. He's the type of player that could be useful in a playoff run and the rumours are he's earned serious consideration for a contract extension. The hope is that any extension happens following the NHL Expansion Draft, but it seems right now only Peter Chiarelli knows that plan of attack there.
Andrej Sekera, The No. 1 Defenseman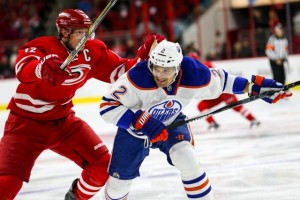 Perhaps calling Sekera a true No. 1 is a bit of a stretch, but how he's emerged to lead the Oilers blue line is nothing short of astounding. In his second season with the Oilers, Sekera has become the blue line's leading point producer with 24 points in 49 games. That's good to rank in the top-25 among NHL defensemen.
Adding to his offensive contributions, he plays special teams and leads the team in overall time-on-ice per game. Sekera should be considered the Oilers most well-rounded defenseman. Should he miss any significant time, it would be a major blow to the Oilers defensive core.
Areas of Concern
With all the positives that have emerged from an area that was perceived to be a weakness for the Oilers to start the season, there are some issues that Edmonton should try to address.
Chiarelli plugged the major holes on the Oilers defence with Larsson, Russell and Benning.

Is there a GM of the Year award?

— David Staples (@dstaples) January 27, 2017
First, while Sekera and Klefbom are close to offensive weapons, an upgrade to the Oilers power play from the blue line would probably help a great deal. Perhaps a rental like Kevin Shattenkirk from St. Louis or Mike Green from Detroit would be among those considered. The question becomes acquisition price versus obvious improvement.
Second, the NHL experience on the Oilers roster is better than it was, but with only Sekera and Russell as defensemen with over 325 games under their belts, it's still a young group that hasn't experienced playoff hockey much in their young NHL careers. They'll be learning together as a group and when it's a new experience for almost everyone, only time will tell how they answer the challenge.
Edmonton is better defensively than they were last season by miles. Are they good enough to be considered a legit threat? That's still a pretty big maybe.