Now that the NHL is at its unofficial halfway point, the Detroit Red Wings find themselves at the bottom of the Eastern Conference standings. But in the spirit of All-Star weekend, it's time to have some fun.
Back in the 90s, many teams used to host their own "skills competition" while their All-Stars were away representing the organization in the public spotlight. The Red Wings were typically among those teams with an internal contest.
For this week's edition of The Grind Line, The Hockey Writers' Red Wings coverage team will take a look at four events—accuracy shooting, fastest skater, hardest slap shot, and shootout—and choose who would win if the Red Wings hosted their own skills competition.
Accuracy Shooting
Tony Wolak: Despite Detroit's low offensive output, they have a few players who would perform well in this event – mostly because there's no one around to interfere with their shots on net. Mike Green, Tomas Tatar, and Anthony Mantha can pick corners, but "Mr. Snipshow" himself Dylan Larkin would steal the show.
Brandon Peleshok: Mantha gets some consideration here, though I feel Thomas Vanek would take this event. Though his play-making abilities have taken center stage with the Red Wings this season, the Austrian winger is more than capable of picking corners. In Vanek's only All-Star Game appearance back in 2009, he did not participate in the Accuracy Shooting competition, despite leading the league in goals (along with Alexander Ovechkin and Jeff Carter) heading into the event.
Tom Mitsos: Known more for his passing ability than his shooting skill, Henrik Zetterberg might not seem like a great pick for the target shot competition, but the 14-year veteran knows how to pick his shots with precision. I remember this goal when Zetterberg shot from below the goal line and banked the shot off Nashville goalie Marek Mazanec's head and into the net.
If he can do that during a game while moving, imagine what he can do while standing still with stationary targets.
Fastest Skater
TW: Last year, Larkin set an NHL All-Star Skills Competition record. This year, he has a challenger. Andreas Athanasiou has been flying up and down the ice for the Red Wings this season. With his blazing speed, Athanasiou has flown by opposing defenses and popped home 11 goals in 34 games this season, including this gem against Pittsburgh:
BP: The Red Wings have a number of forwards with elite skating ability, but Dylan Larkin is my pick for this event. It almost feels like plucking low-hanging fruit, considering he broke Mike Gartner's 20-year record (with a time of 13.172 seconds) during last year's All-Star weekend. Both Athanasiou and Darren Helm could give him a run for his money, but I give Larkin the edge here.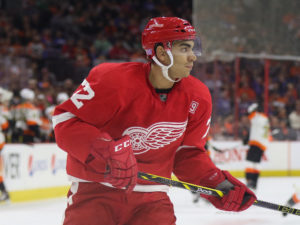 TM: Dylan Larkin may have the record, but he isn't even the fastest skater on his own team. I'd give the nod to Andreas Athanasiou and maybe even Darren Helm (definitely Helm in his prime). Athanasiou's top speed is unreal, and he would blow away the competition, save for maybe Connor McDavid, who is also a speed demon.
Hardest Slap Shot
TW: He rarely lets loose a clapper from the point, but Jonathan Ericsson definitely has the fastest slap shot on the team. Ericsson's shot has been clocked at over 100 miles per hours in the past and likely is still around that today. It would be nice to see him tee it up from the blue line every so often in games though.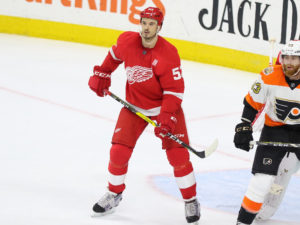 BP: While it's not something Red Wings fans see on a regular basis, Jonathan Ericsson has the ability to let go of a booming slapshot. Back when he was still a member of the Grand Rapids Griffins, he made the PlanetUSA All-Stars roster in 2008. The Swedish blueliner placed second in the Hardest Shot competition when he let go of a 100.1 mph slapshot.
TM: At 6-foot-4, Ryan Sproul is the third-tallest player on the Red Wings behind Jared Coreau (6-foot-6) and Anthony Mantha (6-foot-5), and he is tied with Jonathan Ericsson. The bigger the player, the more torque he can get on his shot, which will work in Sproul's favor.
Coaches and media members alike have commented on Sproul's hard slap shot, and he no doubt would hold his own in the competition. He won't be unseating Shea Weber or Zdeno Chara anytime soon, but he'd be fun to watch nonetheless.
Shootout
TW: In a last-man-standing shootout competition with nothing to lose, I can totally see Steve Ott coming out on top. Per goaltender Jared Coreau, Ott has the best hands on the team. He has a career 36.4% conversion rate in shootout attempts, but in a for-fun content, Ott would be the player to pull creative moves that the goalies would not see coming.
BP: What Frans Nielsen lacks in flash, he more than makes up for in consistency. The 32-year-old Dane is tied for the most goals (44) in the shootout since the league started using it as a tiebreaker in the 2005-06 season.
Nielsen has his fair share of dazzling moves for the Breakaway Challenge, but he would likely prove most effective in the shootout event.
TM: Thomas Vanek has been lights out for the Red Wings in the shootout this season, and he would carry that over to the Breakaway Challenge/Shootout Challenge. In his last five shootout attempts, Vanek has yet to miss, including going four-for-four this season with Detroit.
Against Buffalo, he pulled off a slick around the world move, where he circled the puck with his stick and slapped it over Robin Lehner's shoulder.
A career 41 percent shootout scorer, Vanek hasn't been great during his career, but he has shown some skill late in his career.
Summary
Here are the final picks from our three contributors plus wild card (WC) contestants:
| | | | |
| --- | --- | --- | --- |
| Accuracy Shooting | Fastest Skater | Hard Slap Shot | Shootout |
| Dylan Larkin (TW) | Andreas Athanasiou (TW & TM) | Jonathan Ericsson (TW & BP) | Steve Ott (TW) |
| Thomas Vanek (BP) | Dylan Larkin (BP) | Ryan Sproul (TM) | Frans Nielsen (BP) |
| Henrik Zetterberg (TM) | Darren Helm (WC) | Mike Green (WC) | Thomas Vanek (TM) |
| Tomas Tatar (WC) | Nick Jensen (WC) | Danny DeKeyser (WC) | Gustav Nyquist (WC) |
Which Detroit Red Wings players would you choose to win the Accuracy Shooting, Fastest Skater, Hardest Slap Shot, and Shootout competitions? Comment below with your picks.