It has been two months since the Florida Panthers parted ways with head coach, Gerard Gallant. The team sat two points out of a playoff spot at the time, and sit four points back now. That said, the teams they have to leapfrog – the Toronto Maple Leafs, Philadelphia Flyers and Boston Bruins – have all been blindingly inconsistent this season. Regardless, it seems as though the Panthers are in much the same place as they were before. Has anything really changed?
What's Stayed the Same
The Panthers' goaltending has trucked right on through this organizational turmoil. Roberto Luongo is putting together another fine season, parking himself in the thick of the National Hockey League's upper echelon of save percentage, with a .921. James Reimer has come on of late as well, sporting a .929 save percentage since losing to his former team, the Leafs, on Nov. 17.
The Panthers are getting quality goaltending from two netminders who can easily slide into a full-time starting role if the other falters or goes down to injury. Only two other teams even come close to having this type of security between the pipes: the Nashville Predators (Pekka Rinne and Juuse Saros) and the Pittsburgh Penguins (Matt Murray and Marc-André Fleury).
On a more analytical note, the differences in zone starts between Gallant's tenure (Oct. 9, 2014 to Nov. 27, 2016) and that of his replacement, Tom Rowe, are largely the same. That is to say, the Panthers have consistently started plays (had faceoffs) roughly one-third of the time in each of the defensive, neutral and offensive zones.
There is a slight difference in zone finishes, with Gallant's coaching yielding more neutral zone finishes than Rowe, and Rowe's coaching more offensive and defensive zone finishes than Gallant. That is to say, the Panthers have seen more stoppages of play resulting in offensive and defensive zone faceoffs under Rowe than Gallant, perhaps suggesting the former employs a more risk-reward style of play, with the latter being somewhat more conservative. Whatever the case, these effects are marginal at best and, given Rowe's relatively small sample size (28 games) compared to Gallant (186 games), they could be altogether insignificant.
Advantage Gallant
Gallant's coaching style led to the Panthers giving up about as many shots as they generated, 29 or 30 per night. Rowe also has a relatively even distribution, though his squad gets about three more shots per night – and gives up three more – than Gallant's. Again, a more aggressive coaching style is evident but has nevertheless produced similar results.
Interestingly, this aggressive style of play has, despite the increase in shots allowed, led to about the same number of scoring chances against per game, at around seven. That said, the increase in shots for has not benefitted the Panthers in any way, as they have actually seen a drop of a whole scoring chance per outing – seven down to six – since the transfer of power. More shots, less chances. The plot thickens.
Another puzzling stat is that the Panthers are only generating 45% of rush shots (shots generated off the rush) in a game with Rowe at the helm, versus 54% with Gallant. Given that the team's offseason acquisitions were designed to make them faster and more opportunistic, this fact is difficult to comprehend.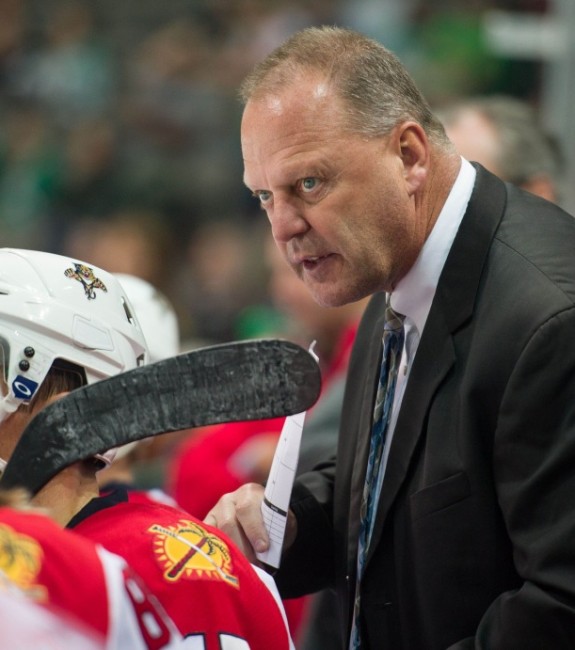 Naturally, these results have affected the Panthers' expected goals totals. Gallant had a dead-even 2.3 expected goals for and 2.3 expected goals against per 60 minutes of play. Rowe has a 2.3 expected goals for – the extra shots perhaps compensating for the fewer chances – but 2.6 goals against per 60 minutes. Not an enormous increase, but a goal against here and there can really cost a team in the standings.
Finally, of all turnovers within Panthers games, the Cats under Rowe are the ones giving the puck away 56% of the time – and about eight times per game – in comparison to a more neutral 51% – six times per game – under Gallant. Hockey people of all ages, advanced stats geniuses and hardcore traditionalists alike, can all agree that an increase in giveaways is definitively not beneficial.
The consensus regarding Gallant was that he was an old-school guy with an old-school emphasis on unquantifiable attributes like toughness, grit and being unpleasant to play against. However, Gallant's Panthers had a PDO – save percentage plus shooting percentage – of just over 100. This result is right about average, indicating that his team was neither over- nor under-performing. He also had a positive Corsi For percentage at five on five (50.14%), indicating that his team was no slouch in the possession game, either. Tom Rowe's short tenure has yielded a 50.7%. Was all the kerfuffle really worth just over half a percentage point?
In Defense of Tom Rowe
Now, let's not pretend that Tom Rowe is a bad hockey coach. He's been around a long time coaching in the best leagues in the world. The argument is merely that he is not – and was never – the answer to the Panthers' problems.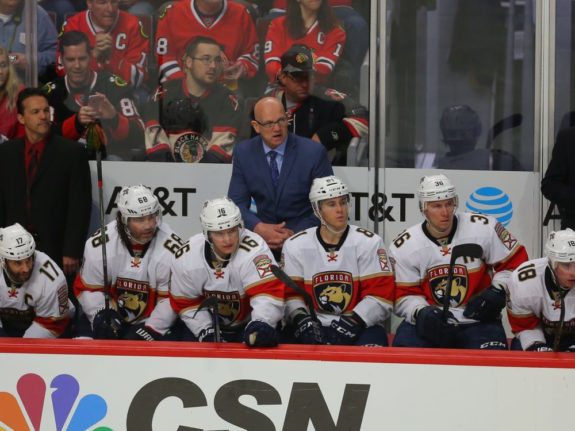 Gallant entered the season with one-third of his team different from that of last year, meaning one-third of the team had to learn and adapt to a new system, not to mention their new teammates. Florida's leading scorer in 2015-16, Jaromir Jagr, was another year older and less of a fit for the revamped Panthers. Another top offensive threat, Jonathan Huberdeau, got hurt in an exhibition game and hasn't played since. And hey, sometimes teams just start slow.
Rowe has been no luckier. Huberdeau is still out, joined by Nick Bjugstad (again) and Aleksander Barkov in the infirmary. In addition, the Panthers' even-strength shooting percentage is a woeful 5.06% under Rowe, good for last in the NHL during that span. As a result, their PDO is low at 98.21 and they sit fourth-last in the league with 116 goals scored.
Unlucky or Unimpressed?
So maybe the Panthers have just been plain unlucky this year. The unceasing tumult within the team and the front office can't be easy for the players to deal with, either.
Not that it ultimately matters in terms of decision, but safe to say FLA players largely disappointed/unhappy at Gallant being fired.

— Bob McKenzie (@TSNBobMcKenzie) November 28, 2016
And it's not as though the season has been a total loss. Jonathan Marchessault is off the scrap heap and has fit in nicely with the Panthers, ranking second in team scoring. The Panthers are sixth-best in penalty killing and draw the sixth-most penalties. Both goaltenders are proving their worth.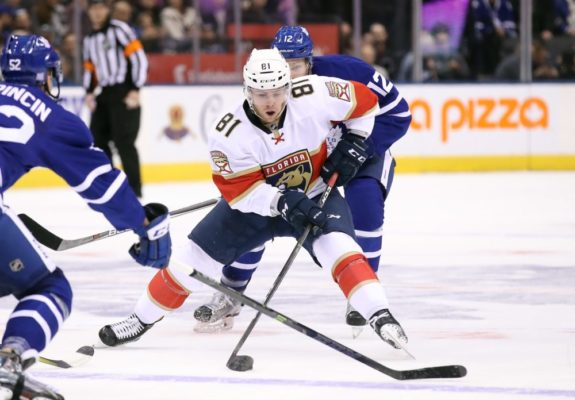 But the season is over halfway gone, and the Panthers still find themselves on the outside looking in. With each passing day, the decision to fire Gerard Gallant looks worse and worse. The front office of any team is supposed to do what is necessary to help their team win. Can the Panthers organization really say that they've given their team the best possible chance to succeed?
(All advanced stats are thanks to Corsica.)