What do we talk about when we talk about Jaromir Jagr? We talk about his size, his power, his hands that put cashmere to shame. We talk about the fact that, barring three (three!!) NHL lockouts, he might be nipping at the heels of Wayne Gretzky's all-time goals record, not to mention 2,000 points. And, of course, we talk about the hair. Whether mulletted, skater or all-business, that is one handsome man.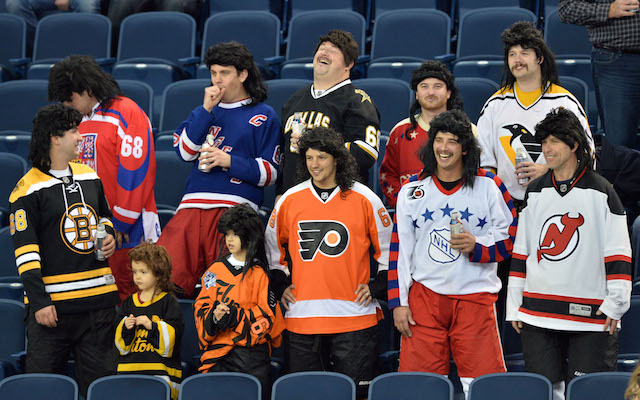 But, it's 2016, Jagr is 44 and we have a bit of a problem. His skating speed, never his strong suit, has been thrust into focus now that the Panthers have come down from the high of last year to – thus far, anyway – be a .500 hockey team. His hands and hockey sense are still there, but you can't get away from the fact that he has but six goals and 15 points in 30 games.
Diminishing Returns
Since returning from the Kontinental Hockey League for the 2011-12 season, Jagr has averaged 0.76 points per game, working out to about 62 points (24 goals) per 82 games. And let's not forget, there is still over half a season left for his statistics to even out. That said, his sluggish start to the season is worrying for Panthers fans, not only due to the lack of production, but also the lack of production given the situations in which he is used.
Jagr sets up Huberdeau pic.twitter.com/O8FR6qC33t

— Stephanie (@myregularface) March 13, 2016
Now, make no mistake; the man can still play. Just check out the GIF above as he casually reverses through the offensive zone to set up a goal. However, according to Fox Sports, of all of Florida's forwards, only Aleksander Barkov has more power play time than Jagr. In addition to that, according to both DailyFaceoff and Left Wing Lock, Jagr tends to be on Florida's first power play unit, a unit ranked dead-last in the league. He is sixth among Panthers forwards in overall ice time, a ranking no doubt padded by significant power play minutes, and is constantly rolled out at even strength alongside Florida's top forwards.
Look, no one wants to say it. I don't want to say it. But let me at least pose the question: is Jaromir Jagr still a legitimate top-six threat? A veteran presence? Sure. Tons of fun? Absolutely. A physical specimen and a role model for younger players? No question. But is playing him in a top line role really ideal? Especially with all of the young talent the Panthers have amassed?
Conflicting Priorities
It has always bothered me that we talk about hockey players like broken-down cars or clothes that have gone out of style. They are people, after all. And Jagr is one special person who deserves all of the respect in the world for his accomplishments. But this is also the entertainment business. A great story is always welcome, but you know what maximizes entertainment value? Winning. Yes, okay, the late-90s-early-2000s New Jersey Devils. Ultimately though, I am just not convinced that the Panthers wouldn't be better off with Jagr playing further down the lineup.
But here's the most painful part: everyone knows that the Panthers are going for youth and speed – they even fired coach Gerard Gallant because he wasn't on board with that plan. This is the modern NHL, a league where the best teams are built on quickness and agility, where smaller players like Jonathan Marchessault can excel. Is Jagr really the best fit for this system? Especially at 4 million bucks (even more when one factors in bonuses)?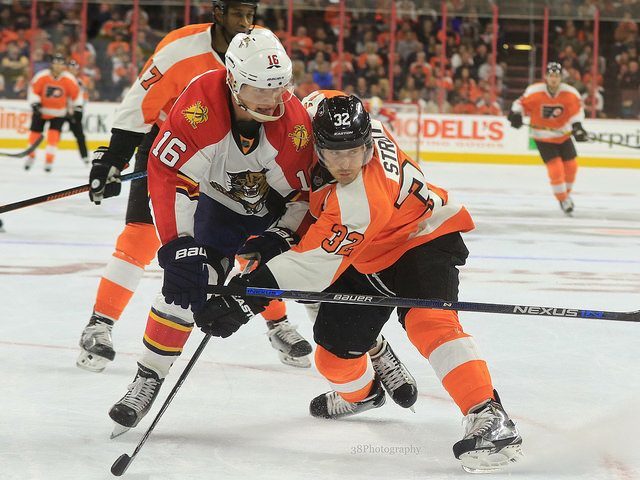 …well, this is awkward. Turns out Jagr is a possession monster. According to Corsica, the man is tops on his team in Corsi For, with a 58% rating – excluding power play time, no less. Analytically – at least on the surface, he's a god. And yet, only 15 points in 30 games and the footspeed of the Great Pyramid of Giza. Could it be that he is boosted by his similarly outstanding linemates, Barkov in particular? Or is it Jagr himself that is driving possession? And, if it's the latter, why hasn't it translated into results? Is it just a spate of bad luck or a symptom of something more systematic? Only time will tell.
A Place in the Sun
So, what to do in the meantime? Let the kids do what they do best: skate. Put Jagr on the power play, but play him down the lineup at even strength, a notion that will be particularly pressing when Jonathan Huberdeau returns to the lineup. If anything, facing lesser competition might even boost Jagr's stats, despite playing with less-talented linemates. And, at the end of it all, you'll have a grizzled veteran who can provide secondary scoring for a team looking to make a playoff run.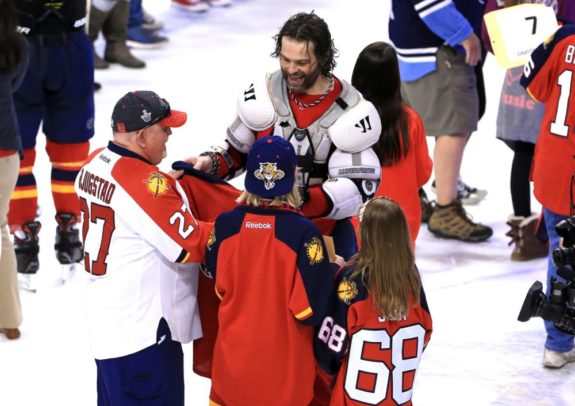 Jagr is a living legend and the sun is still very much rising on his career in hockey. He can literally walk into almost any job in the business, no questions asked. But, simply put, the man loves playing. It's up to the Panthers to ensure that his sunrise sunset is both efficient and effective.