After an abysmal mess of a season in goal last year, where the Flames saw their rotation of goaltenders cost the team games night after night, Brad Treliving took major strides to ensure that the horror of the 2015-16 season didn't happen again this year. Signing Chad Johnson and drafting Tyler Parsons were nice steps, but it was the trade for Brian Elliott that was really going to fortify the team between the pipes this season.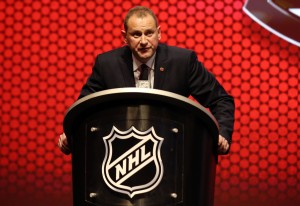 While it hasn't exactly worked out as planned, with Brian Elliott now riding the bench, Flames fans can rest easy knowing Chad Johnson has taken the reins and led Calgary to the third-best record in the NHL over the past month. Although this has been a great run to watch, and Johnson certainly looks like a legitimate number one goaltender at the moment, it raises some new questions about how to approach the situation between the pipes moving forward. Treliving & Co. are surely thinking about what to do with Chad Johnson as his potential price tag continues to climb, but the question also needs to be asked: what happens with impending UFA Brian Elliott at the end of the year? There's sure to be some knee-jerk reaction among fans and media that says to let him walk, and keep the conditional third-round pick that will be sent to St. Louis if the Flames re-sign him, but there are a few reasons why it might be prudent to bring Elliott back at the season's end:
Chad Johnson is Still Unproven
This is perhaps the most important and obvious reason for keeping Brian Elliott in the fold, as we still can't be sure that Chad Johnson is an everyday number one. At this point, sure, he looks like Carey Price. But Johnson has also never played more than 45 games in a season and has never touched the ice in playoff game either. Should he continue to play like this through the entirety of the season, and even lead the Flames to the postseason, Johnson will still only have one year at that level of play under his belt.
When looking at the prospect of Chad Johnson establishing himself as a legitimate, top-flight goaltender at the age of 30, it's easy to take one quick look at Devan Dubnyk and draw comparisons. While having Johnson emerge into a consistent starter of that calibre would be hitting the jackpot for Calgary, it would be foolish for Treliving and the Flames to bank on that assumption. Too many teams have been burned before by this thinking, and being prepared for Chad Johnson to potentially regress is undoubtedly the smart move for a team on the rise.
Elliott is a Solid
—

and Affordable

—

Insurance Plan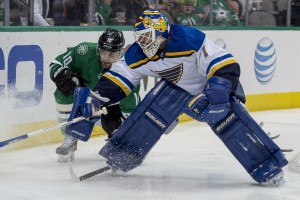 Through his 13 games played for the Flames to date, Elliott has put up some less-than-stellar numbers, to say the least. With that said, this is a player who had spent the past six seasons in St. Louis posting some of the best stats in the league. Over his five years with the Blues (2011-12 to 2015-16), Brian Elliott was first in the league in goals-against average (GAA), and second only to Cory Schneider in save percentage (SV%). While he was certainly playing behind one of the best defensive teams in hockey, it's hard to argue that Elliott is not a proven and capable NHL goaltender.
With his three-year deal paying him $2.5 million per season set to expire, Elliott surely came into this year looking to set himself up for a big raise in 2017. That's obviously not looking like the case anymore, and herein lies the silver lining to this situation for the Flames: Elliott's struggles will no doubt make him a much more affordable player come July 1. To have even the slightest glimpse at a raise come summer time, he would need not only a significant improvement to his own play, but also a major fall-off from Chad Johnson that might allow Elliott to reclaim the starting role. Otherwise, he is likely looking at a deal that at absolute best matches his current salary. Bringing him back at an affordable price allows Glen Gulutzan to have a strong, capable, veteran insurance plan should Chad Johnson not live up to a new extension.
Handling the Development of Prospects
The Flames are finally looking quite deep when it comes to prospect depth in the crease. Jon Gillies is starting to round into form with Stockton following his first AHL season that saw him play only seven games due to injury. David Rittich looks like a nice surprise at the AHL level after being signed from the Czech league in the offseason. Tyler Parsons and Nick Schneider are lighting up the CHL and could be nice pieces down the road. Mason McDonald has admittedly been a bit underwhelming to date, but he's 20 years old and isn't the lone hope for the future of Calgary's goaltending.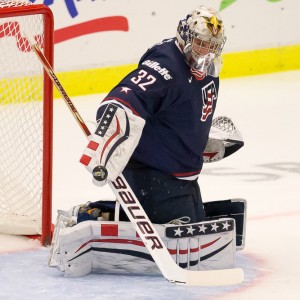 Despite the depth, there's not a name on that list who should be expected to make the jump to the NHL next season. Even if Gillies may soon be capable of playing at that level, there is absolutely no sense in having him sit on the bench as a backup in Calgary. Let him develop for another couple of years, and then hopefully take the reins as the Flames' number one once he's ready. While there are outliers like Carey Price and Tuukka Rask, many of the top goalies in the NHL didn't fully make the jump until their mid-20s (Braden Holtby, Pekka Rinne, and Corey Crawford to name a few).
Ultimately, while Brian Elliott may not be quite as good as his numbers showed in St. Louis, it's safe to say he's not as bad as he has been during in his early days in Calgary, either. This is a legitimate NHL goaltender who is more than capable of starting some games for the next couple of years – be it as Chad Johnson's backup, or as the starter should things change. There are no other NHL-calibre options within the organization, and diving into next year's free agency pool would likely see the Flames signing a guy like Robin Lehner or Michael Neuvirth for about the same money. Advantage Elliott there.
Brian Elliott and Chad Johnson are quality NHL goaltenders, and both should be available on affordable deals at or before the end of the season. Brad Treliving simply needs to be patient and prudent, and avoid making a knee-jerk reaction with either one, because today's backup could very easily be tomorrow's number one.