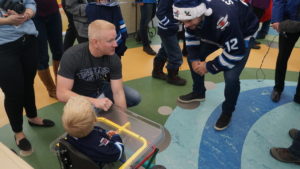 The season isn't going the way they wanted it to, but, as the Winnipeg Jets found out yesterday, their pint-sized fans love them no matter what!
The Jets went to the Children's Rehabilitation Centre yesterday afternoon to spend some time with some patients and their families. Players walked around the room talking to kids, signing autographs, and posing for photos. They also got asked many questions and even had a few 'superfans' to talk with.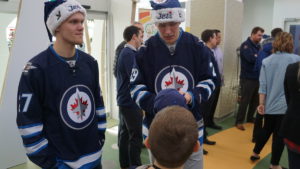 Nikolaj Ehlers spent the afternoon talking to the children and signing everything from books to jerseys, hats, and even a prosthetic leg. He says that these visits are important for the kids, but also for the team.
"I think it's important for the kids but most importantly for us. Coming out here and seeing these kids, making their days, making our days, it's exciting. To see what they are going through, it's amazing. Putting a smile on their face. It's so much more than just hockey for us, it's hard to describe."
A 'veteran' to these hospital visits, Paul Postma has this day circled at the beginning of the season.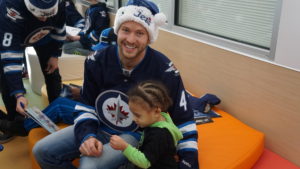 "This is always fun, something on the calendar that we look forward to. It takes no time to come and see the kids but it leaves a lasting impression. They are all here for a reason and we take our good health for granted. Anything we can do to make their days a little brighter, and if that's just coming and signing some autographs and hanging out with them, then that's great."
Jerzee is one of the children in the Rehabilitation Centre and she was really excited to see the Jets
"It makes us feel so special that they want to come out and do this for us on their own time."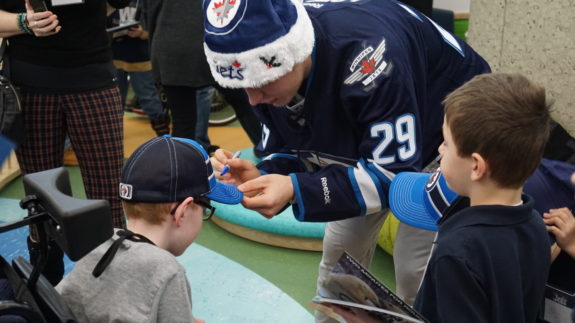 The holiday cheer was noticeable in the room. It was also made clear that one little miscue wasn't going to change anyone's opinion of Patrik Laine, who was probably the most chosen 'favorite player' from the children there. Laine, Ehlers, Postma, Drew Stafford, Connor Hellebuyck, Andrew Copp, Jacob Trouba and Josh Morrissey made the trip.
Finally a Break
The Jets take on the Florida Panthers on Thursday after a welcome four-day break. The Jets have played 32 games, which is second-most in the league behind the Calgary Flames. While last year took 72 days to reach this mark, it only took 60 this year.
Hopefully, the four-day rest will give a few of the injured Jets some extra time to recover, and those playing through a bit of an injury some time to get back to 100%.