After Calgary's goaltending situation last year that was nothing short of a disaster, the Flames brought in both Brian Elliott and Chad Johnson in the offseason to change their fate in the crease. Elliott, coming off an incredible year in St. Louis, was brought in through a trade to become Calgary's starter, while Johnson was signed as a backup.
However, just over 30 games into the season, the roles have flipped after Elliott's soft start, and Johnson has emerged as Calgary's number one goalie. With the Flames' goaltending situation for next year uncertain, re-signing Chad Johnson may be the best option. Here we list the pros and cons of re-signing Johnson as a starter for next season.
Pro: Consistency
Chad Johnson gives the Flames something they haven't had in a very long time—a consistent goalie. Johnson has proven to be consistent not just this season, but over the course of his career. Since joining the Boston Bruins as a full-time backup in 2013-14, Chad Johnson has a career record of 63-34-12, a GAA of just 2.32 and a save percentage of .919.
This season, Johnson has an incredible .932 save percentage on a team that's been everywhere from first in the Pacific to one of the Western Conference's bottom teams. It's hard to judge whether Johnson would be able to keep this consistency in a starting role for multiple years, but this season will be the test. Seeing as Johnson is the starter in Calgary for the time being, if he's able to sustain his play for the rest of the year, there's no reason he shouldn't be given a chance as a starter on a long-term basis.
Con: Lack of Experience
Though Johnson has been consistent, it's hard to tell how solid he'd be as a permanent starter even if this year does go well. In Johnson's three years as an NHL regular, the most games he's ever played in a season was 45 last year. Johnson has also never played a playoff game, and even in his AHL career, he has only ever played three playoff games.
If Calgary does decide to stick with Johnson for next year, it'll more than likely mean they sign another temporary backup who can still play 25-30 games next season, as opposed to bringing up a prospect like Jon Gillies. Every goalie starts their his career inexperienced, but if Calgary does hope to become a playoff contender in the next few seasons, Johnson may be a risk as a starter.
Pro: Cheap Contract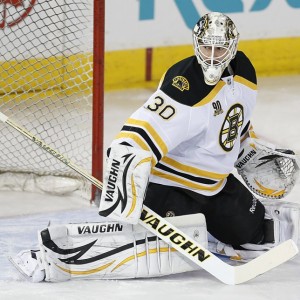 Another plus to re-signing Johnson as a starter for next season is that they'll likely be able to do it for cheap. Seeing as Johnson has been a backup for so long, his value isn't as high as a goalie who was groomed through an organization and spent years as a starter. With the salary cap playing a crucial role in the success of a team that it does now, keeping more money in the bank is only going to benefit the Flames.
Considering that many goalies are being paid over $5 million or even $6 million, it'd be a big bonus that Calgary doesn't need to fork out the same money for their number-one goalie. A comparable to his potential contract would be Devan Dubnyk (he'll come up again soon). Dubnyk came out of nowhere in 2015 to emerge as one of the top goalies in the league, and was signed to a contract worth $4.33 million. If the Flames could do the same, and re-sign Johnson as a starter in the area of between $3-4 million, it would be worth keeping him around.
Con: He's Not Getting Any Younger
Something that can be extremely important in finding a starter is that goalie's age. Naturally, the younger they are, the longer they're going to have with the organization. Unfortunately for Johnson, who is already 30 years old, he may not have the years left that the Flames want in their next starter.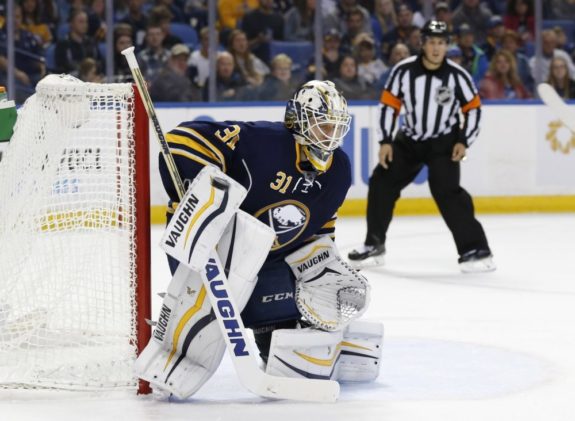 Now of course, goaltenders can stay at the top of their game even later in age—any player can. But the reality is that there's a good chance Johnson's play will start to slow down within the first couple years of signing with Calgary.
Pro: "The Dubnyk Effect"
Two years ago, current Minnesota Wild starter Devan Dubnyk had one of the craziest and most unexpected stints seen from any goaltender in recent memory. Between January of 2014 and January of 2015, Dubnyk was part of five different NHL organizations: Edmonton, Nashville, Montreal, Arizona, and finally Minnesota. Dubnyk had been on and off as a starter with Edmonton since 2011, but after a brutal start to the 2013-14 season, he was sent to Nashville, and from there bounced around between NHL teams and the minors. But when he arrived in Minnesota, Dubnyk played incredibly. In 39 games of the 2014-15 season with the Wild, he went 27-9-2 with a save percentage of .936. Dubnyk finished third in voting for the Vezina Trophy and has since been a starter for the Wild.
The point is that just a couple years ago, Dubnyk was barely considered an NHL goalie, let alone one of the best in the league. In his late twenties he turned his career around, and will likely be the starter for Minnesota for years to come. Applying that to Chad Johnson, what's to say he can't do the same? He's been lights-out for Calgary this season, and is one of the main reasons that Calgary is a half-decent team. If Johnson's been able to do this in just part of a season, he may deserve a long-term chance to start for the Flames, and could be worth the risk.