The Detroit Red Wings have dealt with a multitude of injuries, as eight players were on injured reserve just last week. With Andreas Athanasiou and Jimmy Howard returning to the team and others set to return soon, the Red Wings will have close to a full lineup, minus Darren Helm, who is on long-term injured reserve.
With multiple players set to return, The Grind Line took a shot at creating its optimal lineup. Assuming all players are healthy, each writer crafted their optimal lineup from the players who have played at least one game with the Red Wings this season.
Here's what we came up with:
Tom Mitsos
Forwards
| | | |
| --- | --- | --- |
| LW | C | RW |
| Tomas Tatar | Henrik Zetterberg | Anthony Mantha |
| Dylan Larkin | Frans Nielsen | Andreas Athanasiou |
| Gustav Nyquist | Riley Sheahan | Thomas Vanek |
| Tomas Jurco | Darren Helm | Justin Abdelkader |
Defense
| | |
| --- | --- |
| LD | RD |
| Danny DeKeyser | Mike Green |
| Brendan Smith | Ryan Sproul |
| Jonathan Ericsson | Xavier Ouellet |
In a perfect world, Anthony Mantha and Athanasiou would be in the lineup. Both players are dynamic and use their speed, or in Mantha's case big body, to create scoring chances. According to Corsica, Mantha leads the team in five-on-five score-adjusted Corsi for percentage at 55.88 and scoring chances per 60 minutes (10.38), and Athanasiou leads the team in goals for per 60 minutes (1.59) and is second in primary points per 60 minutes (1.99).
Odds are when Helm and Justin Abdelkader return to the lineup, either Mantha or Athanasiou will be sent back to Grand Rapids. However, the Red Wings would be better served to keep them and waiving Drew Miller or Steve Ott. Neither player contributes much on the offensive side, and with the Red Wings allowing 2.7 goals per game (14th in the league), they don't do much on the defensive side, either.
You'll notice Luke Glendening isn't in the lineup. While he hasn't been detrimental to the fourth line as much as in previous years, as Winging It In Motown's Prashanth Iyer points out, he still is overused too much, especially when in the top-six.
https://twitter.com/iyer_prashanth/status/807645736410103810
Glendening has a CF% of 47.55, which is better than Gustav Nyquist, Darren Helm, Athanasiou and Thomas Vanek. It's a slight improvement to last year's 46.63, which was the third-worst on the team.
Glendening can be a serviceable fourth liner, but he certainly shouldn't be getting time on the second line.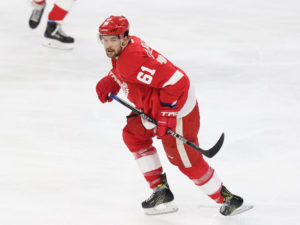 On the defensive side, Ryan Sproul and Xavier Ouellet are in the lineup for Alexey Marchenko and Niklas Kronwall. Sproul was impressive during his first few games but hasn't been as great near the end of November and into December, which is why coach Jeff Blashill opted to make him a healthy scratch for the past four games for Brian Lahsoff.
However, Sproul is second on the team in relative scoring chances against per 60 (3.88), which means for a team that struggles defensively, Sproul is one of the better defensemen on the team.
Jonathan Ericsson, who usually is a scapegoat for the Red Wings' struggles on defense, hasn't been nearly as bad this season. His CF% of 51.24 is third on the team and leads all defensemen. Niklas Kronwall, on the other hand, has struggled with the approximately 20 minutes per night he is getting and needs to be out of the lineup on most nights.
Brandon Peleshok
Forwards
| | | |
| --- | --- | --- |
| LW | C | RW |
| Tatar | Zetterberg | Mantha |
| Nyquist | Nielsen | Vanek |
| Athanasiou | Larkin | Abdelkader |
| Sheahan | Helm | Glendening |
Defense
| | |
| --- | --- |
| LD | RD |
| DeKeyser | Green |
| Kronwall | Marchenko |
| Ericsson | Sproul |
Sure, it's highly unlikely Ken Holland is going to waive two forwards to keep Mantha and Athanasiou on the roster. Despite their waiver-exempt status, letting both players stay in Detroit would allow the Red Wings to ice their optimal lineup.
While the trio has only skated together since late November, Tomas Tatar, Zetterberg and Mantha have looked solid as the Red Wings' top line. Over the past nine games, they have combined for 15 even-strength points and posted a Corsi for percentage of 57.1, according to LeftWingLock. Even though Tatar only has four of those 15 points, there is little reason to tinker with something that has worked.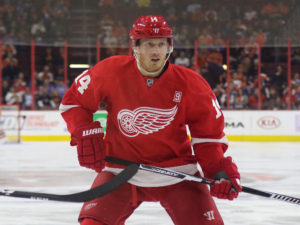 Nyquist and Vanek have spent time skating with Dylan Larkin as their center, but the Red Wings could use more production from both players, especially Nyquist. Perhaps skating on a line with Frans Nielsen would allow the pair more freedom on offense, with the Danish center taking on the brunt of the defensive responsibility.
Outside of trying Nyquist and Vanek with a new center, it was tough to pass on the prospect of watching Athanasiou and Larkin skating on the same line. Justin Abdelkder can do what he does best — park in front of the net — and watch the two speedy forwards work their magic. Finally, a fourth line of Riley Sheahan, Helm and Glendening would give the team an ideal shutdown line. All three forwards are adept defensive forwards, capable of playing center and taking faceoffs.
The defense corps remains the Red Wings' biggest weakness. A top pairing of Danny DeKeyser and Mike Green almost is a necessity at this point and is the Red Wings' best option for now. The duo of Kronwall and Marchenko is a bit scary, especially when you consider the condition of Kronwall's knee. However, if the 35-year-old defender needs a break, Smith can step into the lineup. That leaves a bottom pair of Ericsson and Sproul, and despite Blashill wanting the 23-year-old to be more assertive, he remains one of the Wings' stronger offensive blueliners.
Tony Wolak
Forwards
| | | |
| --- | --- | --- |
| LW | C | RW |
| Zetterberg | Larkin | Mantha |
| Vanek | Nielsen | Tatar |
| Nyquist | Athanasiou | Abdelkader |
| Helm | Glendening | Sheahan |
Defense
| | |
| --- | --- |
| LD | RD |
| DeKeyser | Green |
| Kronwall | Sproul |
| Ericsson | Marchenko |
Up front, don't put too much stock into which line — Nielsen's or Larkin's — appears first on the depth chart. The two trios should be listed as "Line 1A" and "Line 1B" when Blashill announces the game-day lineup. Each line ideally would play 30 percent of five-on-five ice time, plus make up most of the two power-play units.
Zetterberg and Mantha have formed great chemistry since being put on a line together, combining for four goals in the past five games. If the combination is working, why break them apart?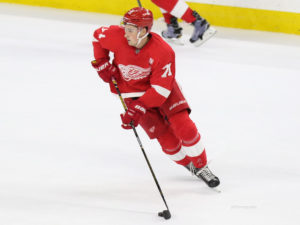 Larkin replaces Tatar on the Zetterberg-Mantha line. Larkin has experience playing on Zetterberg's line, and Tatar would benefit from playing alongside his fellow Team Europe teammates. Detroit's Slovakian winger could pair well with Vanek, who mucks it up down low and has a knack for finding teammates in space.
Detroit's bottom six would be all about speed. On the third line, Athanasiou, Nyquist and Abdelkader could cause matchup problems for opponents in the offensive zone. Additionally, the "fourth line" of Glendening, Helm and Sheahan would be a third line on other teams and has the speed and defensive prowess to shut down opponents' top-six lines.
On defense, not much would change from the current pairings. Though not "top-pairing" material, DeKeyser and Green are Detroit's best options to deploy against opponents' top lines. They also are the only two defensemen who should be playing 24-plus minutes each night.
Kronwall and Sproul would form an offensive second unit, starting most of their shifts in the offensive zone, with Ericsson and Marchenko defending together on the "shutdown" third pairing. Instead of playing one offensive and one defensive defenseman on the same line, the Red Wings should maximize their strengths by playing like players together. Otherwise, you would have two adequate but watered-down defensive pairings.