Given what James Reimer has gone through in his National Hockey League career, the infamous saying 'Nice guys finish last' would have to be considered verified truth, at least up until now.
The affable Florida Panthers goaltender, coming into this season newly inked to a five-year, $17 million dollar contract, truly went through the wringer in Toronto before being shipped to San Jose at last season's trade deadline. Reimer backed up Martin Jones during the Sharks' run to the Stanley Cup final, where they would lose in six games to the Pittsburgh Penguins.
Opting for long-term stability, the 28-year-old chose Florida as his destination in free agency, knowing full well that he was slated to, again, be a backup to future Hall of Famer Roberto Luongo. That said, Luongo will be 38 at season's end, and though his numbers remain stellar, it is only logical that the number of games Luongo starts will gradually be curtailed, in order to maximize his effectiveness as he ages.
Enter Reimer, who has shown throughout his career that, barring injury, he can be a legitimate starting goaltender in the NHL. His five-year contract will surely provide him that opportunity in South Florida.
Ascent Interrupted
Drafted by the Maple Leafs in the fourth round in 2006, Reimer was originally called up to the big club in 2009-10 but did not make his debut until the following year. And what a debut it was — the then-23-year-old finished the season 20-10-5 in 35 starts, with three shutouts and a .921 save percentage, jumping over both veteran Jean-Sebastien Giguere and highly touted youngster Jonas Gustavsson on the Leafs' depth chart in the process.
The following season started off similarly brilliantly (4-0-1), including an opening night shutout of the Montréal Canadiens, until his sixth game of that year when Canadiens captain Brian Gionta cruised by the net and concussed Reimer, a clear headshot that received no supplemental discipline from the NHL. Questions began to emerge regarding the goaltender's long-term viability as an NHL player, given his history of head injuries and their suspect diagnosis and treatment by team medical staff.
Triumph and Heartbreak
Despite never quite regaining his form upon his return in 2011-12, Reimer bounced back the following year, single-handedly dragging an opportunistic yet deeply flawed Leafs team to the playoffs. Going 19-8-5 with four shutouts and a sparkling .924 save percentage in the lockout-shortened season even earned Reimer a Hart Trophy vote.
Despite the team's now-infamous game seven collapse against the Boston Bruins, Reimer was the sole reason his team even made it that far, posting a .923 save percentage during the series, not to mention busting out some impressive flexibility.
Trust Issues
So it makes total sense then, that, despite the team ranking at the bottom of the league – or very near it – in most major metrics, the Leafs felt that goaltending was the problem. Nevermind that Toronto was stone dead-last in possession (based on Corsi For percentage) and showed extremely poor in expected goals, scoring chances and PDO as well (see Corsica for explanations). Nah, don't worry about that, I've got a better idea: Hello, Jonathan Bernier!
Leafs coach Randy Carlyle, who is also Bernier's current coach, this time in Anaheim, seemed to instinctively favour the new acquisition — remember how Reimer was "just okay"? Admittedly, Bernier outplayed Reimer throughout most of 2013-14 and, when Bernier went down to injury towards the end of the season, Reimer was not able to pull the Leafs out of their perennial second-half tailspin.
Leafs management had gambled that their problems could be solved by a different goaltender and ended up losing badly, at the expense of not only their team's record but also the confidence of their goaltender and the respect of their fans.
The Bernier-Reimer tandem made a second appearance the following season, though this time the play between the two was more even. Still, though, Bernier started 55 games to Reimer's 27. One might say that Bernier's incredible 2013-14 (26 wins in 49 starts to go along with a .923 save percentage on a moribund Leafs team) banked him the credit necessary to be the starter in 2014-15. But why then was Reimer not given the same leeway and trust the year before?
Fulfillment Found
Mike Babcock was hired in the summer of 2015 following a disastrous campaign for the Leafs and showed the faith in Reimer that had been lacking the previous two years. His goaltender responded in kind by seizing the starting job and, when healthy, not letting go. A .918 save percentage might seem about average, but considering the fact that Reimer played on, quite literally, the worst team in the NHL, the Sharks trading for him at last year's deadline for their playoff push makes a good amount of sense.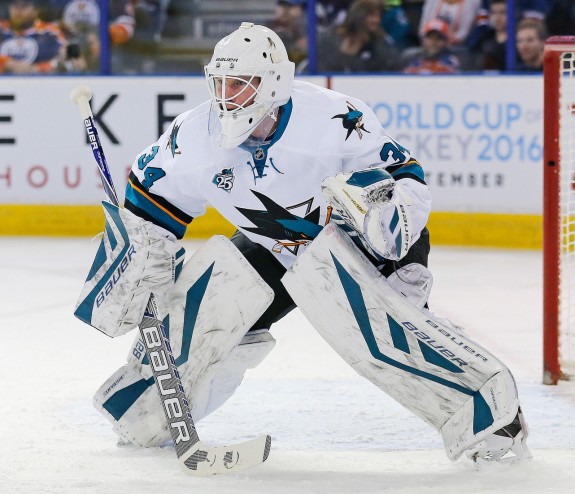 Again, Reimer rewarded those who showed faith in him, posting six wins – three of them shutouts – in eight games, along with a .938 save percentage, following the trade. Though the Sharks fell in game six of the Cup final, Reimer provided a sturdy option behind starter Martin Jones throughout San Jose's magical ride, something the Sharks had been lacking since their ascent to contender status over a decade earlier.
A New Home
Through 17 appearances so far this season, Reimer has compiled a middling 6-6-3 record, with a .916 save percentage. The record is, like the Panthers (thus far, anyway) rather mediocre, and the save percentage is about what you'd expect from an NHL goaltender.
However, if you cut him some slack for moving to a new city, shifting to a new organization and adjusting to life behind a new team, along with the fact that his wife has a baby on the way, that's really quite impressive.
"Proof that goalies can score" 😂 hehe Baby Reimer due in January! 👱🏻👩🏽👶🏽 pic.twitter.com/XlV41npLs8

— April Reimer (@april_reimer) July 16, 2016
What's even more impressive is the fact that, following a six-goal shellacking at the hands of the Maple Leafs on November 17, Reimer sports a mouth-watering .933 save percentage, all while facing a worryingly high 32.6 shots per start — for reference, according to Corsica, 32.6 shots against per game, were it extrapolated over the entire season, would rank Florida third-worst in the NHL, only ahead of the embarrassing Avalanche and the woeful Coyotes.
Reim's Time
Will Reimer continue to be a .933 goaltender? Probably not. But, when healthy, the .924 mark he posted in 2012-13 is not an unreasonable expectation. The Panthers are set in goal for the foreseeable future with perhaps the best one-two punch in the league, no matter who starts more games. This recent stretch of play certainly indicates that, as he has proven numerous times in the past, Reimer is much more than a backup, and is therefore fully capable of gradually assuming the daunting mantle of the legendary Luongo.
In South Florida, with an embarrassment of riches in front of him and five years worth of job security, it looks as though James Reimer's time has finally come.
Or, maybe it has just come full circle. Prior to the Leafs selecting him in the 2006 draft, Reimer expressed a desire to play hockey in California, "in all that sunshine." He fulfilled that wish last year, and very nearly reached the pinnacle of his sport. Maybe it was destiny that brought him to, quite literally, the Sunshine State.