Fans of the newly minted Vegas Golden Knights got a little bit of good news from club management on Tuesday, however minor, especially if you're a fan of preseason hockey.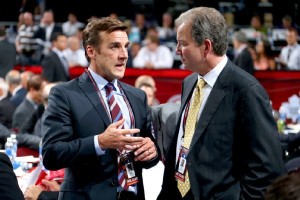 Speaking on the Vegas Hockey Hotline, Golden Knights general manager George McPhee explained that the schedule for the inaugural season of the NHL's 31st franchise will feature seven preseason games, as opposed to the customary six. The Golden Knights will play three of those games at T-Mobile Arena, and ideally McPhee would like to minimize the travel required for the four road contests. The Arizona Coyotes, Los Angeles Kings, Anaheim Ducks and San Jose Sharks are the four NHL teams closest to Vegas, all Pacific Division rivals.
"I'm typically fine with six games with an established club to get ready, but given that we are going to have a lot of new faces we're going to play seven this year. I'd like to limit the travel, play the teams as close to us as possible," McPhee said.
"For now, we've got seven games lined up, it's just a matter of getting the final word on the Olympics and some other things as to when we confirm."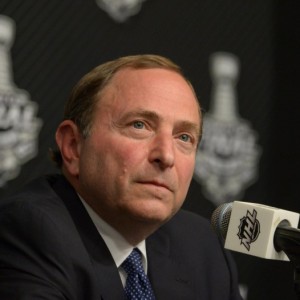 Clarification regarding participation in the Olympics is something that every team is waiting to hear. As recently as Saturday the Ottawa Sun published a story stating a league insider revealed, "lots of people think that mid-January may be an artificial date," for determining whether or not the NHL will accommodate players looking to participate in the 2018 Winter Games. Commissioner Gary Bettman is said to be closely monitoring responses from representatives of the NHL Players' Association, the International Ice Hockey Federation and the International Olympic Committee in what has become a controversial issue.
McPhee Doesn't Want Split Squad Preseason Games
Whatever the outcome to that element of the 2017-18 NHL schedule, McPhee made clear in his interview that the preseason slate of the Golden Knights will a feature a full lineup, favoring that approach as opposed to the split squad arrangements utilized by many veteran teams.
"We're prepared to put full squads out there and not do split squads games at this point. I've never been a fan of split squad games, we'll see where that goes in the future. I'd like to be at all the games because we've got young men trying to make the team and the manager should be watching them."
No argument there. This summer's expansion draft is the most team friendly to a new organization in recent league history. Vegas is sure to get some good, not great players, and that coupled with a full exhibition schedule could help the Golden Knights get off to a better start than Columbus and Minnesota did in the 2000-01 season. That year, the last time the NHL expanded, the Blue Jackets and Wild finished 13th and 14th in the 15-team Western Conference. McPhee stressed the importance of comprehensive evaluation in the preseason and expects the Golden Knights to compete early.
"This [preseason] is going to be completely different in that we've got all new faces and we are trying to really learn as much as we can about all of them in each and every game. It'll be an interesting exercise and some very competitive games I imagine."
So get excited Vegas Golden Knights faithful, you get an extra preseason game to enjoy the NHL product on the Las Vegas Strip or at home in front of the television. Maybe it's an additional opportunity to further evaluate the first squad in franchise history. For many, the preseason will just be a chance to figure out where to park and the best way to get in and out of T-Mobile arena when the regular season gets underway.
Las Vegas local covering Golden Knights hockey since 2016.
Ball State University '05
Other work:
Credentialed NBA writer covering the Phoenix Suns,
Credentialed NCAA football writer covering the UNLV Rebels