It's been a few months since checking up on the Toronto Marlies. The Toronto Maple Leafs' AHL affiliate had a great start to the season, but their fortunes have since changed.
In the eight games to start their season, the Marlies had won six and looked set for another great season. Antoine Bibeau and Brendan Leipsic were named players of the month of October. Bibeau had an amazing .944 save percentage and Leipsic had 13 points in eight games. The Marlies were at the top of the AHL and now are sitting a spot outside of the playoffs with a record of 18-20-3 in 41 games.
What has gone wrong for the Marlies?
Injury Trouble
The Marlies have had a string of bad luck. Everyone seems to be missing games because of injuries and now their top two players are out.
Leipsic has continued to play at a great pace with 38 points in 34 games and Kasperi Kapanen has been fantastic with 33 points in 33 games. They've been the bright spot for the Marlies so far and have helped the team after losing their best players to the Leafs. Unfortunately for the Marlies, they are both injured and are expected to miss the AHL All-Star Game.
Kerby Rychel of the Marlies named to the AHL all-star game. Both Kapanen and Leipsic will miss it due to injury.

— James Mirtle (@mirtle) January 25, 2017
Kapanen is the biggest concern after an awkward hit, as seen in the video below, which looks to be an injury to his left leg. The injury is expected to be long-term, which could be a season ending injury depending on the severity.
https://twitter.com/JeffVeillette/status/820082958338027520
The loss of Kapanen will make a big impact on the Marlies' scoring ability even though they are only 14th in the AHL in goals scored. Now this would be a great opportunity to take advantage of having NHL veterans on the team. They too are injured.
Milan Michalek has played just 15 gms w/#Marlies & 3 since Xmas. Brooks Laich has not played since 12/17, due to an unknown injury. #Leafs

— Michael Augello (@MikeInBuffalo) January 16, 2017
Neither player was expected to light up the AHL, but they would help bolster a depleted team. The Marlies have lost the majority of their key players to the Leafs and all of them have become full-time NHLers. So there's no help coming back down. The Marlies are still in the playoff race and aren't out yet, but they won't last long with all the injuries piling up.
Garret Sparks or Bust
So far the Marlies have used six different goalies and only Garret Sparks has played well.
Bibeau has gone a long way from being player of the month of October with a .944 save percentage. Since then, Bibeau has struggled in net with a 2.78 goals against average and a .900 save percentage. He's played the most out of the six goalies with 20 games, but has only won seven. A record and save percentage like that won't give the Marlies a chance at the playoffs.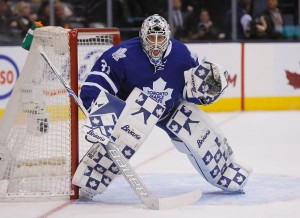 There has also been Jeff Glass, who played just two games and had a .917 save percentage before being released from his tryout contract.
Then there's Karri Ramo. The Marlies signed him to a tryout contract when the Leafs had enough of Jhonas Enroth. Ramo spent the summer recovering from an injury, so the thought was that he would get some games in with the Marlies before replacing Enroth on the Leafs.
Ramo had a terrible three games with not a single win to show for it. His stats weren't any better with a 3.80 goals against average and a .880 save percentage. Ramo is still with the team, but is injured.
After Enroth was waived by the Leafs he played three games for the Marlies. He managed to win two of them and had a 3.03 goals against average and a .904 save percentage. Enroth has since been traded to the Anaheim Ducks.
And then there's Sparks. He's only played 13 games and has the better record compared to Bibeau with eight wins and five losses. With a 2.02 goals against average and a .925 save percentage it gives the Marlies the best chance at winning compared to any of the other goalies. Sparks has played six games in January so far and has come away with four wins. So it's obvious that the coaching staff are starting to place their trust in Sparks.
If the Marlies have any chance of turning their season around it's going to depend on the team being healthy and Sparks continuing to give the team a chance to win every game.