For any Pittsburgh Penguins fan that's been around for the past half decade, seeing the news that Kris Letang has been placed on Injured Reserve feels a bit like deja vu. Letang has lost significant playing time over the past several seasons due to injury and illness.
This has proved true for the current season as well: Letang was placed on Injured Reserve for the third time this season on Jan. 16. For the nostalgic, here's a look back at a comprehensive list of all the times the Penguins have lost Letang to injury.
A Long Timeline of Injuries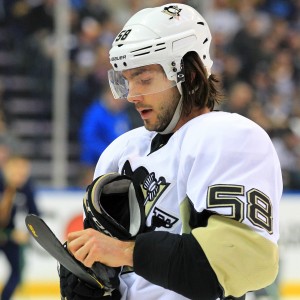 Letang is a core part of the Penguins' lineup, and has been for many seasons now. He's a starter in both five-on-five and three-on-three situations, a penalty killer, and a member of the first power play unit. For all that the Penguins depend on him, however, his last several seasons have been plagued by injuries that have kept him off the roster for long stretches at a time.
His longest absence lasted 26 games; he has in total missed over a full season's worth of time. Here's a timeline of every long-term injury Letang has suffered since the start of the 2011-2012 season.
[irp]
| | |
| --- | --- |
|  Injury description |  Time Out |
| Concussion | Nov. 26, 2011 – Jan. 19, 2012 |
| Concussion | Feb. 29 – March 15, 2012 |
| Lower body – brief return, groin – brief return, broken toe | Feb. 7 – April 11, 2013 |
| Knee | Sept. 27 – Oct. 25, 2013 |
| Elbow infection | Dec. 14, 2013 – Jan. 5, 2014 |
| Stroke | January 31 – April 19, 2014 |
| Broken foot, broken hand | May 19, 2014- End of season |
| Groin | Nov. 29 – Dec. 8, 2014 |
| Concussion | March 28, 2015 – Rest of season |
| Upper body | Dec. 5 – Dec. 30, 2015 |
| Lower body | Oct. 19 – Nov. 2, 2016 |
| Lower body | Dec. 15 – Dec. 31, 2016 |
| Upper body | Jan. 16, 2017 – Time of writing |
[irp]
Besieged by Brutal Hits
Letang's latest injury is certainly less of a surprise than the Penguins would like it to be. He's been looking shaky for the past several months of this season as he's moved in and out of the healthy lineup. He was activated from the Injured Reserve very briefly at the beginning of 2017, only to quickly return after yet another bad hit. We've seen a lot of this from him over his career with the Penguins. In total, Letang has missed over a full 82-game season's worth of play with injuries ranging from broken bones to a stroke due to a heart condition.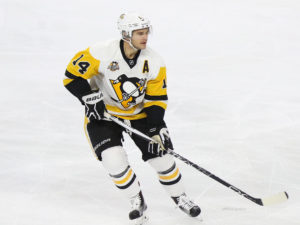 Letang spends the most time on the ice per game of any Penguin; he averages 25 minutes and 29 shifts per game. He doesn't give out the most hits on the team; that honor usually goes to Chris Kunitz or Patric Hornqvist. The ones he does receive, however, are often brutal.
He's used in almost every aspect of the Penguins lineup, making appearances in the five-on-five lineup as well as all of the Penguins' special teams. This both explains why Letang is injured so often and why, when he is, it has such an impact on the Penguins.
Letang's Impact on the Penguins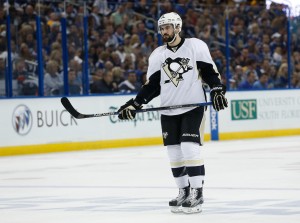 Although Letang has a negative plus-minus rating this season, he's still making a positive impact on the team. Part of this impact is simply that he spends so much time on the ice. Not every player can put up that many minutes every game. Letang also gets the fifth most points per game on the team with an average of 0.77, fewer than only the Penguins' biggest offensive powerhouses (Evgeni Malkin, Sidney Crosby, Phil Kessel and Conor Sheary.)
He's the Penguins highest-producing and longest-playing defensemen. The Penguins certainly notice when he's gone, especially on the penalty kill, an area they've been struggling with this season as they remain one of the least effective penalty kill units in the league.
[irp]
Letang's absence, as always, has caused the Penguins to do some soul-searching in terms of what defensive depth they can muster up. This season, they may have the depth to try and mend the hole Letang has left in the roster. Justin Schultz, Ian Cole and Eric Fehr are stepping up in terms of both ice time and effectiveness to make up for his absence in the Penguins' special teams.
The Penguins are certainly missing Letang as they rotate through an ever-changing defensive lineup of Wilkes-Barre/Scranton call-ups, but they've been through this before. At least this time they have players like Schultz who are ready to step up into a bigger role this season. As Coach Mike Sullivan said today, "a strength of our organization is depth."
Julia Stumbaugh is a student at the College of William & Mary.