Facing Off is a weekly column debating five of hockey's hottest topics each and every Monday. From current events like trades and hat tricks to bigger-picture stuff like scandals and expansion — you name it, we're debating it. Albeit, not always with a serious tone. We're keeping this column light, so keep that in mind when reading, and feel free to join in on the fun by leaving a comment. Follow us on Twitter (@FacingOff_THW) and get in on the debate there too.

It's been quite the week already in the NHL — Tuesday was a wild night full of emerging storylines — so what better time than now to bust out another episode of the Facing Off podcast.
This is Episode 5 and Félix Sicard is back — back again — for his third appearance and second straight, to debate recent losses by the Montreal Canadiens and Edmonton Oilers, the impacts of Shea Weber and Carey Price on Montreal's successful start, and the Anaheim Ducks' ascension to the top of the Pacific Division again.
We touch on injuries to Tampa Bay's Steven Stamkos, Calgary's Johnny Gaudreau and New Jersey's Taylor Hall, and discuss which team will miss their star forward the most.
We also take a closer look at the struggles of Toronto's Auston Matthews, Nashville's Filip Forsberg and Ottawa's Derick Brassard.
The one straggler we forgot to address was Washington's Evgeny Kuznetsov, who has only two goals and seven points through 16 games, and was held off the scoresheet again in Wednesday's 7-1 blowout win over Pittsburgh. In his last seven games, Kuznetsov has scored just once, without any assists, which is inexplicable for a 24-year-old coming off a breakout season that saw him finish as a top-10 scorer in the league last season with 77 points (tied for ninth), including the fourth-most assists with 57.
There hasn't been a coaching change yet this season, but a few teams could be close to firing their bench bosses — namely Jack Capuano of the New York Islanders, Willie Desjardins in Vancouver and possibly even Glen Gulutzan in Calgary. We debate who will be the first to go and who could be brought in as replacements.
We do talk lots of Ducks and Oilers again, rehashing Anaheim's win over Edmonton from Tuesday, but we try to put the spotlight on some other teams for a change too. Especially the surprising teams like the New Jersey Devils, New York Rangers and Columbus Blue Jackets.
Lastly, we look ahead to the rest of this week's schedule, starting with tonight's showdown between Pittsburgh's Sidney Crosby and Washington's Alex Ovechkin — the first meeting of the season between those future Hall-of-Famers.
There are a handful of other intriguing matchups on the horizon, including James Reimer's first start back in Toronto and Round 2 between the Maple Leafs and Canadiens on Hockey Night in Canada this Saturday.
Give the show a listen and feel free to make your voice heard in the comments section below.
The one topic we didn't have time to get into but deserved some attention, in my opinion, is the Arizona Coyotes' handling of Dylan Strome.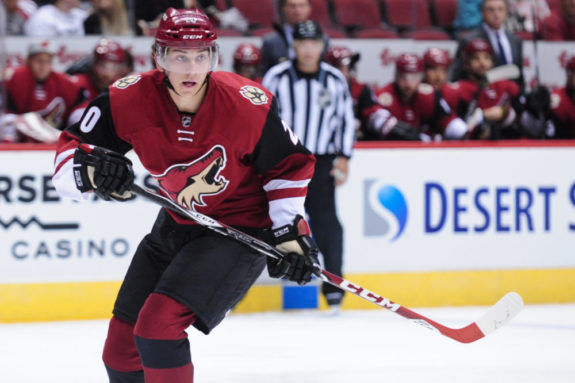 With Martin Hanzal returning tonight against Calgary, Strome is slated to be a healthy scratch for the fourth straight game and the ninth time in 15 games to start the season. Strome hasn't drawn into Arizona's lineup in almost two weeks — he last suited up on Nov. 4 — and he's only managed one assist in six appearances to date, with a minus-5 rating in limited minutes.
I have a lot of respect for Dave Tippett as a coach, he's been around for a long time, but I really don't understand the rationale for keeping Strome in the press box. If there's not already a #FreeDylanStrome hashtag on Twitter, there should be.
I mean, Arizona (5-9-0) is currently a last-place team in the Western Conference and has been dressing as many as nine rookies, so why not make it 10?
What do the Coyotes have to lose? Especially against a fellow bottom-feeder like the Flames (6-10-1), this should have been an opportunity to see what Strome is capable of.
I would have played Strome tonight and played him in a prominent role, on a scoring line and on the top power-play unit. This kid can't be that bad, and he's supposed to be really good.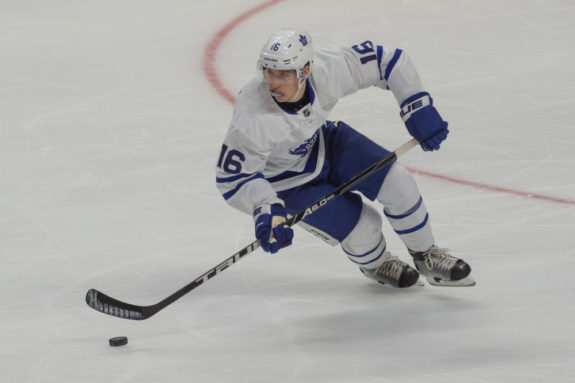 Remember, Strome was the third overall pick in 2015, selected just ahead of Toronto's Mitch Marner — who is now second in the rookie scoring race with 15 points in 16 games — and behind only Edmonton's Connor McDavid and Buffalo's Jack Eichel in that draft.
Strome is still a world-class talent for his age, but he needs to be playing in order to realize that potential. I do feel Strome has probably outgrown the OHL and junior hockey — although he should be loaned to Canada for the world juniors again — but I don't think Strome is learning all that much from merely practising.
He's only going to get better — and get up to NHL speed — by actually playing NHL games. So let him play. #FreeDylanStrome
Of course, the CHL-NHL agreement is playing a part in Strome staying on the sidelines. The current rules only allow junior-aged players, the 19 year olds, to play nine games in the NHL before the first year of their entry-level contracts kick in with game No. 10.
Strome has three more games before that decision needs to be made — and one of them should have been tonight, in my opinion — but rules are also preventing the Coyotes from sending Strome to their AHL affiliate, the Tuscon Roadrunners, for further development.
The way it works, the only other place Strome can play is back in Erie of the Ontario Hockey League, where he's been a dominant force by totalling more than 100 points in each of the past two seasons and averaging almost two points per game last season (1.98, with 111 in 56).
Strome has proven all that he can prove at that level, and now appears to be stuck in the middle — too good for junior and perhaps not quite good enough for the big league.
The other catch is that if Arizona did demote Strome to OHL Erie, then he'd be there to stay and couldn't be recalled by the Coyotes at any point this season. Thus the hesitation.
One other thing to note, if Strome is still on the Coyotes' roster by the team's 40th game of the season — Jan. 9, at home to the Islanders — then Arizona also loses a year of his services towards unrestricted free agency.
To some teams, it seems that 40-game deadline is more meaningful than the 10-game limit, but it'll be interesting to see how rookie general manager John Chayka and Tippett navigate these murky waters while keeping Strome's best interests in mind.
This is a touchy subject — when it comes to the CHL-NHL agreement — and I can see it from both sides.
Covering junior hockey, I know WHL teams are already struggling with attendance, so if you're taking away the top drafted 19-year-olds — like Strome — and allowing them to play in the AHL, that is going to be a big financial blow to their junior teams.
Less talent on the ice will translate to fewer butts in the seats — that or cheaper ticket prices in order to keep the buildings full. Either way, the junior clubs are bound to lose money, with the paying public and sponsors also losing interest in their product.
The question that ultimately needs to be answered is: What's more important, business or development? You'd hope that answer, from all parties involved, is development.
That makes me think that, maybe, NHL teams could start paying some sort of compensation for placing a 19-year-old in the AHL — like a transfer fee, to offset the expected revenue losses from ticket sales and merchandise to advertising and sponsorship.
If that type of system were to be implemented in the next Collective Bargaining Agreement, then the NHL teams would basically be buying the young players if they wanted them playing in the AHL instead of junior. That seems fair enough, but it's a slippery slope and you'd hate to see the NHL put the CHL out of business.
What do you think of Strome's situation and the CHL-NHL agreement going forward? Have your say on that front and the rest of our podcast topics in the comments below.
---
Who won this round of Facing Off? Feel free to weigh-in with your opinions. We will be checking in periodically to both defend and expand on our initial answers. If you want to see us face-off over a topic in a future column or podcast, we're open to suggestions as well.
Larry Fisher is a senior writer and head scout for The Hockey Writers, having been an at-large contributor for THW since August 2014. Fisher covers both the NHL and the WHL, specializing in prospects and NHL draft content, including his annual mock drafts that date back to 2012. Fisher has also been a beat writer for the WHL's Kelowna Rockets since 2008, formerly working as a sports reporter/editor for The Daily Courier in Kelowna, British Columbia, Canada from 2008-2019. Follow him on Twitter: @LarryFisher_KDC.