Facing Off is a weekly column debating five of hockey's hottest topics each and every Monday. From current events like trades and hat tricks, to bigger-picture stuff like scandals and expansion — you name it, we're debating it. Albeit, not always with a serious tone. We're keeping this column light, so keep that in mind when reading, and feel free to join in on the fun by leaving a comment.

Is John Tavares the current frontrunner for the Conn Smythe Trophy?
He'd get my vote for playoff MVP coming out of the first round after scoring the game-tying and overtime-winning goals to eliminate the Florida Panthers in Sunday's 2-1 triumph for the New York Islanders.
Tavares is one point behind Jamie Benn in the postseason scoring race, but the Dallas Stars captain was part of a higher-scoring series and produced fewer clutch moments.
Tavares was in on nine of his team's 15 goals over six games, scoring five times to tie for the playoff lead in that category. He's factored into 60 per cent of the Islanders' total offence and netted 33 per cent of their goals. That's impressive stuff.
By comparison, Benn has points on 10 of the Stars' 21 tallies, including four goals, which equates to 48 and 19 per cent. Still, not too shabby at all.
Last year's winner Duncan Keith is looking pretty darn good again for the defending champion Blackhawks, but there's no chance of repeating unless Chicago completes its comeback against the St. Louis Blues.
Tampa Bay's Ben Bishop deserves some early consideration as a goaltender, and so will Anaheim's Frederik Andersen if he gets out of the first round tonight as the only netminder without a loss.
Don't count out Sidney Crosby in the Conn Smythe conversation, and certainly Washington and San Jose would want to throw a name in that ring too. Perhaps this is a topic for next week.
This week, I'm joined by Dan Mount, a regular Facing Off contributor and THW's beat writer for the Nashville Predators.
Let's start with an easy one, who wins Game 7 between the Blues and Blackhawks? How do you see that one playing out? What happens if St. Louis loses?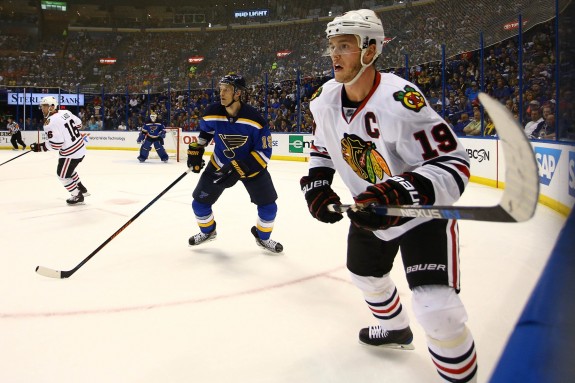 MOUNT: I'm taking Chicago. They remind of Michael Myers in Halloween or Jason in Friday the 13th in the fact that you can't really kill them.
The Hawks have tightened things up at the back and have been in a position where they came back from a 3-1 deficit like they did against Detroit during their 2013 Cup run.
St. Louis is going to be extra nervous because they've imploded before. You could see the frustration with Vladimir Tarasenko on that late power play. Unless the Blues get something early, I think the Blackhawks run them over.
FISHER: Chicago is proving to be a tough out as per usual, and St. Louis would never live this down. The fallout would be epic. David Backes gone to free agency. Ken Hitchcock fired. Brian Elliott banished to oblivion. The list goes on. This would be a devastating defeat for the Blues. Sadly for them, I agree with Dan that the Hawks are going to drive another stake through the heart of St. Louis.
Chicago just has too much momentum and experience. Sure, this game is taking place in St. Louis, but the Hawks have won the two previous games there. I honestly can't think of a single aspect that favours the Blues right now. Goaltending could be the deciding factor tonight and I have very little faith in Elliott as good as he's been throughout the series. In an elimination game, give me Corey Crawford every day of the week.
http://gty.im/521716988
Is this the year of the Shark? That was a pretty convincing five-game victory over the Kings. Can San Jose keep it going?
MOUNT: I feel good for Sharks fans because they've dealt with a lot of disappointment in the last few seasons. This is a team that deserved a series win, but this team won't be satisfied unless they are hoisting the Cup.
If Joe Pavelski can keep scoring goals, then anything is possible. He's really coming into his own as one of the next great American stars. Martin Jones has been solid in net, and Brent Burns is a beast (in both the figurative and literal sense) on the blue-line.
The Sharks do stack up pretty well against either Anaheim or Nashville. It's been a year of exorcising demons for San Jose, so this very well could be the year that it finally gets over the hump.
FISHER: No, it's the year of the monkey, but that was a massive win for the Sharks. They showed some serious killer instinct in the deciding game, charging out to a 3-0 lead and then forging ahead again after the Kings erased that deficit. Suddenly tied 3-3 in the second intermission with Will Ferrell firing up a raucous Staples Center in Los Angeles, there was a 'here we go again' vibe in the air with everyone well aware of the Kings rallying from a 3-0 series deficit to defeat the Sharks two years ago. But San Jose's leaders refused to lose, and captain Pavelski put on the finishing touch in the third period to punch his team's ticket to the second round.
The Sharks are going to get an incredible amount of momentum and confidence from knocking off the Kings, especially Jones for outdueling his former mentor Jonathan Quick. I personally picked Los Angeles in seven, so I was impressed by San Jose's perseverance and shocked it only took five games. Granted, it probably felt like seven with how physical that series was from the opening puck-drop, but the Sharks will get a chance to rest and regroup between rounds now. I had the Anaheim Ducks going all the way and winning the Cup in my preseason predictions, but it'll be tough to bet against the Sharks going forward. I do sense that this could be their year.
http://gty.im/523551766
Or perhaps it's the year of the Penguin? Pittsburgh really pummeled the Rangers and lit up Henrik Lundqvist. Is that a sign of things to come? Can anybody stop the Pens?
MOUNT: I'm still riding with my preseason pick of the Washington Capitals taking the Stanley Cup at the end of it all. However, the Pens are going to make it a difficult series for the Caps, who are already nervous after being disjointed in Games 4 and 5 against the Flyers.
Pittsburgh has relied on its superstars for many years, but this year is getting a lot of help from role players. It's not all on the shoulders of Crosby, Evgeni Malkin and Kris Letang. Just imagine the team if any of them got on a tear.
The Penguins are also doing it without Marc-Andre Fleury, who is still out. Matt Murray did great against the Rangers, and his play allows Fleury to come back when he's at 100 per cent. I do think there will have to be a decision about Fleury, but having two solid goalies is a nice problem.
I think Washington has too much firepower, but the series will go the full seven games.
So it'll be #PITvsWSH in Round 2. #Penguins are 7-1 all-time in 8 playoff series vs. the #Capitals.

— Steve Mears (@MearsyNHL) April 24, 2016
Capitals meet Penguins for 1st time since ECSF in 2009, won in 7 games by Pitt. What does Ovechkin remember about that series? "Nothing."

— Terry Koshan (@koshtorontosun) April 24, 2016
Crosby and Ovie have met 37 times reg season. 7 times in playoffs and 3 times internationally. Crosby team record 30-15-2

— Kevin Gibson (@GibShow) April 24, 2016
FISHER: Nope, still the year of the monkey. OK, joke's over — not that it was funny in the first place. Speaking of first place, the Presidents' Trophy-winning Capitals were a popular pick to win the Cup — I took Washington over Chicago in my playoff predictions a couple weeks back — but these Penguins are flying . . . make that soaring, Penguins can't actually fly. Another failed attempt at humour, I know.
In all seriousness, I wouldn't want to be Braden Holtby right now. The Penguins made Lundqvist, an all-world goaltender who does his best work in the playoffs, look awful and now it's up to Holtby to stop them. Pittsburgh has been attacking in waves from Crosby and Malkin to Conor Sheary and Bryan Rust. Phil Kessel is a point-per-game guy in this postseason after being mediocre for most of the year, and even some guy named Tom Kühnhackl is chipping in offensively.
This series has the potential to be one for the ages, although Barry Trotz probably won't encourage the Capitals to play run-and-gun even with a wet-behind-the-ears goalie at the other end in Murray. We might see Fleury between the pipes before it's all said and done, but Holtby will need to outplay Murray in the meantime to give the Capitals a chance. This is a coin-flip for me and I can't wait to see what happens when the puck drops. If the Penguins prevail, I'll hop on that bandwagon as my Cup favourite.
Tampa Bay made short work of Detroit, does that make the Lightning a contender again? Can Tampa actually make a run without Steven Stamkos?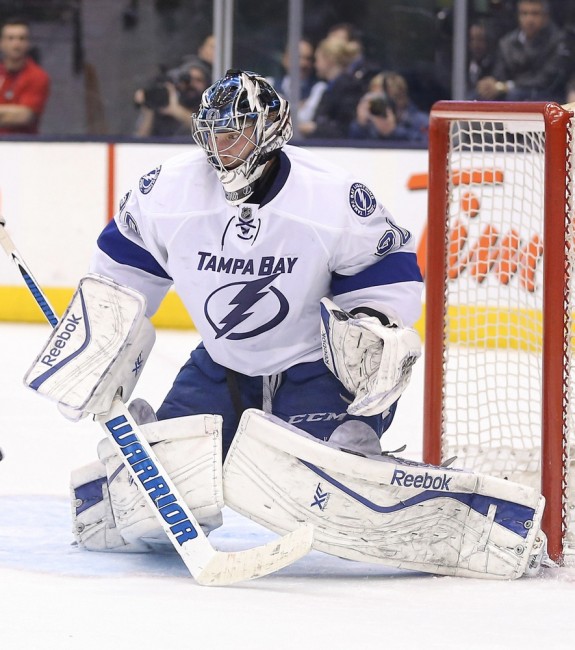 MOUNT: They actually can, and a lot of it has to do with the steady play of Bishop. The 6-foot-7 netminder doesn't get the same press as goalies like Lundqvist, Quick or others. However, he's been fantastic with a 1.60 GAA and .949 save percentage. People started to learn about how great he was during last year's Stanley Cup final run, but he's really put it into another gear.
Let's also not forget the revival of Jonathan Drouin, who was in Jon Cooper's doghouse for most of the season. The third overall pick from 2013 has four assists and no goals, but he's been making plays all over the ice. The team-imposed suspension has done wonders for Drouin, as he's now playing in multiple situations. He may have wanted out of Tampa, but Drouin will be needed if Stamkos leaves in free agency.
The offense was also the fifth-best in the league during the regular season, and can score its fair share of goals. The Lightning can make it to at least the conference final with or without Stamkos.
FISHER: I'm not ready to declare Tampa a true contender — not by any means. The Lightning are going to have their hands full with the Islanders, but Dan is right that Bishop could be the difference again in that series. Jaroslav Halak doesn't appear to be anywhere near returning, but Thomas Greiss has been shockingly solid, at times spectacular in his absence.
Speaking of absences, Tavares will look to take full advantage without Stamkos, who was the first overall pick in 2008 before Tavares had that honour in 2009. It would have been fun to watch them go toe-to-toe as the undercard for Crosby-versus-Ovechkin, but if Tampa makes the third round, I wouldn't rule out a miraculous recovery by Stamkos. He has a reputation for being a workhorse in the gym and I'm sure he'll rehab faster than most human beings.
Tampa Bay's five-game win was surprising to me — I had Detroit in six — but that result might say more about the Red Wings, who were duds and didn't put up much of a fight (at least not with their gloves on). I figured the Lightning were ripe for the picking without Stamkos and top-pairing defender Anton Stralman, but they proved me wrong. Turns out, those Triplets are capable of carrying that team, and the kiss-and-make-up storyline with Drouin is kind of cute too.
Tampa will be rested up for the Islanders, and others who were banged-up — like Stralman and even Tyler Johnson — should be good to go for that series. Bishop gives the Lightning a distinct goaltending advantage, so suddenly I'm liking their chances of making the conference final, but that Metropolitan winner will be the team to beat either way. Yes, even if Stamkos returns.
http://gty.im/167811103
Where do the Red Wings go from here? Detroit's old guard — Pavel Datsyuk, Henrik Zetterberg, Niklas Kronwall and Jimmy Howard — didn't have much to offer in that series. How many of them move along in the off-season? Will this mark the end of the playoff streak or can the Wings keep winning with their next wave of talent?
MOUNT: I see most, it not all, of these players moving on. Maybe Howard is the only one that stays because he did a lot to get the team into the postseason at the end of the year. He really stepped up for Petr Mrazek when it looked like the Czech goalie hit a bit of a wall.
The Wings would do well to shed some of this salary, so they can go after some free agents. Detroit still is a prime destination for free agents because of its rabid fan base and the sustained success. They also have a good core of young players like Dylan Larkin, Tomas Tatar and Gustav Nyquist, among others.
Jeff Blashill already knows most of these players from his time coaching the Grand Rapids Griffins of the American Hockey League. General manager Ken Holland has gushed about the young talent they've amassed in recent years. If Detroit wants to make a play for someone, they can package a few of these prospects to get a big-time player. I'm fully confident that the Red Wings will be back in the postseason for a 26th straight year.
This 25th year of making the playoffs was nice for the Red Wings…and pointless. Time to rebuild as this is a small team that can't score.

— walton spurlin (@WaltonSpurlin) April 16, 2016
https://twitter.com/MarcoGRovere/status/723350556736118784
#redwings Zetterberg: "Their best players outplayed our best players." #tblightning

— Joe Smith (@JoeSmithTB) April 22, 2016
FISHER: I'm not at all confident that streak will continue. I'd be tempted to bet against it, but a quarter-century suggests I best leave my pennies in my pocket. However, I'd be willing to put some Monopoly or Canadian Tire money on the Red Wings missing the playoffs in 2017. That team just did nothing against Tampa Bay to inspire any confidence in me going forward.
Datsyuk is going to play for Russia at the world championships and I doubt he'll be back. Zetterberg and Kronwall will probably end up representing Sweden too, and who knows where their allegiances lie for the future. They are fading from prominence and no longer on the front lines for Detroit under rookie bench boss Jeff Blashill. Johan Franzen was also a non-factor because of a lingering concussion that has likely ended his career. Howard is still under contract through 2018-19 and has a full no-trade clause, but he lost his starter's job to Mrazek for the umpteenth time in that Tampa series, so a change of scenery might be in his best interests. They are the last of the impact players from that 2008 Cup-winning team, but they are well past their prime now and Detroit's glory years are long gone too.
Mrazek is a keeper, but I'm lukewarm on that defence corps without Kronwall as the all-star anchor. I like Larkin a lot. I'm still a big fan of Anthony Mantha, and I liked what I saw from Andreas Athanasiou as well. Tatar, Nyquist, Teemu Pulkkinen and Tomas Jurco still have to win me over as part of the "new core." Detroit is undoubtedly among the league's best in terms of drafting and developing, but are these guys capable of carrying the torch if Datsyuk and Zetterberg were to pack it in this summer? I have my doubts. I think the Red Wings may have to go down before they can go up again. For that reason, I'm leaning towards leaving Detroit out of my 2017 playoff picture.
BONUS TOPIC
I'd be remiss to not ask about your Predators . . . can they force a Game 7? Or is that series with Anaheim all but over now that the Ducks have won three in a row? Is that all about Andersen or what else changed?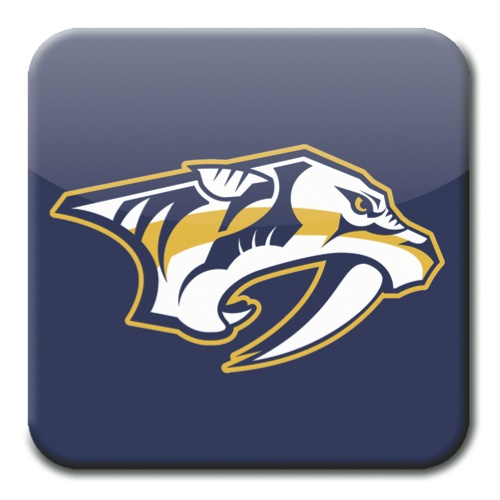 MOUNT: I think Nashville can force Game 7, but it needs to fix some things and get off the blocks quickly.
Anaheim has done a great job not being sloppy on defense. The first two games weren't on John Gibson as the defense let the Predators forecheck the heck out of them. The Ducks have forced the Preds to play along the wall and not have any chances.
We'll get a seventh game, as I think Nashville will show up at Bridgestone Arena.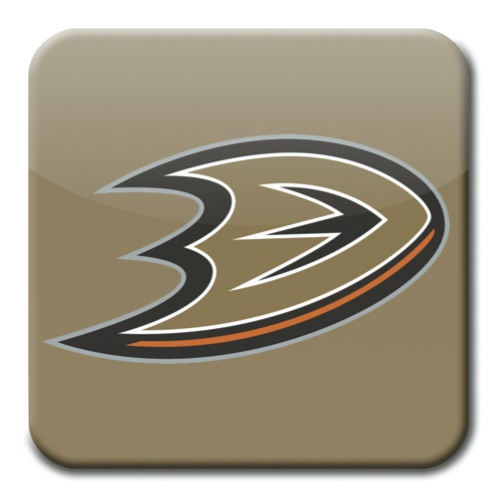 FISHER: That almost sounded like a guarantee, Dan? Alex Pietrangelo was left eating his words about winning in Chicago, and I don't like the Preds' chances on home ice either. I'm cheering for them tonight, partially because there are Kelowna connections on Nashville's roster with Shea Weber and Colton Sissons playing their junior here . . . and partially because I picked the Ducks in seven. I knew Nashville wouldn't be a pushover, but the Preds' push-back has left a lot to be desired ever since Anaheim got in the win column. I just see the Ducks making it four in a row with the Sharks in their sights for the second round. That said, I hope I'm wrong for Dan's sake and my own selfish reasons.
---
Who won this round of Facing Off? Feel free to weigh-in with your opinions in the comments below. We will be checking in periodically to both defend and expand on our initial answers. If you want to see us face-off over a topic, we're open to suggestions as well.
Larry Fisher is a senior writer and head scout for The Hockey Writers, having been an at-large contributor for THW since August 2014. Fisher covers both the NHL and the WHL, specializing in prospects and NHL draft content, including his annual mock drafts that date back to 2012. Fisher has also been a beat writer for the WHL's Kelowna Rockets since 2008, formerly working as a sports reporter/editor for The Daily Courier in Kelowna, British Columbia, Canada from 2008-2019. Follow him on Twitter: @LarryFisher_KDC.