Facing Off is a weekly column debating five of hockey's hottest topics each and every Monday. From current events like trades and hat tricks, to bigger-picture stuff like scandals and expansion — you name it, we're debating it. Albeit, not always with a serious tone. We're keeping this column light, so keep that in mind when reading, and feel free to join in on the fun by leaving a comment.

Hopefully you didn't set the alarm for TradeCentre on Monday morning. Or, if you did, here's hoping you hit the snooze button at least a few times.
Hockey fans across North America have been known to play hooky from work — either booking the day off or coming down with flu-like symptoms on the eve of the NHL trade deadline.
Those early risers were surely disappointed this year, whether they were glued to a television set or constantly refreshing their social media feed. There weren't any edge-of-your-seat deals going down during the first few hours and no real blockbusters in general, with most teams making their biggest moves over the weekend and in the days leading up to the deadline.
NOW I'm willing to concede and call this a dull deadline year. Even a late deluge of five moderate deals won't change that.

— Matt Larkin (@THNMattLarkin) February 29, 2016
There was, as per usual, an 11th-hour flurry of activity and some late-breaking trades that trickled in after the cut-off. But nothing too significant — only totaling 19 trades, involving 37 players and 14 draft picks.
One of the most anticlimactic trade-deadline days in NHL history. #DudDay

— Sam Carchidi (@BroadStBull) February 29, 2016
Regardless, the trade deadline is all the rage right now and we couldn't not talk about it in this week's special Tuesday edition of Facing Off. I'm joined by one of our regular contributors Andrew Forbes, a Toronto Maple Leafs writer and fantasy editor for THW.
Who are your winners and losers from this year's trade deadline, dating back to the Dion Phaneuf deal?
FORBES: I'll have to go with Toronto on this one Larry. Look, not only did the Maple Leafs shed the unquestionably ridiculous contract of Phaneuf, but they got back a 2017 second-round pick that should be relatively decent. They also got back a young forward in Tobias Lindberg and a bunch of others in Colin Greening, Milan Michalek and Jared Cowen that simply aren't part of their future. But for the Leafs to rid themselves of that contract and not retain any of Phaneuf's salary is huge for a team trying to rebuild.
The Leafs full trade movement in the weeks before the deadline. They added six draft picks and two solid prospects. pic.twitter.com/tsaEE0d8A2

— James Mirtle (@mirtle) February 29, 2016
The only other club I can say won on this deadline is Chicago. Stan Bowman went out there and found the pieces he needed to create a top-notch team — one that can compete for a Cup. Andrew Ladd is a massive add for that team and he makes them a legitimate playoff threat to come out of the West.
FISHER: I see plenty of winners — including Toronto and Chicago — but only one real loser, so I'll start there. I have no problem singling out the Vancouver Canucks for their failure to move Dan Hamhuis and/or Radim Vrbata. Considering the returns for Kris Russell and even John-Michael Liles — fellow pending free-agent defencemen — Jim Benning's decision to hold onto Hamhuis is indefensible. Seriously, what was he thinking? I fully understand that Hamhuis had a no-trade clause and was only willing to waive it for two teams — Chicago and Dallas. So, it was Benning's job to find a way to make a deal with one of those clubs.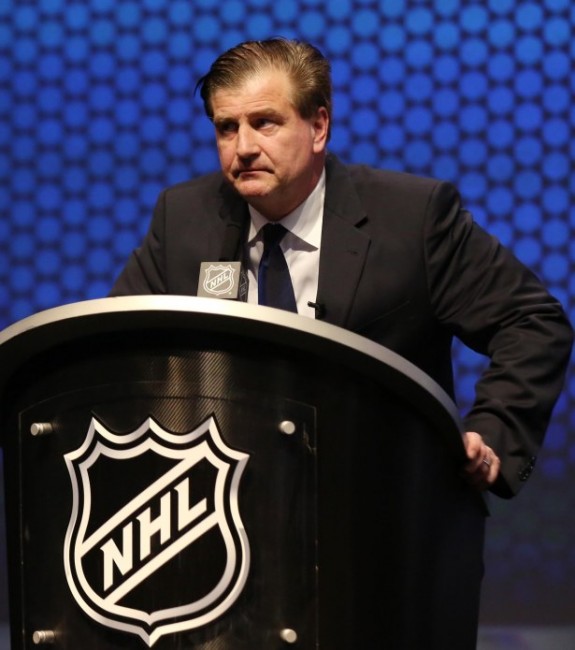 By Benning's own admission, the Stars offered a similar package for Hamhuis to the one Calgary received for Russell — that being, young defenceman Jyrki Jokipakka, forward prospect Brett Pollock (who was a second-round pick in 2014) and a conditional second-rounder that becomes a first if Dallas makes it to the West final with Russell suiting up for at least half the games. That's a great return and Benning should have signed off immediately. Instead, he presumably hesitated and tried to tweak the deal, so Dallas contacted Calgary and Brad Treliving jumped all over it.
In the meantime, reports indicate Benning was working on a "better" return from his old friends in Boston, but Hamhuis had no interest in joining the Bruins — who could blame him, they aren't true Cup contenders — so that was a colossal waste of time and energy on Benning's part.
Dallas eventually circled back with a last-minute "take it or leave it" offer for Hamhuis — hoping to land both blue-liners — but Benning didn't want to swallow his pride and ultimately left it on the table. It's unknown what that offer was, but it doesn't matter — at the end of the day, something is always better than nothing. Shame on Benning for passing up whatever assets the Stars were going to send Vancouver's way.
Farhan Lalji saying his source from Dallas said Dal circled back w a potentially better pick. Linden denied, saying lesser pick

— Omar A.R. (@omarcanuck) March 1, 2016
Further proof of Benning's incompetence, he couldn't even garner a single offer on Vrbata from the eight teams he was willing to waive for. But don't forget, Benning did make one deal during deadline week, sending 2013 first-rounder Hunter Shinkaruk to the rival Flames for depth forward Markus Granlund. If that trade backfires — and there's a strong chance it will — Benning could (and should) be out of a job sooner than later.
Yes, the trade deadline was an utter disaster for Canucks, but you can't ignore the role awful asset management played leading up to it.

— Daniel Wagner (@ADanielWagner) February 29, 2016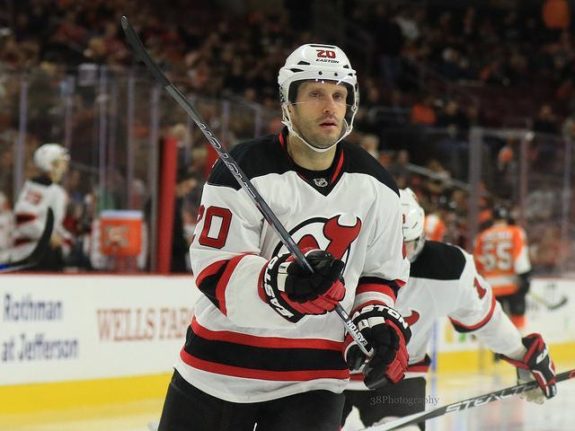 If you're looking for another loser, the Bruins would be next on my list. They didn't cash in their best trade chip — an expiring asset in Loui Eriksson, despite a sizable gap in contract negotiations — and Don Sweeney proceeded to overpay for a couple of rentals in Liles and Lee Stempniak. The latter has enjoyed a resurgence in New Jersey this season but has cooled off considerably. I see both those guys as complementary pieces who won't be enough to get Boston out of the first round, let alone deep into the playoffs. So why in the world would Sweeney part with four draft picks (second-, third-, fourth- and fifth-rounders) and a prospect (Anthony Camara)? He's kidding himself if he thinks the Bruins are going anywhere this year.
The Leafs literally had nothing to lose, but they made the most of their assets and came away looking like winners. So did the Carolina Hurricanes, even if I wasn't thrilled with the return that Ron Francis got for his franchise player in Eric Staal. I'm warming up to that package — it really depends what you think of Aleksi Saarela, I see a lot of Calle Jarnkrok in him — but both the Leafs and Hurricanes stockpiled a bunch of draft picks that will bode well for their respective futures.
From the sellers' perspective, I also liked that aforementioned Russell deal for Calgary, and I thought Montreal got a good return for Dale Weise and Tomas Fleischmann. Phillip Danault is going to be a player — he's a solid prospect, a first-round pick from 2011, and a francophone to boot — and the Canadiens bagged a second-round pick for a couple years down the road as well.
There were way more winners than losers this year simply because the buyers didn't pay exorbitant prices. The Blackhawks, Rangers, Panthers and Avalanche all made significant upgrades without sacrificing much of their future. The California teams did all right too, but Doug Wilson probably could have waited out the Leafs a bit longer and gave up less from a Sharks standpoint.
Chicago really loaded up. Do the additions of Andrew Ladd, Fleischmann, Weise and Christian Ehrhoff make the Blackhawks favourites to repeat as Stanley Cup champs? Were they already?
FORBES: If they weren't already favourites (and I thought they were), the Hawks are definitely top dogs in the West. That being said, it's going to be a very abusive Western Conference playoff this season. The winner will likely come out black-and-blue and banged-up from their road to the Cup final. While I think it's probably too early to determine the Cup winner with so much hockey left to play, Chicago is definitely on top of the hockey world heading into the final few weeks of the season. But we've seen the top teams fall and we've seen eight seeds in the final . . . so who's to say these moves will earn the Blackhawks another championship?
Stan Bowman again built the #Blackhawks a Cup favorite by the deadline. @CEmma670 column: https://t.co/8t1JhTpGMB pic.twitter.com/oKbngmHNXb

— 670 The Score (@670TheScore) March 1, 2016
FISHER: There are no guarantees, but I definitely agree that the Blackhawks have positioned themselves to be the favourites again. I've been labelling them as such for months already, so these moves should be more than enough to put Chicago over the top. Keywords being, "should be."
Ladd is going to hit the ground running there and make a substantial impact on a line with Jonathan Toews and Marian Hossa once the latter is healthy. The other three are iffy in terms of how they will fit in. Weise is going to offer something, but he might be better suited to a fourth-line role with the Andrews, Shaw and Desjardins. Fleischmann will be paired with skilled youngster Teuvo Teravainen on the third line and Weise will start with them — he played with Fleischmann in Montreal — but if Marcus Kruger gets healthy for the playoffs, he could slot in there. Richard Panik could force his way into the mix too. That kind of depth is obviously a good problem to have. Ehrhoff's best years are behind him, so I expect he'll be used sparingly and serve as injury insurance more than anything.
All that said, I think the Blackhawks and Anaheim Ducks are on a collision course for a rematch in the West final and both those teams are better today than they were a week ago. That should be an epic clash if it comes to fruition. I like Chicago's chances of coming out on top again.
Which unheralded buy could turn into a steal of a deal?
FORBES: I think Brandon Pirri and Russell are the two that come to mind. Pirri is just 24 and has so much hockey ahead of him. He can score and has some soft hands in the slot. While he may have been the odd-man out in Florida, look for him to be a major contributor with the Ducks for the remainder of the season once he's healthy again. Oh yeah, and the Ducks only traded a sixth-round pick for Pirri (WHAT?!).
As for Russell, he'll add leadership and defensive strength to the Stars' blue-line. While Dallas has all the offence it needs to go deep in the playoffs, Russell may be an underrated piece that the Stars need to take that next step towards becoming Stanley Cup champions.
Pirri a skilled 24-year-old forward who can score (33 G in last 101 GP) and is an RFA at season's end. For a sixth? Good trade for ANA.

— LA Kings Insider (@lakingsinsider) February 29, 2016
FISHER: The Sharks got James Reimer for next to nothing, so that move could certainly pay dividends if something were to happen to Martin Jones down the road. Of course, the Sharks and Leafs had previously pulled off a trade that favoured Toronto, so it's possible the Reimer return (or lack thereof) was connected to that other deal as well.
Penguins confident Justin Schultz can restore his confidence and game. Sergei Gonchar will work closely with Schultz to help him do that.

— Darren Dreger (@DarrenDreger) February 28, 2016
I also see two younger defencemen who could benefit from a change of scenery in Justin Schultz and Eric Gelinas. Pittsburgh and Colorado coughed up third-round picks to take them for a test run, and I could see both gaining traction in their new environments. In saying that, I wouldn't bet a dime on either of them turning into impactful players in the immediate future. The long-term potential is still there, which puts these trades in that low-risk, high-reward category. Both worthwhile gambles in my opinion.
Which sellers got the most bang for their buck? Who sold for pennies on the dollar?
FORBES: Again, I'm absolutely shocked what Florida got in return for Pirri. Seriously, a sixth-round pick? Are you kidding me? Maybe that's his actual value, but he's 24 and has a 20-goal season under his belt.
As for getting some decent return, the Leafs may have made one of the more significant trades in sending Roman Polak and Nick Spaling to the Sharks for two second-round picks in return. Sure, it evened out in the Reimer trade. But then the Leafs went on to move Daniel Winnik for the second straight year in which they got another solid return. So, while the Leafs didn't make major moves to upgrade their current roster, they did help in the rebuilding process by grabbing more picks for the upcoming drafts.
Ducks acquire F Brandon Pirri from Panthers for a surprisingly low price…

— Julie Stewart-Binks (@JSB_TV) February 29, 2016
FISHER: That Pirri deal was bizarre, especially when you consider Ottawa got a third-round pick from the Islanders for Shane Prince. I'd take Pirri — and his 22 goals from last season — over Prince, so Florida sold awfully low there, but Dale Tallon was probably just trying to help the player move along. He's a good guy like that and Pierre McGuire pointed out that Tallon goes way back with Ducks GM Bob Murray, so that could have been a buddy deal as well. I do agree that the Panthers should have been able to get more for Pirri.
Maple Leafs own 12 draft picks in this June's draft, but key aspect is they own all their original picks near the top of every round

— The Draft Analyst (@TheDraftAnalyst) March 1, 2016
I also agree that the Leafs cleaned up by loading up on draft picks. Toronto got more for its scraps than Carolina got for Staal, the face of that franchise for the last decade. Granted, Staal was in the same position of power as Hamhuis, controlling his own fate and only wanting to join his other brother, Marc, with the Rangers if it meant leaving Jordan behind with the Hurricanes. So you can't rake Francis over the coals for getting two second-round picks and Saarela — that sure beats Benning getting nothing at all, and Francis seemingly had one fewer team to negotiate with.
You listen to a guy like Brad Treliving and you really get the sense that whatever it is, he gets it. Wish I had that confidence in Benning.

— J.D. Burke (@JDylanBurke) February 29, 2016
Treliving continues to do a commendable job in Calgary, getting two picks from Florida for Jiri Hudler in addition to that package for Russell, not to mention stealing Shinkaruk from Vancouver. The Flames are in good hands with Treliving, and his provincial rival Peter Chiarelli was successful in doing some housekeeping for Edmonton too. The Oilers predictably got picks for Schultz and Teddy Purcell, but surprisingly turned Anders Nilsson and Philip Larsen into draft selections as well — the latter thanks to Benning, go figure. Lastly, Chiarelli acquired Patrick Maroon from Anaheim to further his vision of making Edmonton a heavier team. At least he has a vision there.
Which trade(s) did you find the most surprising? Which one(s) did you predict or totally see coming?
FORBES: I mentioned on NHL Gameday with Matt Barnaby and Steve Kouleas that Eric Staal would be moved. I didn't know whether it would be the Rangers or someone else, but I had it pegged that Staal would be moved. The fact is, Carolina is in limbo. Where do the Hurricanes go from here? What is their direction? Staal couldn't be the face of that franchise any longer.
As for a trade that surprised me, it was actually one that didn't happen that left me more in shock. Why didn't Jonathan Drouin get moved? Now, he's left in an awkward position (that he likely created) and he's not developing into an NHL player. Sure, he's partially to blame, but maybe Steve Yzerman thinks there's a way to reconcile. I just don't see that happening.
What if the Lightning move Jonathan Drouin AFTER the trade deadline? @lukefoxjukebox https://t.co/zKdnGB5xL0 pic.twitter.com/Tzp2DCqVWj

— Sportsnet (@Sportsnet) February 26, 2016
FISHER: I had Staal getting traded too and, in hindsight, the Rangers made the most sense for him — with Marc there, and considering his past chemistry with Rick Nash from international competitions with Hockey Canada. I'm a bit surprised that Drouin wasn't dealt, but I think that's more a case of Yzerman sending a message to this kid — and to his agent — that trades happen in the team's best interests not the player's desires or demands. Now, Drouin gets to sit at home and watch what could have been . . . had he stayed with Tampa Bay for this year's playoff run. Andrew's right, though, that the biggest shockers were the non-deals — from Drouin to Hamhuis.
Here are my annual predictions for the #NHL trade deadline — 40 deals involving 102 players + 160 total assets: https://t.co/tLgGo1Q7UF #THW

— Larry Fisher (@LarryFisher_KDC) February 13, 2016
My annual trade deadline predictions mostly went bust — as per usual — but I did call Hudler to Florida (I had Pirri as part of that return), and I was right about the nine players that I didn't see moving despite being in the rumour mill. Past that, I had Toronto getting a second-round pick for Polak (albeit from the wrong team), and I had Dallas dangling Jokipakka for a defensive upgrade (albeit the wrong target). I could go on, grasping at straws, but I'll save the rest for later in the week when I rehash those predictions as a whole.
BONUS TOPIC
How about those former Leafs — Nick Spaling and Shawn Matthias — trading goals in their debuts for their new teams. Who will have the bigger impact going forward between those two? And the biggest impact of all the Toronto castoffs?
FORBES: I think Shawn Matthias will have the biggest impact out of those two. He's a power forward who can skate and stickhandle. He's a guy that gets into the dirty areas and has the ability to control the tempo in the offensive zone.
From all of their castoffs this year, I think Reimer will have the most impact. He's a character guy who's always willing to talk to the media after the game. He takes responsibility. He wants to be better, and he's not afraid to be constructively critical of himself and his team. For Leaf fans, it's hard to see a guy like that go. For Shark fans, enjoy. He's a stand-up guy. Get used to that Optimus Reim smile.
FISHER: I'll weigh in here too. I think it's a given that Phaneuf will have the biggest on-ice impact of all those castoffs going forward. He's making too much money on too long of a contract, no doubt, but Phaneuf is still a quality top-four defender and has actually been partnering with Erik Karlsson thus far. The Senators have won five of their last six games thanks, in part, to Phaneuf. He deserves some recognition even if Leafs fans are saying good riddance in getting rid of him.
#GottaSeeIt: First shift as a Shark, first shot as a Shark, first goal as a Shark. Nice start for Nick Spaling.https://t.co/wBK0SBygMG

— Sportsnet (@Sportsnet) February 25, 2016
Like Andrew, I do prefer Matthias of the pending free agents for all those same reasons. He was effective for Vancouver last season and I think he'll make meaningful contributors for Colorado as well. The Sharks will certainly benefit from their trio of former Leafs too. Spaling played junior for San Jose coach Peter DeBoer, so there is some familiarity there. Polak is a steady, not flashy defender who's forming a shutdown pairing with Brenden Dillon. And Reimer is quality insurance for first-year starter Martin Jones, who has been mostly solid but has never started a playoff game. Reimer is a big upgrade on Alex Stalock and has more post-season experience if need be. Daniel Winnik might help Washington too, but I didn't like the price that the Capitals paid to acquire him even if that deal was as much about dumping Brooks Laich's salary.
---
Who won this round of Facing Off? Feel free to weigh-in with your opinions in the comments below. We will be checking in periodically to both defend and expand on our initial answers. If you want to see us face-off over a topic, we're open to suggestions as well.
Andrew Forbes is in his third year of covering the Toronto Maple Leafs for THW, while also serving as fantasy hockey editor and Tape2Tape columnist. Follow him on Twitter: @AndrewGForbes.
Larry Fisher is a sports reporter for The Daily Courier in Kelowna, British Columbia, Canada, and has been an at-large contributor for THW since August 2014. Follow him on Twitter: @LarryFisher_KDC.