With the draft promising futures to youngsters around the world, let's not forget about the guys they'll be lining up next to. Like the old vet everyone wants to talk about, Joe Thornton. The upcoming season has a few questions begging for answers. How will his numbers react to another season of age? Will he ever get the captaincy back? And will he retire in teal?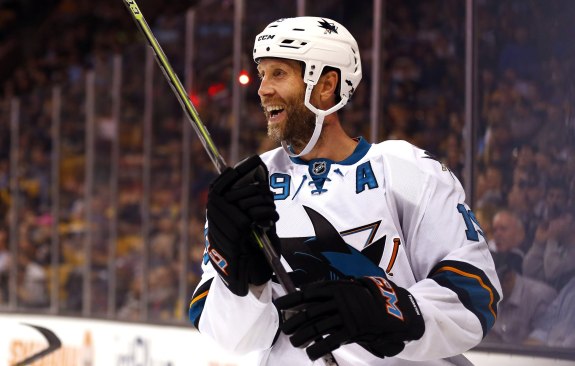 Joe Thornton Will Score Over 65 Points
Fact
In regards to scoring goals, Thornton has definitely fallen off in the battle with Father Time. There's no denying that his shot has deteriorated. The former captain seems, at times, afraid to pull the trigger on open looks. He is generally more in favor of passing to an open teammate than taking the shot himself. His shot percentage has been under 10 percent in 2 of his last 3 seasons and was buoyed by five empty net goals in the other year. Taking away those, his shot percentage was a measly 8.7% last season.
That said, Thornton has aged like a fine wine in terms of his passing game. His assists are the reason players like Joe Pavelski and Tomas Hertl enjoyed seasons on his wing. Unlike fellow veteran, Patrick Marleau, Thornton has morphed his game to adapt to old age. Thornton's vision and hockey IQ still make him an unparalleled talent on the ice.
However, it will take stand out performances from those supporting cast members to achieve this goal. Pavelski and Melker Karlsson will have to duplicate their incredible seasons in order to give Thornton his necessary assist numbers. Projecting over 55 assists is a tall order for a player in his prime, let alone a man on the wrong side of 35. And injury is no stranger to a forward entering his late-thirties. Luckily, Thornton hasn't suffered many setbacks over his career. But on the cusp of his 36th birthday, those aches and bruises start to linger longer. To reach 65, Thornton will have to evade injury, which might be the toughest hurdle this season.
Thornton Will Be a Captain Again
Fiction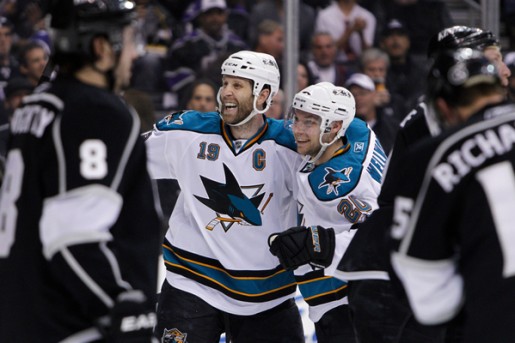 Despite Peter DeBoer's decision to give an aging veteran the captaincy in New Jersey, Thornton's time as a captain is over. Doug Wilson has made it all too clear that this team is about youth now. Joe Pavelski and Logan Couture remain the prime candidates for the job in San Jose.
What must be mentioned, however, is that Thornton remains a key voice in the locker room. The media still swarms him for the post game recaps, he leads the team out onto the ice, and, despite animosity towards the front office, he remains loyal. Which brings us to our final question.
Joe Thornton Will Retire As a Shark
Thornton tells Toronto Sun he intends to retire as a Shark http://t.co/AyDQMXC3pz pic.twitter.com/Mk45QYzsA9

— Fear The Fin (@fearthefin) March 19, 2015

Fact
Nothing is certain in the days of contract opt-outs and free agency, but Thornton has made it clear he intends to stay in Silicon Valley for the rest of his career. With so many wonderful years in teal, Thornton seems intent to make good on his promise to try and bring a Stanley Cup to San Jose. His family is there, he loves the city, and this is where he feels he's is home.
Not even the Doug Wilson fiasco can change that, in an interview with the Toronto Sun, he says "I honestly see myself definitely finishing this contract and, if I have the legs to hopefully play longer, stay in San Jose."
So, not only has Thornton already considered the idea of retirement, he has made decisions where he would go if he can avoid it. And that decision is to go nowhere. Granted, he might not have a choice to play in San Jose if they don't offer him another contract, but it is currently his intention to stay in teal for the rest of his hockey days.
Kenneth is a graduate of the University of San Francisco in Politics and Chemistry. But his passion in life has always been hockey. He has played since he was four and even coached a few teams. Kenneth writes for the San Jose Sharks at thehockeywriters.com