In a night that was much anticipated, everything was essentially status quo. Sidney Crosby played a solid overall game, winning the majority of head-to-head faceoffs against Connor McDavid while playing a defensively minded game, relying on the depth and quality of the whole Pittsburgh Penguins roster. Connor McDavid, meanwhile, was the catalyst for the Edmonton Oilers entire game. From a fantasy perspective, it's undeniable that Connor McDavid shined brighter than Sidney Crosby. The question that remains is, "so what?"
The Stats – November 8, 2016
Goals – McDavid:0  Crosby:0
Assists – McDavid:3  Crosby:0
Plus/Minus – McDavid:+3  Crosby:0
Shots on Goal – McDavid:2  Crosby:2
Hits – McDavid:0  Crosby:1
Blocks – McDavid:0  Crosby:0
Faceoff Win% – McDavid:40%  Crosby:43%
funny, Crosby said the same thing.

— Trevor (@GoldsPersonal) November 9, 2016
Is This Real Life or Just Fantasy?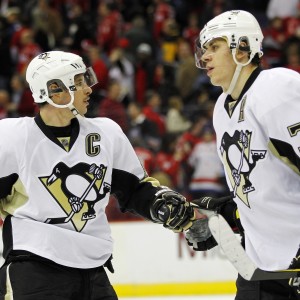 Crosby displayed that he is still the superior player in the "real" world, but McDavid made a compelling case for his fantasy superiority. At what point does the distinction not matter? For fantasy owners, especially those in keeper leagues, this becomes an interesting conversation. McDavid has the upside of being a more pivotal piece of the Oilers' successes, while the Pittsburgh Penguins have found success even when Crosby has been injured. In fact, some of Evgeni Malkin's best performances have been during a time where he had to perform at a higher level due to Sidney's absence.
Crosby is still the better overall player, and he may still yet be the better fantasy player as well. After returning to the ice after his concussion, he has scored eight goals in just seven games. Crosby going scoreless in one night is not the end of the world, and I'd bet dollars-to-donuts that he registers a point in the next game he's in. Crosby does not get held off the scoresheet for long. He's only 52 points shy of 1,000 in his NHL career and, knock on wood and assuming good health, he will blow past that mark this season. Even if he plays every remaining game this season, he will still be under 800 games played. No one will argue that Crosby is not a good fantasy asset.
Not Cliche, a Team Effort
The difference lies in that while Crosby will be able to share the load with a talented team, and has players around him to share the burden of scoring, McDavid is viewed as the savior. The fact that Connor McDavid has the nickname "McJesus" both is shocking and hunger-inducing – when is McRib season? Sorry, but McDavid's success thus far has fantasy owners drooling. Crosby has long been considered the obvious elite-of-elite players, and McDavid may have finally supplanted him.
Assuming the Oilers can find a modicum of success, McDavid won't be hampered by the "Oilers Curse" of putting up decent numbers while being desecrated by an awful +/- stat. McDavid will surely continue to drive offense, and with a 5-12-17 posting through the first 14 games of the season, McDavid is showing that he can certainly put up points. Still, his highlight-reel goals will surely be overshadowed by his blinding speed and highlight-reel assists. Really, there's not much to complain about, as he still provides highlights.
Why Not Both?
Really, this doesn't have to be a one versus the other. If you somehow can own both players in your league, I don't know what black magic you're pulling, but I bet you're doing pretty well in your league. Even if you don't participate in fantasy hockey, these two are both a treat. If you're looking to trade for one of these players (because there isn't a chance they're available on the waiver wire), then be willing to give up the sun and stars unless one of the others is coming back the other way. Even then, if you're in a keeper league, the argument is up in the air, but with McDavid being 19 and Crosby being 29, I'm pretty comfortable declaring McDavid to be the more valuable fantasy asset.