In today's Fantasy Findings, we're looking at newly traded assets and whether you should pay high as they enter their new markets. How well are they going to play right of the bat? How will they adapt to the new system.
For Dobber Hockey and Tom Collins, the recent trade between the Nashville Predators and the Columbus Blue Jackets is an interesting worth watching. It just might not be time to make a move to acquire Seth Jones or Ryan Johansen – at least not yet.
Now, that's not to say that these two players (and others traded throughout the year) aren't going to succeed with their new teams. After all, Vinny Lecavalier had an assist in his first game with the L.A. Kings. Yeah, I went there.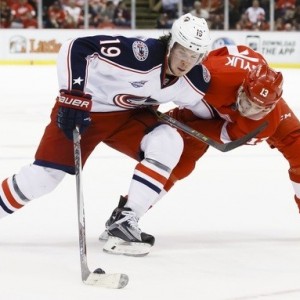 But what Collins is saying, is that give it some time to see just how these player progress coming into a new system. The likelihood that you'll be able to trade for these players at a relatively fair price is non-existent. In fact, owners of these players are more likely to ask for more assets when they hear that Johansen is going to be "the first-line centre" that Nashville needs and that Jones "will see more time" in Columbus than he had with the Preds.
So what should you do if you're drooling over the possibility of adding a guy like Johansen to your roster?
Fantasy Advice: Relax, Breathe – Is Ryan Johansen Still Worth It?
As it mentions in the article, fantasy owners were chomping at the bit to grab Phil Kessel and Cam Talbot this past summer the second they were traded. Heck, I even thought Kessel could turn into a 40 or 50 goal scorer in Pittsburgh.
In saying that, I'm ecstatic that I wasn't able to trade for Kessel in my keeper league (what with his salary cap being far to high and the asking price didn't make sense). Needless to say, those owners who did trade for these players in their pools are sitting there now disappointed.
Don't restrict yourself by not inquiring about the NHL's trade victims – like Johansen and Jones – in your pool. They're worth asking about. But don't be suckered into a deal that affects your team for the remainder of this season or in the future of your pool (for those keeper poolies).
If the price is too high, hold off. The price might come down. If the price remains too high for what you're willing to give, those assets just might not be in the cards for your team. But check out what Collins has to say about it – along with their studs and duds in their latest.
---
In other trade news, Montreal traded goaltending prospect Dustin Tokarski to the Anaheim Ducks for Max Friberg. Some may've questioned the trade on the part of the Ducks – with Frederik Andersen and John Gibson both young and possessing obvious talent – but the acquisition of Tokarski gives the team the option to move one of their two young goaltenders heading towards the NHL's trade deadline.
NHL.com's coverage of the trade reminds us that the Canadiens also have the likes of Zachary Fucale and Edward Pasquale in the minors behind the obvious starter (Carey Price) and their NHL-ready backups (Mike Condon and Ben Scrivens).
So what does that mean from a fantasy standpoint? How does it affect the goaltending situations in both cities?
Fantasy Advice: The Goaltending Toss Up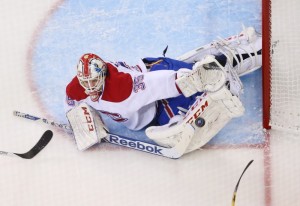 In Anaheim, fantasy owners should stick with Andersen and Gibson. Chances are – until something's worked out to move one of the afore mentioned tenders – these two will remain the top two for the Ducks. With this trade, Tokarski's fantasy value has taken a hit. He's arguably the third or fourth goalie on the team's depth chart and likely won't see NHL time in the very near future.
That being said, he would make for an interesting player to keep in your fantasy minors (if your pool does that) in a keeper league. Who knows, he might end up taking on an NHL role down the road.
In Montreal, the crystal ball isn't as blurry with Carey Price in the picture. However, Price is still injured with a return date still up in the air. For the time being, Condon and Scrivens are the guys to sit on your bench and have at your fingertips. With Price out and Tokarski gone, the fantasy value of Condon and Scrivens certainly takes a jump – as both will be playing for the backup role when the Habs number one returns.
As for Fucale, he's definitely a guy you want to keep an eye on in keeper leagues as he seems to be the future of the Canadiens now that Tokarski is gone.
For more fantasy news, check out THW's fantasy homepage and be sure to follow Andrew on Twitter at @AndrewGForbes.