Heading into the 2015-16 NHL season, Leon Draisaitl made it known to those inside the Edmonton Oilers organization that he was not pleased with starting the year in the AHL. While one could certainly understand his disappointment with the decision, it was a move that made sense from a developmental standpoint.
Draisaitl sent down, with full comments from Chiarelli and McLellan: http://t.co/gPDQlOuLj4 #yeg #Oilers

— 630CHED (@630CHED) October 5, 2015
Yes, he was one of the better players during camp but if the kid was not going to be used in a top-six role on a consistent basis, there was really no need to keep him around when he could be playing in all situations and working on his overall game with the Bakersfield Condors. Also, let's not forget the plan was for Draisaitl to play centre and with Connor McDavid and Ryan Nugent-Hopkins already in the mix, securing a spot on one of Todd McLellan's first two lines was essentially a non-starter.
Injury Opened the Door for No. 29
Lucky for him, the Oilers could not stay healthy or score with any sort of regularity to start the year and it forced Peter Chiarelli into making a move far sooner than expected. To his credit, the 20-year old made the most of his opportunity and hasn't looked back since. While he may have been forced to miss the first ten games on the schedule due to circumstance, Draisaitl has been on fire ever since making his season debut in what turned out to be a thrilling come from behind victory over what was a red-hot Montreal Canadiens side.
Draisaitl has been in on 44% of the Oilers' goals since his recall. Hall in on 41% from the start of the season.

— Justin Cuthbert (@jccuthbert) December 16, 2015
That was the evening in which the third pick of the 2014 Entry Draft and Taylor Hall showed they had something special going on and it has only grown from there. In his 31 games since being recalled from the AHL, the talented German has put together one heck of a first-half. Averaging just over 19 minutes of ice-time, Draisaitl has posted the following boxscore numbers: 9 goals, 23 assists, 32 points, +11 plus/minus rating
[Related Article: Oilers Wise to Steer Clear of Trade with Predators]
Be you a rookie or a 10-year vet, those are some pretty darn impressive numbers and his 1.03 PPG average was tied for sixth best heading into Thursday's action. While we are talking about a fairly small sample size, the other names inside the top ten belong to Patrick Kane (1.43), Jamie Benn (1.24), Tyler Seguin (1.19), Eric Karlsson (1.05), Vladimir Tarasenko (1.05), Joe Pavelski (1.03), Johnny Gaudreau (1.00), Hall (1.00) and Blake Wheeler (1.00). Not too shabby for a kid with all of 68 games of experience under his belt.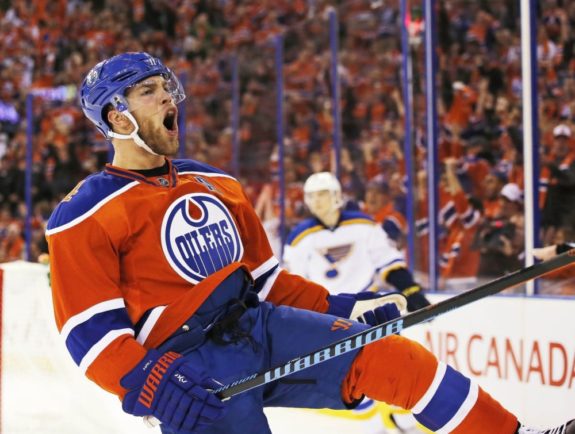 Chemistry, Health and Schedule
The scary thing is, the fan favourite could be headed for an even better showing over Edmonton's next 41 games. While most were expecting the 2015 Memorial Cup MVP to hit a wall of sorts during what will be his first full season in the NHL, it appears as though nothing of the sort will occur. With every game that passes, the chemistry between Draisaitl and Hall seems to be growing stronger and while the duo has produced playing on a line with Teddy Purcell, they could find themselves reunited with Nugent-Hopkins in the not to distant future.
[Related Article: Oilers Hand Zack Kassian A Lifeline]
After McDavid returns from his broken collarbone, something which will likely occur inside the next week to ten days, Edmonton well either run with what could potentially be three scoring lines or load up on their first two units. If they decide to go with door number two, McLellan will once again have the option of using what has been his best trio of the first-half in Draisaitl, Hall and Nugent-Hopkins. Should that happen, the points will continue to come…especially when the opposition will be forced to deal with a second line that will likely consist of Jordan Eberle, No. 97 and one of Benoit Pouliot or Nail Yakupov.
[Related Article: Oilers Will Be In Tough, With or Without Connor McDavid]
On the other hand, the first year Oilers bench boss could just as easily decide to use Draisaitl, McDavid and RNH on his top three lines and force teams into picking their poison. Add to that a softer second-half schedule, a power play that has no place to go but up over the next three months and it would seem almost absurd to think the points won't continue to pile up for a player that could be putting the finally touches on a season that absolutely no one in the game of hockey saw coming in 2015-16.