It was a good year for Minnesota Wild prospects at the World Junior Championships. After a couple of years of few prospects making appearances and even fewer showing up in medal rounds, Wild prospects brought home a gold, a silver and a bronze medal at the 2016 edition of the tournament.
Here's a look over how the Minnesota Wild prospects fared this year.
Belpedio was a mainstay on Team USA's second defensive pairing. He logged some big minutes, especially in tight games. Coach Ron Wilson was fond of shortening the bench for both the forwards and the defensemen, which meant lots of minutes for Belpedio and his partner Will Borgen (BUF).
Belpedio had a decent tournament. He impressed in his first couple of games, moving the puck out of the defensive zone quickly and showing high IQ in the offensive zone. But that wasn't always the case. He was prone to costly mistakes, forcing the puck in situations that resulted in turnovers.
He was at his best on the attack. He has great awareness in the offensive zone and is able to see the play develop and act quickly. There are some similarities to Mike Reilly. He's got some great offensive potential, even if it didn't manifest on the scoresheet during the tournament. He finished tied for third among all non-relegation tournament defensemen in shots with 14.
The versatile winger had a strong tournament. There was hope that he'd been playing on a potentially lethal line with William (TOR) and Alexander Nylander ('16 eligible), but William's head injury (most likely a concussion) in the first period of the first game ended that.
Eriksson Ek took a good shot to the chops that game as well, producing enough blood that he had to change jerseys, wear a cage the rest of the tournament and was held out of a meaningless game against Canada in the final match of the round robin stage when Sweden had already clinched first place in Group A.
Nonetheless, he was in the mix for Sweden throughout the tournament, creating offensive opportunities, showing off his speed on the rushes and ultimately displaying a good deal of creativity and strength in the offensive zone.
His skills are impressive, but his skill was also thrown into sharp relief next to a guy like Alexander Nylander, who has the potential to develop into an elite player. Eriksson Ek didn't have quite the same dynamism as the 17-year-old Nylander.
We were close to not having much to say about Kahkonen, as he didn't have much meaningful playing time until the quarterfinals when Veini Vehvilainen (2016 eligible) allowed three goals on 10 shots to let Canada go up 3-2. Enter Kaapo Kahkonen, who proceeded to allow two goals on the next 24 shots and help Finland to a 6-5 win, eliminating Canada in the quarterfinals for the first time since 1998.
Kahkonen looked ok in that game. He was understandably shaky to start, but found his legs. He made some good saves, but didn't wow. It was enough to get him the start in the quarterfinals against Sweden, where he allowed just one goal on 22 shots (at which point it was very clear who was starting in the gold medal game).
He was able to capture gold as the starting goaltender, allowing three goals to Russia on 25 shots, one of which included a marker with 6.9 seconds remaining in the game to force overtime. But Russia pressured well when they were able to and Kahkonen responded in kind, including a jaw-dropping late-game save. He is, in many ways, the reason that the Finns have gold medals around their necks right now.
On the tournament, his save percentage is good, but he posted a .937 save percentage in the elimination rounds, showing an ability to show up when the pressure was on. That had me ranking him third among all goaltenders in the tournament.
He continues to be the Wild's most highly regarded goaltending prospect outside the NHL, but he's young and isn't likely to be seeing time for a while. There's plenty of developing to do.
https://twitter.com/myregularface/status/684046404256460800
The 18-year-old fifth round pick continues to be a source of fascination for Wild fans, particularly because he's crawling up on Vladimir Tarasenko's U19 points mark in the KHL. Kaprizov currently has nine goals and 23 points in 40 games playing in Russia's top league, which is third all-time for a U19 player. He needs just one point in the next two games to tie Tarasenko. He's already passed Artemi Panarin, Tarasenko's 17-year-old season, Marko Dano, Valeri Nichushkin and Anton Slepyshev, among others.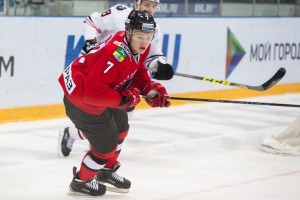 In the World Juniors, Kaprizov showed what's special about his game. He's fast and smart, but it's not just a skill game he plays. He's very strong. He showed that against U.S. captain Zach Werenski (CBJ) in the semifinals when he used his body along the boards to keep Werenski off the puck and then powered his way to the net for a shot.
He finished the tournament with just one goal and three points, but it could have been much more. He created many more opportunities than that shows, totaling 19 shots in seven games. That ranks 13th overall among non-relegation players. It was a strong tournament, but he was far from being the team's MVP.
It also says a lot that in the gold medal game, during overtime, the Russian coach turned to Kaprizov immediately. He could be a big impact player for the team if he returns next year when the tournament will be held in Montreal and Toronto.
RELATED: Get to Know Kirill Kaprizov
Stezka didn't see much playing time. He was behind Vitek Vanecek (WSH) on the Czech depth chart and didn't work his way to the front of the line like Kahkonen did. Vanecek had a good tournament and played all but the final two periods for the Czechs. Stezka went in to start the second period against the U.S. in the quarterfinals and allowed five goals en route to a 7-0 Czech elimination at the hands of Team USA.
There wasn't a whole lot to learn about Stezka at World Juniors. The Czech team simply didn't play well in front of him in those two periods, making it hard to draw any conclusions at all about his play from the tournament alone. The Czechs looked outmatched and they left Stezka out to dry.
RELATED: 10 Standouts in the World Juniors Semifinals (including Kahkonen and Kaprizov)
RELATED: 6 Standouts from World Juniors Day 1 (including Belpedio)