It is no secret the Edmonton Oilers have been in need of an upgrade to their backend for some time and not surprisingly many targeted the Nashville Predators as a potential trade partner. However, following yesterday's blockbuster deal between the Preds and Columbus Blue Jackets, which saw Seth Jones and Ryan Johansen switch uniforms, those rumblings can now be put to rest.
Predators trade Seth Jones to Blue Jackets for Ryan Johansen in exchange of former No. 4 overall picks. pic.twitter.com/wSzVsuVXod

— SportsCenter (@SportsCenter) January 6, 2016
While a good chunk of the Oilers fanbase was hoping Peter Chiarelli would find a way to somehow get his hands on the talented American rearguard, Edmonton should consider themselves lucky to have not made such a deal. As good a defenceman as Jones will likely end up being, albeit in two to three years time, giving up a first/second line centre entering the prime years of their career is an awfully big risk for an organization to take on a player who has yet to take that step forward to becoming a dominant defender at the pro level.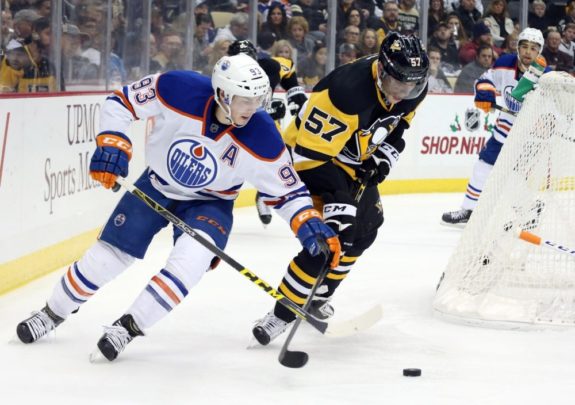 Oilers Centre Depth Changes Things
Obviously, it was road Jarmo Kekalainen was comfortable going down but the same could not be said for the Oilers first year GM. While both teams continue to wallow near the bottom of the league's overall standings, they are worlds apart when it comes to organizational depth at centre. In Johansen, the Blue Jackets moved not only their best offensive player but arguably the one guy who even remotely resembles a top line NHL pivot on their roster.
Whereas the Oilers currently have the luxury of a roster that includes Leon Draisaitl, Connor McDavid and Ryan Nugent-Hopkins. While all three are still young, good luck finding a more talented  trio of centres on any team in the league. Add to that the fact Johansen and Columbus have been "on again and off again" dating back all the way back to his rookie campaign in 2010-11 and the organization likely felt their backs were up against the wall.
[Related Article: Ryan Johansen Traded to Nashville for Seth Jones]
While there is no question the Blue Jackets were in dire need of adding a "high-end talent" to their backend, something which Jones certainly appears to possess, in my mind they did not get nearly enough for the fourth pick of the 2010 Entry Draft. After all, Johansen has already managed to put together 63 and 71 point campaigns. That sort of production doesn't exactly grow on trees in today's game and as we all know, finding a guy that plays down the middle of the rink that can produce at such a clip is even harder to do.
Poile Made the Most of His Opportunity
With all due respect to Jones, the 21-year old has yet to show anything at this level that would make such a one-for-one swap an "even" trade. While both players upcoming contracts likely played a part in the deal, David Poile used the moment to his advantage and in the process, gained the No. 1 centre he has coveted for his organization since its inaugural season in 1998-99. Yes, he gave up a talented prospect but one cannot lose sight of the fact he essentially used his No. 5 defenceman to acquire the one piece the Predators roster badly needed.
[Related Article: Trading Ryan Nugent-Hopkins Is Not the Answer]
In my mind, there no question Poile tried going down the very same road earlier in the year with the Oilers…in hopes of shaking one of Draisaitl or Nugent-Hopkins loose from a general manager that could have possibly been feeling the pressure of his new gig. Thankfully, that moment never came and something tells me this will not be a move Peter Chiarelli looks back on as a lost opportunity but instead a decision that should give him the wherewithal to address the shortcomings with this roster in the not to distant future.