The New Year has come and gone, and the Minnesota Wild have already played three games in 2016. In these first three games, the Wild displayed a number of strengths, but also a number of weaknesses. This team is having a decent season so far, but it can't leave its flaws unaddressed for long. If Minnesota is to make 2016 more successful than years past, the Wild need to fix their weaknesses, and play to their strengths.
On Thursday, the team will return to St. Paul for its first home game of 2016. Here are three thoughts the Wild should keep in mind as they face the Philadelphia Flyers:
The Power Play
The man advantage has lately not been much of an advantage for the Minnesota Wild. The team has yet to score a power play goal in 2016, and it went 0/11 on its most recent four-game road trip.
Now this wouldn't be so bad if Minnesota was actually making an effort to get some shots on the power play, but even that seems to be a struggle. Most of the time, this team just looks lost and doesn't seem to know what to do with the two-minute advantage.
Wild get one SOG on that PP, so not the worst we've ever seen. not GREAT either.

— Hockey Wilderness (@hockeywildernes) January 6, 2016
While it's not absolutely crucial that the Wild score on the power play, figuring out how to put pucks in the net when they have an extra man is definitely going to come in handy down the line. Minnesota has the tenth-worst power play percentage in the league at 18.3 percent. That doesn't mean they're not going to score, and that doesn't mean they can't win games, but they're making it much harder than it needs to be.
I wonder how much longer this team needs to flounder on the power play before Mike Yeo realizes the units he has established just aren't working. It's time to make some changes. Certain players – like Pominville and Granlund – just aren't making it work on the power play. Some players – like Zucker and Dumba – are much better at creating chances and getting things going on the PP. Now the only question is why aren't these guys out there more when they should be?
The Wild play the Flyers Thursday night at the Xcel Energy Center, which might be the perfect time to turn things around on the power play. Philadelphia has the fifth-worst penalty kill in the the league, which could give Minnesota a chance to get more than a couple of shots on the man advantage.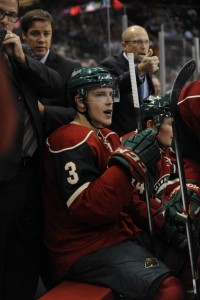 Charlie Coyle
Charlie Coyle has quickly become one of the Wild's best forwards. Over the past couple of months, Coyle has evolved into a player that Minnesota can count on to be strong both defensively and offensively.
Recently, Coyle has become far more physical; he's been able to play at both center or wing; and most importantly, he's been scoring. He's tied for third-most goals on the team with 10 – almost half of those he scored in just a handful of games at the end of December. Coyle is only one goal shy of his  goal total last season, and two short of the career high he set for himself in 2013-14. Imagine what Coyle can do with the rest of the season if he keeps that pace up.
"The confidence has grown, definitely … It helps when you score and feel good about yourself. So that has definitely helped. But I think me just moving my feet and not thinking too much or overthinking things has helped most," Charlie Coyle via Chad Graff, Pioneer Press
Playing alongside Nino Niederreiter, Coyle has proven he can be the player Minnesota always hoped he would become. The team has a lot of young talent that's starting to mature right now, and it needs to use that to its advantage. With the possible loss of Mikko Koivu, the Wild will need to depend on its young players – like Coyle – to score. Now is the perfect time for Coyle and the rest of the young guys on this team to show their skill.
3-on-3 Overtime
Overtime is a lot like the power play for the Minnesota Wild. It's not absolutely crucial that the Wild win in overtime, but it would certainly help, especially down the line.
It might not seem like every point counts right now, but at the end of March and early April, when every point is needed to secure a spot in the playoffs, the Wild might be wishing they had put more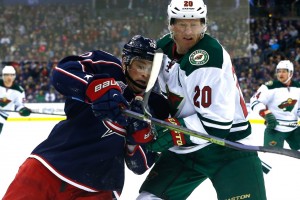 effort into adapting to 3-on-3 overtime.
Right now, Minnesota has a rather embarrassing 1-7 overtime record. Those are points that could make or break the Wild's season, but this team just hasn't found a way to work with the new format. 3-on-3 is a speed game. Throwing Koivu, Suter and whoever else out there in OT just isn't going to work. Those guys could be the most skilled players on the team, but 3-on-3 is just not their game, and Yeo has to realize that.
There's no guarantee the Wild and Flyers will head to overtime on Thursday night, but if they do, it would be the perfect time for Yeo to make some changes. Minnesota can't keep dropping games in overtime because Yeo doesn't understand he needs to put the young, speedy guys like Zucker and Scandella out there.
The Wild have played well lately, but they'll need to continue to improve if they want to make it farther than last year. What better time to start than Thursday night against the Flyers?