The Nashville Predators long wait for a top-line center is over after the club acquired Ryan Johansen for defenseman Seth Jones in a trade made on Wednesday. The deal helps both teams because the Predators get the center they've sought and the Blue Jackets get a solid, young defenseman in return.
Columbus general manager Jarmo Kekalainen had been shopping Johansen after his struggles to adapt to new coach John Tortorella. The young center was demoted to the fourth line and was even a healthy scratch in December.
Kekalainen found a willing trade partner in Nashville general manager David Poile, who had blue-liners to spare. Poile traded the talented Jones, who is a restricted free agent at the end of the season.
The deal is one that both sides should be thrilled with.
Anatomy of the Deal
Blue Jackets' management had looked to trade Johansen for a while, but the main concern was what would be fair compensation. The hypothetical trades had been fodder for many news outlets, and even us at The Hockey Writers.
RELATED: Trade Help on Predators Horizon?
Columbus beat writer Mark Scheig and I tossed around some potential deals around a few weeks ago while I was researching potential trade partners for the Predators. We hinted at the idea of Jones being part of a trade during one of our Twitter chats.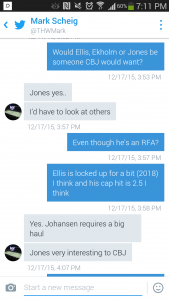 I thought a deal for Johansen would need draft picks and/or other players before the Jackets would part with him.
I knew Nashville would have to give up one of their skilled defensemen not named Shea Weber or Roman Josi. Most speculated that either Ryan Ellis or Mattias Ekholm would be traded. However, fellow Predators writer Colin Fitts said that Poile would consider dealing Jones if the price was right.
Though Poile is firm on not trading away Jones, he may want to, at least, consider it. Jones will provide an excellent return, and as the saying goes, you have to pay to play.
How the Trade Helps Ryan Johansen and the Preds?
The deal allows Johansen to become the top-line center on Peter Laviolette's more open offensively open team. This will allow Johansen more freedom and be able to use wingers like James Neal, Filip Forsberg, Colin Wilson and Craig Smith.
Johansen will also be counted on to help the Predators win more faceoffs. Nashville is 25th in winning percentage at 48.8-percent. Johansen now sits tied for 40th (with Ottawa's Kyle Turris) in the entire league with a 51.9-percent success rate. (Statistics as of Jan. 7)
http://gty.im/477359469
The trade also gives Johansen a change of scenery. He looked frustrated in Columbus as he sank down the lineup. He's projected as the top center on a team that's destined for the postseason. The Blue Jackets had zero postseason hopes this season, and could be trading off more assets before the Feb. 29 deadline.
Johansen also comes with a manageable cap hit at $4 million. He's under contract until the end of the 2016-17 season and is a restricted free agent after that. He could really break the bank if he helps the Predators advance in the postseason.
How the Trade Helps Seth Jones and the Blue Jackets?
Jones is a restricted free agent at the end of the season, but he'll get a shot at being a top-pair defenseman in Columbus. He was stuck behind Josi and Weber but was making strides in improving his game. He really took his game up a notch when Weber went down during the last season's playoffs.
RELATED: Seth Jones Turning Into An Apex Predator
Columbus needed defensive help in the worst way, and Jones can start the remodel of that unit. He's a big body, a physical player and has a good shot. He's also very young at only 21 years of age and has untapped potential. There are signs that Jones will a cornerstone defender wherever he signs.
http://gty.im/495449496
The Blue Jackets won't make the postseason this year, but a good end of the season will net Jones a significant raise.
The Verdict
I think this is a win-win deal for both clubs. It's rare that a straight-up trade happens in the salary-cap era, but this one works. Columbus might have gotten more for Johansen, but Kekalainen got a talented player in return.
RELATED: Ryan Johansen Trade: A Move David Poile Had to Make
The deal will be even more of a success if Jones re-signs with Columbus. The March 26 game between the two teams will be very interesting.
What do you think of the deal? Let me know in the comments below.
Dan Mount is a Nashville Predators staff writer for The Hockey Writers. You can follow him on Twitter, @DanMountSports.