The Nashville Predators have one of the best defensive groups in the National Hockey League, but one man has stayed healthy and stepped in the latter half of the season.
That man is Seth Jones.
Great Expectations
When talking about the versatility of the group, I mentioned how the Predators were lucky to have Jones fall to fourth. The top three teams in the 2013 draft (Colorado, Florida and Tampa Bay) were all worried abouthow a defenseman like Jones might take longer to develop than forwards like Nathan Mackinnon, Aleksander Barkov or Jonathan Drouin.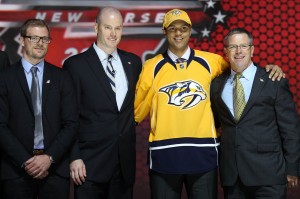 The adage was a fortunate one for Nashville as they snapped up Seth Jones, who wanted to make the other teams pay for not taking him in the draft.
Recent Nashville Predators Posts
[catlist categorypage="yes" numberposts=3 excludeposts=this]
However, Jones wasn't given much of a chance to ease into the lineup when Roman Josi went down with a concussion in the second game of the 2013-14 season. He was immediately put into the top pairing with captain Shea Weber.
To Jones' credit, he did well, by getting 25 points (six goals and 19 assists) in his rookie campaign. However, he hit a wall that yielded him four points from March 1 until the end of the season.
Seth Jones Shattering Sophomore Stigma
There were concerns earlier in the season that Jones was mired in the dreaded sophomore slump. It took him until Dec. 22 for him to score his first goal of the season. Jones only had 10 points at the end of the 2014 calendar year. The slow start was cause for concern for people who thought that Jones would be a cornerstone-defenseman for years to come.
Everything turned around when the calendar turned over to 2015. Jones had a strong January with two goals and five assists, and followed it up with three goals and four assists in February. This was all done with Jones playing with multiple defensive partners.
Seth Jones also turned around his plus-minus from a rough rookie campaign. Jones was -23 for Nashville, but finished with a decent +3 this season. He's done a solid job at working on his defensive game with plays like this breakup of a 2-on-1 against the Minnesota Wild.
GIF courtesy of SBNation.
Jones used his big 6-foot-4 inch frame to break up this scoring chance when Chris Stewart and Nino Niederreiter got in with an odd-man chance. Jones' odds of stopping the chance weren't good, but he used his athleticism and a bit of luck to stop that chance.
He can also get it done on the offensive end as he was a one-man show with this wraparound goal in late January against the Winnipeg Jets.
The goal showed everything that the scouts raved about when making their mock drafts. He showed speed, shiftiness on a deke that opened up space for him and a long reach he stuffed the puck past Jets' goalie Ondrej Pavelec.
Jones finished the season with eight goals and 19 assists. That may be a small improvement over last year's numbers, but he hasn't had to shoulder the load like most top defensive picks such as Aaron Ekblad. He's been able to work his way into being a steady defenseman.
The Verdict
While some may argue that MacKinnon and Barkov have made more contributions than Jones at this stage of their respective careers, Jones hasn't needed to. The Preds can take their time developing Jones with Weber and Josi as one of the best pairs in the NHL.
Jones is a big cog in Nashville's excellent defense. He's also filled in when injuries have hampered Shea Weber, Ryan Ellis or other blueliners by taking their spots on the top power play unit. Jones might be in line for a breakout year that will add to the Predators embarrassment of riches on D.
With his father being former NBA player Popeye Jones and his brother Caleb poised to be drafted, Seth Jones has all the tools to become a fixture in the Music City for years to come. He'll certainly be needed if Nashville has any designs of knocking off the Chicago Blackhawks.
Subscribe to our Predators stories to get email updates every time a new story is published.
Dan Mount is a Nashville Predators staff writer for The Hockey Writers. You can follow him on Twitter, @DanMountSports.
Covered hockey since attending SUNY Oswego in Upstate New York in the early 2000s. Has written about college, major junior and professional hockey for the last five years.
Resides in Watertown, NY.