It's official. After a long, grueling 82 game regular season, the Chicago Blackhawks will take on their divisional foe from Nashville in the first round of the NHL Playoffs. I previously wrote a short analysis of this series along with the potential matchup with the St. Louis Blues. Now that it's officially the Predators that the Blackhawks will draw this will be a more comprehensive look at what to expect from this series.
By the Numbers
Let's take a look at the statistics from this season behind this two teams. Each stat is bolded with Chicago's number coming first followed by Nashville's number.
Shot Attempt for percentage (SAT%): 53.6% / 52.8%
Unblocked Shot Attempt for percentage (USAT%): 52.6% / 53.0%
Unblocked Shot Attempt score close percentage (USATClose%): 53.0% / 53.6%
Save Percentage Plus Shooting Percentage (SPSV%): 100.4 / 101.1
Shots For per 60 Minutes (SF60): 32.8 / 31.1
Shots Against per 60 Minutes (SA60):  29.8 / 27.5
Goals For per 60 Minutes (GF60): 2.6 / 2.7
Goals against per 60 Minutes (GA60): 2.2 / 2.4
By possession proxy metrics, Chicago comes out ahead in raw even strength shot attempts percentage, but Nashville holds a slight edge in unblocked shot attempts, and unblocked shot attempts when the score is close. These numbers are all relatively close though, and it's pretty clear that neither team had much trouble in terms of maintaining possession against their opposition all year.
Chicago also did a better job generating shots on goal at even strength than the Predators did, but Nashville held the edge when it came to even strength shot suppression. The Predators barely outscored the Blackhawks per 60 minutes, while the Blackhawks gave up slightly fewer goals per 60 minutes.
Across the board, the full season numbers say that these two teams are extremely evenly matched. I would agree with the numbers that over the full season, there wasn't much that separated Nashville's performance from Chicago's. That would be why they finished 2nd and 3rd in the Central division, but I'm not here to say that this is a toss-up, shrug my shoulders, and leave you with that. Here are the arguments for each team coming out on top in this series and moving on to face the winner of St. Louis and Minnesota.
Why Chicago May Win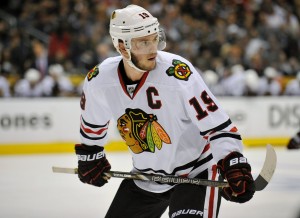 The argument for the Chicago Blackhawks can be summed up in one word: pedigree. They've been through the battles. They've been here before. They've won two Stanley Cups since 2010. They've had their battles with the at times seemingly unbeatable Los Angeles Kings, and in 2013 they undid them in just five games.
This Chicago team is led up front by Jonathan Toews, Patrick Kane, Patrick Sharp, Brandon Saad, Marian Hossa, and Brad Richards. They're supported in depth by Kris Versteeg, Antoine Vermette, Bryan Bickell, Andrew Shaw, Marcus Kruger, and Teuvo Teravainen. That depth at forward is simply absurd, and there isn't a single team in this tournament that can match Chicago up front. Of course in this series, Patrick Kane's status is up in the air. He's been out for about two months now with a clavicle injury, but he appears to be close to a return .
Can anybody say with a straight face that Nashville's crop of forwards, while good in its own right, can come close to matching up with Chicago's? Filip Forsberg has broken out as an excellent player. James Neal is a sniper who is always dangerous. Mike Ribeiro's vision from the center ice position is a great weapon. Colin Wilson is a big winger with good wheels and solid puck skills. Craig Smith can make plays, too. Mike Fisher's a solid two-way centerman who's been around this league for a long time. It's a respectable group of forwards that Nashville boasts.
But who, when push comes to shove, lines up against the Saad-Toews-Hossa line and comes anywhere near out-possessing them? Who for the Predators has the game breaking ability to put up 10 or more points over seven games and carry his team to the next round, as Patrick Kane has done for Chicago so many times?
If this series comes down to the performance of each team's forwards, the Predators don't have very much hope in my opinion. But fortunately for Nashville, forward is not the only position on a hockey team, which brings us to…
Why Nashville May Win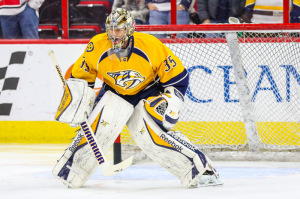 Chicago holds a clear advantage in terms of forwards, and in my mind there's no denying that. Similarly, I believe that Nashville holds a clear advantage between the pipes. When Nashville was scorching hot and holding a clear lead atop the NHL for some time earlier in the season, Pekka Rinne was neck and neck with Montreal's Carey Price in terms of consideration for the Vezina Trophy and possibly even the Hart Trophy. Some minor injuries have slowed him down since, but if he's on top of his game when the series rolls around, make no mistake about it, Pekka Rinne is fully capable of stealing this series for the Predators.
Corey Crawford has been excellent this year, and even as one of his biggest detractors, I can't deny that. But what also can't be denied is Crawford's propensity for either costing or nearly costing his team an entire series. If Crawford's on top of his game, he can probably either match or come close to matching what Rinne will provide Nashville. If he stumbles, however, the Blackhawks could be in huge trouble. I don't think Nashville has to worry about Pekka Rinne costing them this series one bit, and in my mind that provides them an advantage between the pipes.
Another area in which Nashville excels is its blue line. For my money, there's not a better group of defenseman one through five than the one the Predators have assembled. Shea Weber, Roman Josi, Seth Jones, Cody Franson, and Ryan Ellis makes up a better, deeper group than what Chicago can put out there on any given night. I don't think the disparity is really that large, however. Certainly it is not as large as the disparity between the two teams' forward groups.
Prediction: Chicago in Five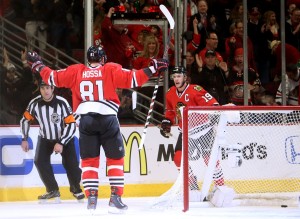 It's bold, I know. I'm fully aware that I may be underestimating Nashville here. I do think these teams are more evenly matched than a five game series would suggest. The fact of the matter, however, is that the Predators are limping into the postseason, while the Blackhawks are surging even without the man who was their best player this year. In their last 22 games, the Predators have gone a paltry 8-11-3. Meanwhile in the Second City, the Blackhawks finished their final 22 games with a 13-8-1 mark. The four game skid to close may be a cause for concern, but there's no arguing the fact that the Hawks are coming in on a higher note than the Preds. If this series were to be played in January or February, there's little doubt in my mind that this series goes seven games and is basically a coin flip.
But this series isn't being played in January or February; it's being played in April. Ultimately, I see the Blackhawks overpowering Nashville up front. I think Crawford maintains his great play, and Nashville struggles to come up with goals in key moments. I don't think this series is really a laugher, as I expect each game to be close. It's just the disparity in experience in skill that I don't see Nashville as being able to overcome this year.
So there you have it, there's my analysis and prediction for this first round series. Let me know in the comments what you think, and be sure to bookmark this article just in case I happen to be terribly wrong.