At this point in the season, it appears highly likely that the Chicago Blackhawks will place third in the NHL's Central Division. With two games left for each of the three teams, the Blackhawks sit two points behind the Nashville Predators and three points behind the St. Louis Blues. Chicago currently does not hold the tiebreaker with either team.
With one point separating them and two games to play, this means that either the Nashville Predators or the St. Louis Blues will go on to capture the division crown at the regular season's culmination on Saturday. Whichever club is unsuccessful in winning the division will place second, and thus will have home ice in a divisional series against the Chicago Blackhawks.
How do the Blackhawks match up with each potential opponent, and who would they have the better chance of knocking off in order to advance? Let's take a look.
Familiar Foes: The St. Louis Blues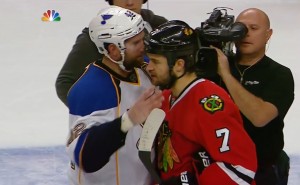 The Chicago Blackhawks and the St. Louis Blues know each other all too well. They renewed their rivalry in a vicious series last postseason. After some hiccups in the first two games which resulted in St. Louis claiming a 2-0 lead with a pair of overtime victories on home ice, the Blackhawks were able to regroup and carry the rest of the series in a steady, methodical manner. Jonathan Toews and Patrick Kane took turns coming up huge for Chicago. Even without Brent Seabrook for much of the series, who was serving a suspension for his vicious hit to the head on Blues captain David Backes, the defense was able to limit the Blues' opportunities fairly well.
In game 6, Duncan Keith turned in a sterling performance with a goal and three assists to lift Chicago to a 5-1 win. With that, the hated Blues were taken care of. If it happens again, I don't think it will be quite as easy for Chicago to overcome any potential adversity.
The Blues are a different team this year. They rank 5th in the NHL with 242 goals scored. Last year, they ranked 7th. That's not a huge difference, but when you look at the makeup of their roster between the two years, you begin to see why this year's edition of the Blues is more scary in the offensive department. They added Paul Stastny in free agency. They brought in Jori Lehtera. Jaden Schwartz and Vladimir Tarasenko are a year further developed. The skill and playmaking ability are both drastically improved, throughout the entire roster. The acquisition of Marcel Goc for Maxim Lapierre makes it easier for them to succeed in 4th line match-ups against deeper teams.
If I'm the Blackhawks, St. Louis scares me this year. They scare me a lot. Corey Crawford's playoff performance is always very much a wild card. Of all the teams in the Western Conference, only Anaheim has scored more goals than St. Louis. Couple the uncertainty behind Crawford's play with Chicago's struggle in limiting opposition opportunities and you have a recipe for potential revenge on St. Louis' part.
None of this is to say that St. Louis would definitely beat the Blackhawks. In fact, I don't think they would. Should this matchup come to fruition, I'd predict a Chicago triumph in a very hard fought seven game series. It is to say, though, that it would be a bloodbath. Whoever emerges from this series will have just come out of an intense, grueling physical battle. The way these two teams look this year, it's hard to imagine it lasting any number of games that is lower than "seven."
 Nashville's New Faces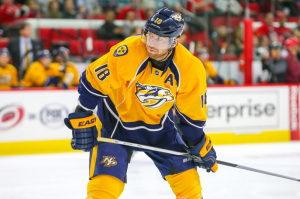 The other potential opponent for Chicago would be the Nashville Predators. For much of the season, Nashville held a reasonably comfortable lead atop the league's standings. In the offseason, Nashville completely overhauled their organization. Barry Trotz, the man who was behind the bench for every single game this franchise had played, was let go in favor of a very differently minded Peter Laviolette. Laviolette's more up-tempo, offensive-oriented style necessitated some changes to the player personnel.
To make this work, they acquired sniping winger James Neal. They gave a chance to playmaking center Mike Ribeiro, which has paid dividends. These two joined forces with Filip Forsberg to form Nashville's new top line. The Neal-Ribeiro-Forsberg line has been excellent. Pekka Rinne has been able to stay reasonably healthy, and when healthy has performed at a near-Vezina worthy level. But the real strength of this team lies on their back end.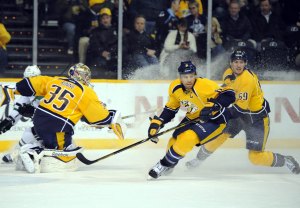 Shea Weber is well established as one of the elite defensemen in the NHL. With the departure of his longtime partner Ryan Suter, he was left alone and asked to carry the Nashville defense himself. No longer is this the case. Roman Josi is well on his way to being in the same neighborhood as Weber. Seth Jones is an excellent young American blue liner. He is nowhere near his prime yet, but he's still an incredibly solid second pairing defender already. Ryan Ellis is an offensive dynamo, and he offers elite puck moving ability and a great shot from a depth position on Nashville's defense. At the deadline, the rich got richer as Cody Franson was acquired from the struggling Toronto Maple Leafs.
This is an incredibly well assembled group of five defensemen. All five are above average with the puck and moving through the neutral zone. All five are well above average in the offensive zone. Four of them are above average in their own end.
Nashville's defense could give Chicago's forwards fits, but unless all five of these defensemen are at their absolute highest possible level of performance AND Pekka Rinne is at his best, the Predators do not have much of a chance against the Blackhawks in my estimation. They certainly hold a huge advantage between the pipes. They probably have an edge on defense as well, but a very small one as Chicago's group of defenders is elite in its own right. However, Nashville's group of forwards can not hold a candle to Chicago's. The Blackhawks have three forwards better than any of Nashville's. The top groups of top six forwards just aren't comparable. In my estimation, the Blackhawks would be able to take care of the Predators in five or six games.
Nashville has a good group that is either reasonably young or in the midst of its prime. They will have their day and more importantly, they will probably have their year. If it means going through Chicago, which it almost definitely does, I find it highly unlikely that this will be their year.
So there you have it, if it comes down to St. Louis or Nashville, I think it would be better for the Blackhawks to draw the Predators. Neither would be supremely easy, and both would be capable of finding a way to upset (if you can call it, they finished higher after all) the Blackhawks, but it seems likely that the Blues would be more likely to do this than the Predators. Let me know in the comments who you think would be the better opponent for the 'Hawks.