Last night, the Chicago Blackhawks needed some late 3rd period heroics from captain Jonathan Toews to salvage a regulation win over the lowly Buffalo Sabres. In the end, Toews' two goals about a minute apart did get the job done for his team, and the simple objective of any game, to win, was accomplished. But sometimes winning doesn't necessarily mean that the team deserved it. A positive outcome is not necessarily indicative of a positive effort on a team level, and that was certainly the case in Buffalo on Friday night.
Over the last eight years or so, the Chicago Blackhawks have consistently been one of the National Hockey League's elite teams.  Throughout that time frame, there has been one consistent aspect of the game in which the Hawks have excelled. That element of the sport is one that has been proven to be a strong indicator of a good team as well as a reasonably reliable predictor of future success, and it is most commonly known as shot suppression.
Shot suppression is exactly what it sounds like it is. It is the ability to limit the amount of shots on goal that their opposition gets. Last season, Los Angeles gave up the second fewest shots against per 60 minutes in the regular season. They went on to hoist Lord Stanley's Cup. The season before that, when the Blackhawks captured the crown, they ranked 4th in the league in shot suppression in the regular season. In fact, in the seven completed seasons since 2007-2008, there have only been two eventual Stanley Cup champions who did not finish in the top five of the league in shot suppression in the regular season. It's a pretty important thing for a team with championship aspirations to be good at.
Recent Hawks Posts:
[catlist categorypage="yes" numberposts=3 excludeposts=this]
Blackhawks Bleeding Shots
So why then is the Buffalo game last night such a cause for concern? Well, that is because the Blackhawks allowed the miserable Sabres to garner an astonishing 38 shots on goal against them last night. This is, you will notice, bad. It is very bad. It's just one game, yes but it's indicative of a troubling trend that has run through all of Chicago's 2014-2015 season.
From 2008-2009 to 2013-2014, the Hawks' ranks in shot suppression have been: 4th, 1st, 5th, 7th, 4th, and 4th again. This year? They sit at a staggeringly bad 24th. The only teams worse are Arizona, Ottawa, Columbus, Colorado, Toronto, and Buffalo.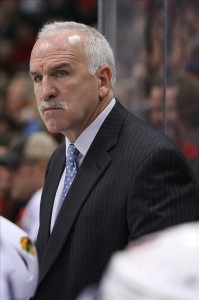 There's really no obvious explanation for this. Some have speculated that coach Joel Quenneville has relaxed the aggressiveness of the team's forecheck this season. That may be so, but for a team that finished no worse than 7th over the last six years to suddenly fall into such miserable company in a given part of their game is rather unbelievable.
Regardless, a good way to ensure that a team does a reasonably good job limiting shots is to tighten up in the defensive zone, and be tough to play against in the neutral zone. These are all concepts and strategies that the Blackhawks have excelled at performing in the past.
With excellent defensemen like Duncan Keith, Brent Seabrook, and and Niklas Hjalmarsson on the roster, it's certainly possible that this issue could resolve itself on its own. If it doesn't, however, history suggests that Chicago's postseason run this season may be short-lived.