Today we join the hockey world in mourning the death of legendary Canadiens centerman Elmer Lach. We extend our deepest condolences to the family of Mr. Lach in their time of grief.
A key member of one of the most electrifying forward lines ever assembled, Lach played a hard-driving style of hockey that embraced those dirty areas where lesser players feared to tread, a style that left untold numbers of broken bones in its wake and that helped to rescue a once-proud franchise from its drift into mediocrity.
It is astonishing to discover that Elmer Lach was the NHL's career point leader at the time of his retirement in 1954 … and that [that] record was broken, in succession, by three of the greatest players ever to don a pair of skates: Maurice Richard, Gordie Howe and Wayne Gretzky. — Kevin Shea, Hockey Hall of Fame.
Elmer Lach was one of the greatest living links to hockey's Golden Age. A modest, self-effacing gentleman in the proud tradition of Canadian hockey and for decades a charming ambassador for the sport, he remains one of the highest-scoring players in the history of the Montreal Canadiens–a hockey club that was formed just eight years before he was born.
EARLY YEARS

Elmer James Lach was born in Nokomis, Saskatchewan on January 22, 1918, near Regina. A village of less than a thousand people, Lach didn't play competitive hockey until he was 17.
Then in 1935-36 he played a few games for the Regina Abbotts of the Saskatchewan Junior Hockey League. He split the next four years between the Weyburn Beavers and the Moose Jaw Millers of the Saskatchewan Senior Hockey League. It was with Moose Jaw that Lach would discover a scoring touch: in two seasons he hammered out 32-49-81 in 59 games and 11-13-24 in 18 playoff games, helping Moose Jaw to a league championship in his last season.
Scouted heavily by the Toronto Maple Leafs, New York Rangers and the Montreal Canadiens, the following autumn Lach made his National Hockey League debut with the bleu, blanc et rouge where for the next fourteen years he would carve out his place among Les Habitants légendaires with a smart, fearless style of hockey that balanced the fierce with the finesse.

THE PUNCH LINE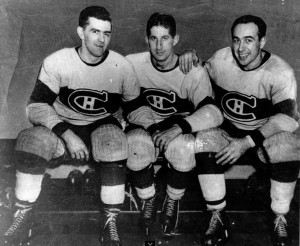 The three of us liked to win. We made sure that we didn't have any goals scored against us. We hated that more than wanting to score. Lach, on the Punch Line.

After an unremarkable rookie season, an elbow injury would keep Lach out of the lineup for his entire sophomore season. The injury hardly slowed him down; in 1942-43 Lach exploded with 18-40-58 in 45 games, including a 6-assist night at home against the Bruins on 6 February 1943, a single-game Montreal record that still stands.
In 1943-44, coach Dick Irvin put Lach at center between veteran Toe Blake at left wing and at right wing, a young Maurice Richard, then playing in just his first full NHL season. The legendary Punch Line was born. It would dominate the NHL until Blake's retirement four years later, leading Montreal to a pair of Stanley Cups in that time and piling up points in record numbers. Lach and Richard would continue to play together and even win a third Cup in 1953 on Lach's overtime wrist shot from inside the face-off circle.
Lach was arguably the finest playmaking center of his era; an explosive skater, a master at the face-off dot (Jean Beliveau, himself a face-off dynamo, credited Lach for helping him become so strong on face-offs), and a pinpoint passer who also played a responsible, exhaustive, two-way game, Lach deserves a place within that small, special group of hockey players who quietly, methodically, make their teammates much better than they might have been without him.
In 1944-45, Maurice Richard became the first player in the game's history to score 50 goals in 50 games- a phenomenal achievement once considered next to impossible and a seminal moment in hockey. Yet it was Lach, with a league-leading 80 points (26 goals and a then-NHL record 54 assists) who would be awarded the Hart trophy as the MVP.
In 1947-48, he won the league's scoring title for the second time, only this time he also earned the Art Ross Trophy, becoming that trophy's first-ever recipient.
HALL OF FAME RESILIENCE
To some, [Elmer Lach] is hockey's greatest competitor; to others, 'the nastiest so-and-so in the league.' — Trent Frayne. "You Can't Kill a Hockey Player," Saturday Evening Post (1950).
That Lach lasted 14 years in the bang-and-chop NHL of the 1940s and 1950s is its own astonishing achievement. His style of play put the team ahead of everything else, often at the cost of his health. His career was laden with injuries, many of which he miraculously played through, showing a kind of resilience that was perhaps expected in his day but remains no less admirable today. He had his nose broken seven times (the last time, famously, when the Rocket jumped on him after he scored the Cup-clinching OT goal against Boston), a concussion, a fractured skull, a broken arm, leg, and ankle, a broken jaw (three times) and a shattered cheekbone (twice). At one point his jaw was fitted with a medieval-looking medical device that you might expect to see in one of the Saw movies. In order to allow himself to play through injuries, Lach even developed a helmet with a visor–but president Clarence Campbell would not allow him to use it.
In the 1940s Lach had a health insurance policy that grew so tired of writing claim checks for him that they flat-out offered him the then-enormous sum of $17,000 cash to quit hockey. He said thanks but no thanks.
Lach's incredible tolerance for pain extended beyond the game. In 2005, at the age of 86 he fractured his ankle in two places but told his wife it was nothing. The following day she insisted he see a doctor, as his ankle had swollen to twice its normal size.
CAREER NUMBERS
Every time I played against Elmer, I knew I was playing against one of the best. — Milt Schmidt, Center of the Bruins' famed 'Kraut' Line.
In 1954, after 14 seasons and 646 regular season games, Elmer Lach retired with dazzling numbers. In addition to 215 goals, he left the game as the league's all-time leader in assists (408) and points (623). In 76 playoff games he added 19 goals and 45 assists.
Together with Detroit's Ted Lindsay, Lach also shares the distinction of having taken the first face-off ever to be broadcast on Canadian  television. He and Lindsay made history on 11 October 1952 when they lined up for the start of the third period–the only period that was broadcast (as owners feared the broadcast might otherwise hurt ticket sales).
POST-HOCKEY LIFE
When Lach retired, he spent a couple years coaching the the Montreal Royals of the Quebec Hockey League (where he coached a young Henri Richard). Following that, he became a public relations/promotions director for Maislin Bros Transport, which was one of Canada's largest trucking lines. He would spend the next 25 years with the company, retiring in 1983 when the company moved much of its operation south of the border into the US.
Lach was inducted into the Hockey Hall of Fame in 1966 and inducted into the Saskatchewan Sports Hall of Fame in 1967. In 2009, on the 100th anniversary of the franchise, the Montreal Canadiens retired his number 16 (even though they had previously retired the number for Henri Richard in 1975) in a ceremony that also retired the number for Émile "Butch" Bouchard.
Elmer Lach lived a long, full life, but our recollections and remembrances are but cold comfort in the way of consolation when we lose one of the good guys in this world– to say nothing of losing one of the greats.
It is easy for fans to trace Canadien greatness across much of the 20th century, from Howie Morenz to Toe Blake to Rocket Richard to Jean Beliveau to Guy LaFleur, but Elmer Lach arrived in Montreal to find a depressed franchise mired in a decade-long Cup drought.
Though often lost in the glare and flare of his wingers on the Punch Line, it was Elmer Lach as much as anyone who through sheer toughness and tenacity helped the Habs rediscover themselves in the 1940s and 1950s, and return the franchise to glory.