The Nashville Predators might be 12-6-4, but they're having trouble scoring goals. Out of their top eight scorers, one is a wing, two are centers and five are defensemen. For any other team this would be an anomaly, but not for the Predators. Last season they had five defensemen score 15 or more points and they're considered to have the best blue line in all of professional hockey.
However, they're trying to change that narrative. I was told by a source of mine that the Predators are trying to trade for a forward, with a bias towards centers. They have some talented wings like James Neal and Filip Forsberg, but lack a high end center to utilize their skills. After two seasons after from Evgeni Malkin, it's clear that Neal is a completely different player when he has an elite center to set him up. Forsberg is a promising young player, but also would welcome an upgrade over top center Mike Riberio.
The Predators have a strong blue line and any trade that occurs will likely send one of their many defensemen to another city. Nashville currently has eight defenders on their active roster, with more waiting in the farm system. It would not be just one defender that will have to be traded to return a high end center, but prospects and draft picks might have to be attached.
Don't worry about the Predators salary cap, as they have over $10 million in cap space, the second most in the NHL.
Without further adieu, here are some names that would fit on the Predators.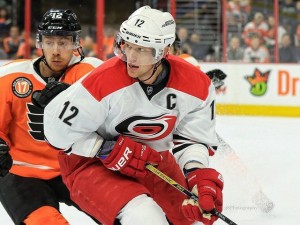 1. Eric Staal
Nashville needs a powerful center to push their team over the top and Eric Staal is a likely candidate to be moved. Sources have said that it's unlikely he re-signs with the Carolina Hurricanes and he is in the final year of his contract. He's a Staal, he's big, he's strong and he can score a lot of points.
Staal has seven, 70 point campaigns during his career and although he has fallen off in the last few seasons, playing with the Predators is a perfect way to revitalize his career. Not only would he be centering two talented wings in Neal and Forsberg, but Nashville is only a few hours from his home and coach Peter Laviolette has coached him in Carolina before. Staal is 31 and is in the final year of his contract and counts for $8.25 million against the salary cap.
2. Ryan Johansen
Darren Dreger has reported that the Columbus Blue Jackets are listening to offers on their star center Ryan Johansen. However, he's also discussed that it would take a large offer to land him. Johansen is coming off of the best season of his career where he notched 71 points in 82 games played. But he has not been a fit with new head coach John Tortorella and he was recently demoted to the fourth line.
#CBJ GM Kekalainen willing to listen to offers on Ryan Johansen, who was demoted to 4th line in Sunday's loss to #SJSharks.

— NHL EXPERT PICKS (@NHLexpertpicks) November 25, 2015
While it might be a long shot to believe the Predators could land the 2010 fourth overall pick, it could happen. Despite the rumored rift his Tortorella, Johansen still has 17 points in 22 games played. Johansen, 23, has two years remaining on a contract that counts for $4 million annually against the salary cap.
3. Anze Koptiar/Steven Stamkos
Here we might be talking about a long shot. Both Anze Koptiar, of the Los Angeles Kings, and Steven Stamkos, of the Tampa Bay Lightning, are pending unrestricted free agents. They're looking for massive new contracts and their respective clubs might not be able to afford them. The only reason I can see the Predators moving for one of these two is if they're really looking for a true super star to join their team. The price of acquisition would be very high, but if they're looking to finally compete for the Stanley Cup, they might just make it happen.
---
There are obviously a lot of other players that will be on the trade block as the deadline approaches and these are just a few names, but watch out for the Music City.
The Predators are looking around and they're exploring all of their options. Nashville has been missing a star center to build around for quite some time and it seems this is the year that they might finally go out and acquire one.
Thanks for reading! Feel free to leave your comments below or tweet me anytime @MPityk
Michael Pityk is an analyst who has written for numerous sites since beginning his professional career. He's acted as a credentialed member of the media for the Philadelphia Phillies, Philadelphia Flyers, Pittsburgh Pirates and the Pittsburgh Penguins. His work has been featured in Sports Illustrated, The Sports Journal, MSN, PensLabyrinth, Montreal Hockey Talk, ESPN Pittsburgh, The Hockey Writers, Todays SlapShot and The Bleacher Report. He formerly was the editor of Pens Labyrinth and an analyst for The Sports Journal. Michael presently acts as an NHL Analyst for The Hockey Writers